Two of the funniest things every anime wields are its opening and its ending. Anime openings are there to present a new show, and they need to be catching and intriguing to the viewers. It's almost like watching a movie trailer: a good opening makes the viewers hope for a good show. What is also true is that, on the other side, every anime needs an ending able to somehow reinforce what was shown in the opening, without exposing too much of the anime in question.
Each anime has its own opening and ending, but among all those amazing songs, some of them are so perfectly made that they somehow become artistic. We are talking about those openings, and endings, where the words and the music fit perfectly with the flowing of the images. Those that leave the viewers with their mouths open, because the mix is simply perfect. In this ranking, we will talk about ten among the most artistic anime endings. Stick with us until the end, to discover wonderfully made endings that are impossible to forget!
10. "Sugar Song and Bitter Step" by Unison Square Garden – Kekkai Sensen (Blood Blockade Battlefront)

Episodes: 12
Aired: pril 2015 – October 2015
Kekkai Sensen is set in Hellsalem's Lot, previously known as New York City. When Beyond – a place where strange creatures live – collided with the Earth, New York was destroyed and now supernatural creatures and humans are forced to coexist. The story revolves around Leonardo Watch, a kind boy who received the power called "The Eyes of God", who moved to Hellsalem's Lot in order to find out the truth about his power. When Leonardo joins the Libra association, though, even weirder things begin to happen...
Kekkai Sensen's ending is called "Sugar Song and Bitter Step", performed by Unison Square Garden. It's amazingly fun as we see characters who, during the show, are always unfazed and straight-up, begin to dance and enjoy it. It opens with Leonardo who proves to be a good dancer, and then, frame by frame, we meet every other character. Kekkai Sensen's ending doesn't forget the cornerstone of the show; in fact, in the middle, some important scenes pop up, just to go back to the party right after. Sugar Song and Bitter Step, sewn on Kekkai Sensen's frames, becomes a wonderful ending which is impossible to dislike, as it makes you wanna dance, too!
---
9. "Climber" by Galileo Galilei – Haikyuu!! Second Season

Episodes: 25
Aired: October 2015 – March 2016
Haikyuu!! is the super-popular sport anime revolving around a shorty – Shouyo Hinata – whose dream is to become an ace of volleyball. When Hinata enters the Karasuno High School and joins the volleyball team, he comes to know other teammates who are just as determined as he is. In the second season, after the defeat during the Inter High, the Karasuno team begins to prepare to face the Spring Tournament. In order to overcome their opponents, Hinata and his fellow teammates need to focus and strengthen up, learning to settle their differences and training harder.
Haikyuu!! Second Season's ending is "Climber", performed by Galileo Galilei. We can consider it as a perfect ending, as it sums up the meaning of the entire second season. It's even touching, in a way, as we see our little protagonist Hinata showing his determination, putting all his efforts in order to improve. As the ending goes on, we see how gradually Hinata becomes surrounded by his teammates and, between win and loss, how they finally make it together. The ending's end uncovers the meaning of the title - "climber", as we see Hinata at the top of a mountain of stuff, jumping to catch a raven's feather!
---
8. "Soshite... Ikinasai" by Saori Yuki – Onihei

Episodes: 13
Aired: January 2017 – April 2017
Onihei takes place in Edo, during the Tenmei era. The city is threatened by criminals and all sort of scumbags, so the safety of the region is all up to the Arson Theft Control division. The chief – Heizou Hasegawa – is a feared mean called "Devil Heizou (Oni-hei)", who strikes fear because he is a skilled swordsman. The Arson Theft Control division does its best to maintain order, barging into the most dangerous situations. But behind the facade, is Heizou Hasegawa, when he is not the "Devil Heizou"?
Onihei's ending is called "Soshite... Ikinasai"("and now... Live"), and it's performed by Saori Yuki. As it starts, it's like being immersed in the real atmospheres of the ancient Edo. This ending is not dynamic: we don't see Heizou's deeds with his sword. Yet, it's an ending which results very artistic, as it gives the viewers pause for a thought. In fact, it talks about the brevity of life; frame by frame we only see Edo's seasons change, meant as the seasons of people's life. This ending screams very loudly that since life is short, people should experience everything, from joyful moments, to painful ones; in short, people should just live. We love an ending like this!
---
7. "Yuki ni Saku Hana" by Kana Hanazawa – Shinsekai Yori (From The New World)

Episodes: 25
Aired: September 2012 – March 2013
Shinsekai Yori takes place in Japan, 1000 years from now. Saki, Satoru, Shun, Maria and Mamoru are five children living in a peaceful village, where everything seems just perfect. That's just a utopia, though: in fact, the five children discover the truth about the outbreak of psychokinesis that can turn people to monsters. Not only that, another, more shocking, truth about the bloody past that led mankind to that point will unfold before their very eyes!
It's Kana Hanazawa who performs "Yuki ni Saku Hana" ("a flower blooming in the snow"), the voice actress of Maria Akizuki, one of the five children. Those who have watched this show, will find this ending even more poetic. It starts with a lot of snow falling down everywhere, and it represents the hardships people have to face; then, it's suddenly spring, and snowflakes turn to pink cherry petals. This ending makes a statement full of hope: if you have love, you can face the hardships, being sure that spring is right around the corner.
---
6. "Prototype" by Chiaki Ishikawa – Kidou Senshi Gundam 00 (Mobile Suit Gundam 00)

Episodes: 50
Aired: October 2007 – March 2009
Celestial Being is a new organization, born in order to end conflicts among the three superpowers: the Union, the Human Reformist Alliance, and the AEU. With the complete depletion of fossil fuels, mankind began to use solar energy as a new power source; for that purpose, three orbital elevators were created. Their creation led to war, as they are allowed to be used only by determined countries. Setsuna, Allelujah, Erde and Stratos muster their courage and join the non-profit organization Celestial Being, becoming Gundam Meisters.
"Prototype" is performed by Chiaki Ishikawa, and it blends perfectly with the frames of this ending. It's a very artistic ending, as we see each of the four protagonists in a very dystopic land, with hunches of what they had to go through before deciding to join the Celestial Being, and what they hold dear right now, giving them the strength to go on. As it is very sad, because it's about war and war is never fair when it involves innocents, the last message of hope is the intention of the four Gundam Meisters to put an end to each conflict and make the world a better place.
---
5. "Sore wa Chiisana Hikari no you na" by Sayuri – Boku Dake Ga Inai Machi (ERASED)

Episodes: 12
Aired: January 2016 – March 2016
Satoru Fujinuma developed a strange power that brings him back in time by few minutes, in order to allow him to fix something. Satoru calls it "revival", and when some circumstances lead to his mother's murder, and he is the prime suspect, Satoru's power sends him 18 years back in time, when Satoru lived in Hokkaido with his mother. After the initial confusion, Satoru understands that probably his mother's murder is connected to the abduction and murder of his classmate, Kayo Hinazuki. Satoru will have to pay the highest price to fix the past, in order to save Hinazuki, his mother, and his friends!
Erased's ending is "Sore wa Chiisana Hikari no you na" ("it is like a small light"), and it's performed by Sayuri. It begins with little Satoru's white silhouette walking on a black background with the city's contour, and a sky that changes its color. Then, the snow becomes the protagonist, and we begin to see flashes of Kayo, and other characters who had an important role. We could define this ending as very oneiric, and it sums up the viewers' thoughts at the end of each episode. It's bittersweet, painfully so, but it ends with paper airplanes flying high, under the sun, and those who watched Erased... they know what it meant!
---
4. "Orion" by Kenshi Yonezu – 3-gatsu no Lion (March comes in like a lion)

Episodes: 22
Aired: October 2016 – March 2017
3-gatsu no Lion revolves around Rei Kiriyama, a 17-year-old boy, who is a professional Shogi player. When his parents and sister died, he had to move in an adoptive family; because of the tension building up with his foster siblings, he decided to move to Tokyo and live on his own. The pressures from the Shogi community, from school and the hardships of living alone as a teenager, are lightened by three sisters living nearby, the Kuwamotos. The Kuwamoto sisters and Rei, all of them coping with a difficult past, manage to create a strong bond. Rei's life will eventually become less lonely, and he will learn to open up to others.
3-gatsu no Lion's ending is performed by Kenshi Yonezu, and it's called "Orion". It's amazingly poetic, as its art style is like a blurry watercolor, with some pencil strokes here and there. It could look a bit confusing, but it isn't actually. We see Rei's loneliness, and his constant struggle with his own life as a Shogi player. In a way, it's like a prayer to God: Rei is lost in his own maze, but then a ray of hope makes the rain stop, and darkness turn to light, and flower petals fall all over. We really love it, as it summarizes perfectly 3-gatsu no Lion's main theme!
---
3. "Namae no nai Kaibutsu" by EGOIST – Psycho-Pass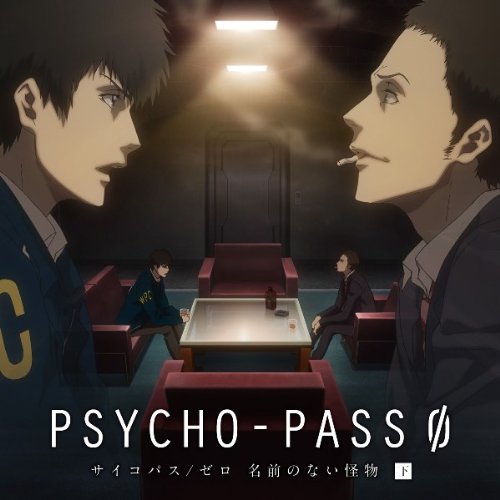 Episodes: 22
Aired: October 2012 – March 2013
It's the 22nd century, and Japan has created the Sybil System with the purpose of determining the criminal intent of each citizen, called Psycho Pass. Ill-wills, even when just by the spur of the moment, have to be suppressed by the so-called Inspectors. Alongside with them, there are the Enforcers – former Inspectors gone latent criminals – and the dirty work is up to them, in exchange for freedom. Akane Tsunemori and the Enforcer Shinya Kogami, though, discover what actually lies behind the Sybil System... And the perfect concept of justice begins to fall apart.
The ending of Psycho-Pass is "Namae no nai Kaibutsu" ("nameless monster"), performed by EGOIST. Its beginning makes the viewers feel like they're inside the Sybil System: codes and signs flow up and down. Then, we begin to see one after another each character, the city and what represents it, and police-related stuff. The ending gets straight to the heart when the chorus starts, and we see Enforcers and Inspectors together as a team, and flashes of what they do. Basically, this ending is chaotic and messy, but at the same time so adrenaline-filled that you can't keep your eyes off it: it's the same feeling you have while watching Psycho-Pass!
---
2. "Namae wo yobu yo" by Luck Life – Bungou Stray Dogs

Episodes: 12
Aired: April 2016 – June 2016
Atsushi Nakajima is an 18-year-old boy, who was kicked out of the orphanage because he was suspected to be behind strange events involving a mystical tiger. Left alone, homeless and starving, while lying on a riverbank Atsushi saves Osamu Dazai from drowning. It turns out that Dazai is a detective – and a suicide enthusiast – investigating on the same events involving the tiger. After the case is solved, though, Atsushi is left in a tight spot with just one option available: to join the weird supernatural investigators and help them solve those cases the police can't handle.
Bungou Stray Dogs' ending is performed by Luck Life, and it's called "Namae wo yobu yo" ("call the name"). Throughout the show, we see how Atsushi feels like an outcast, unwanted and unloved. Step by step, though, he begins to feel like he has a place where he belongs, thanks to Dazai and the other surrounding colleagues. Following this thought, the ending turns out to be very artistic, as we see Atsushi's evolution: from a lonely boy, to an essential member of the team. At the same time, this ending shows the salient points of his relationship with his archenemy: Ryuunosuke Akutagawa. It's a wonderful ending that lulls the viewers like a sweet lullaby, while not forgetting to sum up the main theme of Bungou Stray Dogs!
---
1. "Last Theater" by NoisyCell – Death Parade

Episodes: 12
Aired: January 2015 – March 2015
Death Parade is a very psychological anime, revolving around the figure of Decim, a peculiar bartender. In fact, the bar he runs is called Quindecim, and it's what lies between reincarnation, and oblivion. Here, recently deceased – and unaware – people are challenged to random games in order to make their true nature pop up, and decide if they should ascend into reincarnation, or fall into the void. Decim is the impartial arbiter of the afterlife!
Death Parade's ending is called "Last Theater", and it's performed by NoisyCell. We decided to give it our 1st position because it's probably the most fitting with the entire show, the most heartbreaking, the most meaningful, and the most artistic, without actually showing much. The lyrics are full of sadness, yet the music is rock. As the song starts, we see a lot of broken dolls on the floor, and then when the singer begins to sing, there's a flashback meant to make the viewers understand what made the dolls fall to pieces. Basically, one female doll tried to pick the only rose bloomed in the middle of that desolation. If you watched Death Parade, you all can understand why this ending is so shockingly proper for this show!
The title "Last Theater" gives a meaning to the show itself, as Quindecim is the "last act" people face after their death. The lyrics are full of related words; the dolls remind the viewers how Decim is like a puppeteer, and each person showing up are simply dolls in human form. It gives you goosebumps after each episode, as Death Parade is heavily psychological and it leaves room to deep reflections about life and death. In just few words: this ending is perfect, and we thought it had to be in the 1st position.
---
Final Thoughts
With this beautiful ending, we put an end to our ranking, as well. It turned out to be a hard task to choose among all the wonderful anime endings out there. We found ourselves at a loss of what to do, but in the end we HAD TO choose and these are our picks. We really hope you enjoyed the ride as much as we did. These 10 artistic anime endings are those that left something unforgettable within our hearts. Of course, we are open to advice, so please, let us know what you think in the comments below. If you feel like suggesting other artistic anime endings that would have been a good fit, feel free to let us know! See you next time!
---