If you were alive in 1996, odds are that you saw the Nintendo 64 kiosks in stores and drooled at Mario 64. Nintendo cares a great deal about their intellectual properties, and doesn't really sell too many games outside of their consoles. As a result, there has been high demand to remake popular Nintendo 64 titles. Even years after the N64 renaissance, its games have been remastered, and available to download for other Nintendo consoles. It goes to show that the games Nintendo makes are quality, and withstand the test of time.
Many people owned a Nintendo 64, and have fond memories with friends gathering around the TV and completely losing track of time. Good games will keep us going into the morning hours, without us noticing that the night has passed us. The N64 had many good games. However, there are exceptional games, that to this day, are played by people around the world. The N64 may have aged, but some of the games were revolutionary. Below, you will find the Top 10 Nintendo 64 games.
10. Pokémon Stadium

System/Platform: Nintendo 64
Publisher: Nintendo
Developer: HAL Labs
Release Date: Feb. 29th, 2000
Pokémon is one of Nintendo's most popular games. In the year 2000, Pokémon was already a huge hit on the Game Boy! As a result, there was a large demand for Pokémon games on the N64. That's where "Pokémon Stadium" came in to fill the void in our hearts. While it wasn't exactly the remake some fans wanted, it interacted with the Game Boy versions. Players used the "Transfer Pak" to connect their Game Boy versions of the games, and brought their Pokémon to battle in 64 bit glory!
Pokémon Stadium is an example of a game which had many of us battling with our Pokémon at night, and playing far into the next day. It was so much fun to see all the different Pokémon in 3D! There are newer and better versions of Pokémon now; however, at the time, it was the closest thing you could get to a 3D Pokémon game. Most critics loved the game, but there were a few who didn't. Any negativity surrounding the game, however, didn't stop it from selling! It was so popular, Nintendo released a sequel in the same year they released the first game.
---
9. Donkey Kong 64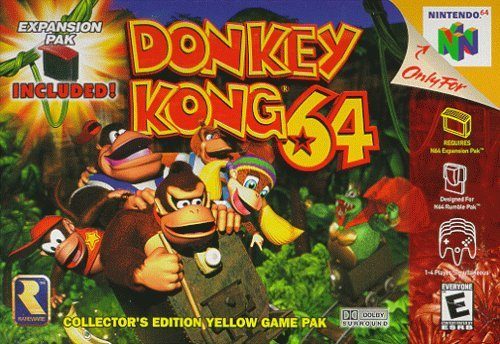 System/Platform: Nintendo 64
Developer: Rare Ltd.
Publisher: Nintendo
Release Date: Nov. 24, 1999
Say what you will about the "Monkey Rap" song, but it's catchy! Donkey Kong is another Nintendo icon, and he's been around since 1981. The year 1999 introduced us to Donkey Kong 64 and the rest of the DK crew in 3D. You can play as most of the characters in DK's crew, and each have their own abilities. King K. Rool is at it again, and this time he's after Donkey Kong's banana pile (again)! The evil reptile has also taken your friends, and it's your job to get them all back!
Donkey Kong 64's voice acting might be an acquired taste, but the the game-play was fun! With tons of mini-games, fruit to collect, and areas to explore, DK64 was one of the best N64 games! It was also one of the first N64 games that allowed you to play an adventure game, with multiple characters in 64 bit. Rare proved to be some of the very best developers for the N64, and DK64 won't be their last game on this list!
---
8. Mario Kart 64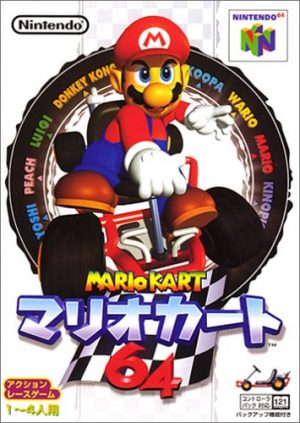 System/Platform: Nintendo 64
Developer: Nintendo
Publisher: Nintendo
Release Date: Feb. 10, 1997
Mario Kart is back, and this time it's rendered in 64 bit! The Mario Kart franchise lives on to this day on Nintendo's latest consoles. Super Mario Kart may have been the first, but Mario Kart 64 set the standard for 3D Mario Kart racing games. Though Mario Kart 64 was well received by people, some critics didn't think too much of it, and "Gamespot" gave it a 6.4/10. Other scores were much higher, however, better reflecting what the people thought. Choose your character, race to the finish line, and throw red shells at people (you know the drill)!
Fond memories for many flood back to them when they think about the overnight competitions with pizza and soda. Parents would throw fits at us, and tell us to keep it down. You've got to love Mario Kart 64's fast pace! You could make the argument that offline games were more fun, because it required you to be at the same house. The N64's 4 controller slots meant some games were 4 players, which meant more people. Mario Kart 64 was one of those games that used up all of the controller slots, which meant more friends over for dinner!
---
7. Super Smash Bros.

System/Platform: Nintendo 64
Developer: HAL Labs
Publisher: Nintendo
Release Date: Apr. 26, 1999
"Super Smash Bros." on the N64 was the very first "smash" game for Nintendo. Before "smash" had online play, or any powerful "smash" abilities implemented, it was a bare-bones fighting game. These days you have all the extra bells and whistles. Like all N64 games with multiplayer, you had to have friends over to really get the full experience of the game. But when you did get to experience the mayhem of having friends over, it was hard to put down!
Being the first in the series, "Super Smash Bros." laid the foundation for all of its future games to come. We can only think of one other game today that was almost the same as the smash games with the "smash" abilities. (See Power Stone for the Dreamcast). For some of us being able to kick around "Jigglypuff" was enough for us to purchase the game. However, it was actually a bit boring for some people without anyone else to play with. Nintendo learned a lot from the first "smash" game. Now they've implemented a story, all kinds of crossover characters, and an online mode. May the smashing days never end!
---
6. Star Fox 64

System/Platform: Nintendo 64
Developer: Nintendo
Publisher: Nintendo
Release Date: Jul. 1, 1997
Oh the many sleepless nights some of us had with this game. Not only was the multi-player outstandingly fun at the time, the story mode was fun to play, and fun to watch others play! Trying to ace every mission so you fight the correct version of the final boss was a twist that most didn't see coming. It was a shock to learn you could take multiple paths and could earn "medals" for doing well. If you earned all of the medals on all of the planets, you would unlock secrets in the game, like a new title screen.
If you unlocked everything in the game, you could have a ton of fun in multiplayer. You could play with an "Arwing", "Landmaster" tank, or even run out on foot with an anti-aircraft weapon. Some of the maps provided better cover than others for certain play styles, but it was good chaotic fun! Though this wasn't the first Star Fox to be made, it was the first to introduce the "Rumble Pak" accessory. The "Rumble Pak" made it so the N64 controllers would vibrate, and was shipped with Star Fox 64.
---
5. Banjo-Kazooie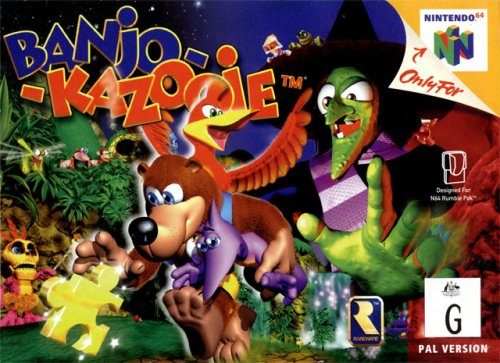 System/Platform: Nintendo 64, Xbox 360
Developer: Rare Ltd., 4J Studios
Publisher: Nintendo, Microsoft Game Studios
Release Date: Jun. 29, 1998
After the release of Mario 64 people wanted more, and "Rare Ltd." did not disappoint. Banjo-Kazooie is another 64 bit "platformer", which has you switching between bird, and bear. Like Mario 64, you enter worlds to collect items, which help you reach the final boss. Your main goal in the game is to rescue Banjo's sister from an evil witch. Banjo-Kazooie also holds many secrets, and it was a blast to try and find them all. From the secret puzzle game in Banjo's house, to the sand castle where you could enter cheat codes, Banjo-Kazooie was tons of fun!
Banjo-Kazooie was so popular it spawned a sequel, and eventually made it's way to the Xbox 360's "market place". The Xbox 360 also had it's own Banjo-Kazooie game, named "Banjo-Kazooie: Nuts & Bolts". No matter how many games were released after Banjo-Kazooie, if it wasn't for the N64 version first, it wouldn't have existed! We have wonderful memories of romping through the game and collecting all the puzzle pieces. We also have fond memories of using cheat codes in the game that turn you into a washing machine. The world needs more washing machine-based super heroes.
---
4. Super Mario 64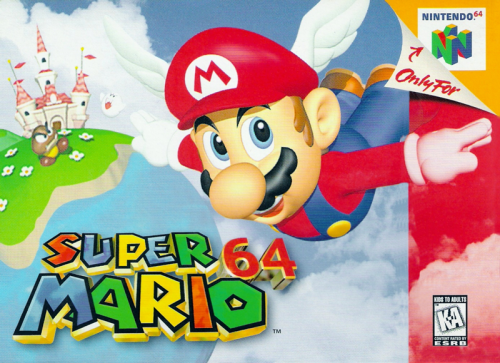 System/Platform: DS, Nintendo 64
Developer: Nintendo
Publisher: Nintendo, iQue, Playtronic
Release Date: Sep. 26, 1996
Nintendo's iconic plumber goes 64 bit, in the historic "Super Mario 64". Nintendo took a huge risk going 3-dimensional, and it payed off! This was the must-have game at the time, and it had people all over the world drooling. Nintendo 64 was the spawning point for a lot of games, however, this one set the standard for 3D platforming. As Mario, it's your job to rescue Princess Peach from the tyrannical Bowser. You'll collect stars, coins, and explore 64 bit worlds throughout your journey.
Super Mario 64 was remade for the Nintendo DS system years later and added a few characters. To this day, it remains a testament to not only Nintendo, but games in general. If you wanted to be the cool kid on the block, you had this game by the holiday season. We remember the first time playing this game, it was like you could feel the breeze on Mario's face, and experienced freedom for the first time. This is the type of feeling many games to this day try to recreate.
---
3. Goldeneye 007

System/Platform: Nintendo 64
Developer: Rare Ltd.
Publisher: Nintendo, Gradiente
Release Date: Aug 25, 1997
"Goldeneye 007" is another standard-setting game, but this time, in the world of First Person Shooters. Based off of the 007 movie, the game had the same plot, with the exception of being able to move freely around the set pieces. It was the type of game people wanted from the N64, and "Rare Ltd." had done it again. You take the role of James Bond, and it's your mission to stop the bad guys from using the "Goldeneye", an electromagnetic satellite weapon.
This is the game, for many people, that also set the standard for overnight slumber parties. People invited friends over, and everyone stayed up all night. Its multiplayer modes were amazing, and its maps were vast. We have fond memories of putting proximity mines on ammo boxes, and watching our friends throw controllers into walls. "Goldeneye 007" held many secrets to find, and different difficulties to conquer. Unlocking secrets meant unlocking cheats, maps, and characters to play as in multiplayer!
---
2. Perfect Dark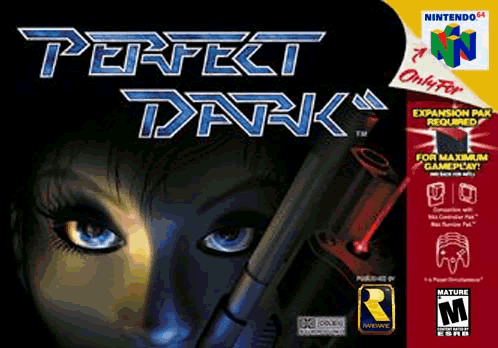 System/Platform: Nintendo 64, Xbox 360
Developer: Rare Ltd., 4J Studios
Publisher: Nintendo, Microsoft Game Studios
Release Date: May 22, 2000
"Rare Ltd." took the "Goldeneye 007" standard, ironed out all the flaws, and made "Perfect Dark". The result was a game which was so large in scale and variety it required an "Expansion Pak" for the N64. The "Expansion Pak" boosted the N64's RAM so certain games would run smoother. "Perfect Dark" also added voice acting, and had a female as the lead protagonist. The story of Joanna Dark took place in the future. It was your job to take down the bad aliens who were invading Earth, and also help save the good aliens.
"Perfect Dark" was outstanding. You could even play multiplayer with bots, and customize the bots to your liking! If you were like most people, however, you played multiplayer with friends, and this time there was a co-op mode. It was like a dream come true to play the single story campaign with a friend at the time! The weapon variety was also vast. You could use an alien sniper rifle that would shoot through walls, or turn a "laptop gun" into a turret. Like "Goldeneye 007", there were maps you could unlock, and some were remade maps from "Goldeneye 007" itself!
Unlike "Goldenye 007", "Perfect Dark" was rated M for mature, and as a result, may have turned a few people away. "Perfect Dark" has been remastered, and is available to download on the Xbox market store. So now, you can play its fantastic multiplayer modes in HD, and online!
---
1. The Legend of Zelda: Ocarina of Time

System/Platform: 3DS, Gamecube, Nintendo 64
Developer: Nintendo, GREZZO
Publisher: Nintendo, Gradiente
Release Date: Nov. 23 1998
There were precious few RPGs on the N64, and in 1998, there were exactly 2 (3 if you counted Gauntlet Legends). After people got sick of playing "Quest 64" all the time, they had nowhere to turn, until "The Legend of Zelda: Ocarina of Time". This is it, the number one spot, and for good reason. It was the first 3D Zelda game, and it introduced a real-time day and night cycle. Hyrule was a vast world that was alive! As Link (hero of time), it's your job to travel through time to save the world, and eventually stop Ganondorf's evil plan.
Zelda games have always been a huge selling point for Nintendo. To this day, Zelda still proves to be an incredibly strong standard-setting game. With the release of "Breath of the Wild", it goes to show you that this franchise is far from a distant memory. At the time, "Ocarina of Time", would drop jaws to the floor and leave us imagining what the future of gaming could hold. Say what you will about this game, but "OOT" is hailed as one of the greatest video games of all time by a large majority of people. It's so popular, it even had its own remastered versions, one of them being in 3D on the 3DS!
---
Final Thoughts
There were many good games for the N64. "Turok 2: Seeds of Evil", for example, is now available on Steam. The N64 and many other consoles of the past demanded that you find people to play with. Online games today have added the convenience of being able to play online. While no one wants to go back to the time of having to find friends to play with, today's society has also lost a bit of its socializing as a result. The 90's were a golden age for video games, and not just for the N64.
Did you like our list? Perhaps you have many comments about why your favorite N64 game isn't on it? Please comment below!
by Samuel Mackey
---