También puedes leer este artículo en:Español
Introduction
Good news, my dear otakus. It is time to go back to our childhoods! Who didn't watch at least once an episode of the Moomins? Or maybe you have seen the plump figures of these characters in some Japanese merchandising without being sure of who they are.
A few of you might be surprised with the fact that the Moomins are not Japanese. The three anime series (one from 1969, another from 1972 and a third one from 1990) were based on the works by Tove Jansson, a female Finnish artist who started drawing Moomin like characters for a magazine in 1943. The origins of the Moominvalley and the first fully fleshed stories of the Moomins were depicted on a picture book called "The Moomins and the great flood", published in 1945. The stories on their anime version have kept their enchanting simplicity to encourage curiosity and adventure.
Thanks to its interesting cast of characters, the Moomins can be considered a safe source of entertainment for all the family. So, this article is for all of you out there who want to remember the good old days of your childhoods. Or maybe you just want to know more about this plump looking creatures and their friends. Search no more. Let's go to the Moominvalley to pay a visit to the Moomins!
10. The Mymble

The Mymble is the daughter of Mymble, who has a lot of children from different parents. Please don't confuse her with her jolly mother who has a similar name. This girl is also the big sister of Little My, whom we will talk about later (be patient, please). She also resembles her sister a lot. I mean, just look at her. The same eyes and hair style (although in different colors), the same nose and face shape, etc.
Apparently all the girls of this family are highly independent. But the Mymble has a distinctive characteristic, which is her personality. As a big sister, The Mymble is responsible, caring and up for any kind of hard work. She is of a more dreamy nature than Little My, as she believes in romance.
---
9. The Hemulen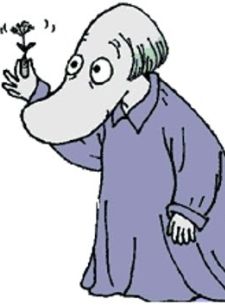 This character is part of a species called, well, Hemulens. They are slightly larger than Moomins and apparently a little bit more in the gray/brown colors. The Hemulens are great lovers of order and can be effective although rigid leaders. As a consequence, they are on the serious side.
The particular Hemulen who is a friend of the Moomins has long grayish hair and dresses up in purple. As Hemulens like to collect all sorts of things, he has been known as a collector of flowers and stamps. He has also been seen birdwatching in Moominvalley. You can guess that Hemulen is a great source of knowledge and help for the Moomins. He also enjoys finding a new species to add to his collections, so Hemulen is also a great source for adventures!
---
8. The Snork

Enter the first of yet another species found on the Moominvalley, the Snorks. They are almost the same as the Moomins except for one thing: their colour changes according to their mood. Snork is the big brother of another important character (Snorkmaiden), but that is not the most relevant characteristic he has. Our plump purplish guy is a scientist. In accordance to this, he also wears red rimmed glasses.
But Snork does not only have the typical features of a scientist. He is so talented, that many people in the Moominvalley look for him when they need a solution for their problems. Snork is quick to organize projects and people when the occasion requires it, too. Also, throughout the anime we see him trying to perfect a machine that can fly.
---
7. Moominpappa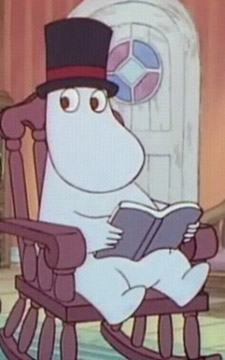 He is the head of the Moomin family, and he surely looks like one. Moominpappa almost always wears a black top hat and a walking stick, like an European gentleman from old times. Moominpappa's hat is special, as it has the mysterious words "M.P. from your M.M" painted inside to distinguish it from all the other hats that exist in the world. Moominpappa's color is slightly brown, reflecting his love of coffee.
Did you know that the lead of the Moomins was an orphan? He was raised up by the aunt of Hemulen! But he left the orphanage early on his youth to see the world. He met a lot of people, including the parents of Moomins' friends and his own future wife. Moominpappa also had great adventures! For example, he went to explore the deep sea for several days and even saved Moominmamma from drowning. Moominpappa has had experienced so much, that he is writing his memories, although he confesses he might never finish the book.
---
6. Moominmamma

She is always by Moominpappa's side, so Moominmamma had to be close to him in the Top Ten too. This cream colored Moomin wears a striped apron and carries a black bag everywhere (even inside her home). We know mummies carry all sorts of useful things on their bags, so Moominmamma is not the exception. For example, she always has tummy powder and bark at hand.
Moominmamma is a too perfect mom. She does not only cook, clean, and takes care of everyone who comes inside Moominhouse, Moominmamma also believes in giving freedom to her son and his friends, as people can learn a lot from their mistakes. She also has a very strong but kind character. Whenever the Moomins are in trouble, Moominmamma sees the best of the circumstances and helps to find a solution. And she also enjoys making boats from bark!
---
5. Sniff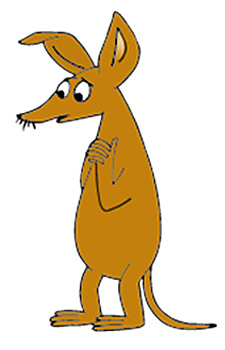 This is a character with a curious origin. He looks like a brown mammal of some kind (maybe an aardvark?). Sniff's father is The Muddler, a human with the tendency to forget everything. His mother is The Fuzzy, who looks the most like him. Sniff was adopted by the Moomins, as he was lost by his father in the forest.
Sniff is good natured and curious, as all members of the Moomin family are. Only that he is the one with the least patience. Sniff has also been shown as selfish and eager to make money. Nevertheless, when things don't turn up good or he ends up hurting others, he backs up from his intentions.
---
4. Snorkmaiden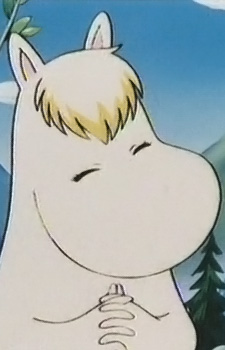 She is one of the most recurrent characters in the Moominvalley. The young sister of Snork, this girl has a slight shade of pink color. What tells Snorkmaiden apart more from the Moomins is her blond hair and the gold anklet she wears on her left ankle. She is a good friend of Moomin at first and later becomes his girlfriend.
Snorkmaiden is, for the lack of a better word, vain. She likes fancy clothes and jewelry, besides being a fan of grooming her hair and tail. But this lady also has her good points. Snorkmaiden is a sweet girlfriend, as the only thing she does with Moomin is being his adventures companion and cuddle together. She also has some brilliant moments when the Moomins get in trouble, or when everyone is helping Hemulen collecting a new specimen for his collection.
---
3. Snuffkin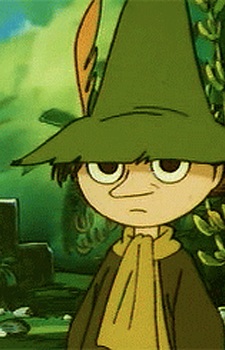 Meet one of the most popular characters of the Moomins! This handsome looking guy with green clothes and wide hat is a vagabond. His background is even more interesting, as he is Little My's half brother. Snuffkin's father is called The Joxter, and he inherited his eagerness of freedom from him. Snuffkin is also Moomin's best friend.
Besides being a wanderer, Snuffkin is a lover of nature and simplicity. He carries all his possessions in his backpack, including his fishing rod and his harmonica. Snuffkin has journeyed a lot, discovering new places while enjoying the travel itself the most. He also has a warm heart and a certain honorable sense, being popular among the inhabitants of Moominvalley.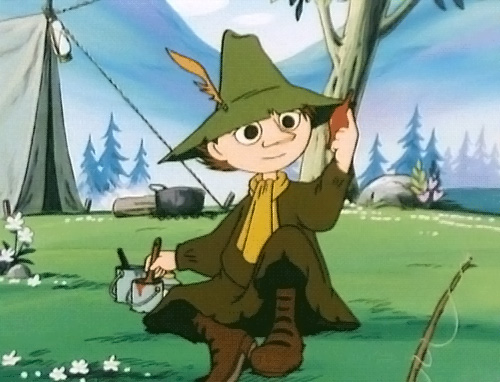 ---
2. Little My

This tiny fiery girl is the most popular female character from the Moomins to date. Little My is so small that she can hide easily. She wears her red hair in a curious uptight bun over her head. Little My's red dress is also her trademark. But don't judge her for her size. There is more to Little My than meets the eye.
If Little My is popular is because she is a mischievous, sarcastic and even aggressive girl. When she wants something, she does not dream about it like Snorkmaiden or her old sister The Mymble. Little My is not afraid of getting her hands and red dress dirty. Actually, she might prefer them that way, as she adores to have fun. Little My is also a practical, down to earth girl, marking a contrast with the sometimes too idealistic Moomins.
---
1. Moomin

We finally reached the first spot, which belongs to none other than Moomin himself. This guy with a slight blue tint on his furry skin is the protagonist of the Moomin's adventures. Plus, he is the most recognizable character from the family, despite the fact that he does not have any particular props like his parents or friends. His popularity never grows old!
So, what makes of Moomin a great character? Well, he is the incarnation of our childlike curiosity, when everything in the world was new to us. Because he has a warm relationship with his family, Moomin also feels safe in Moominvalley, which contributes to his being a self assured guy. That is why he is up to any adventure as soon as it appears. He is also patient with his girlfriend Snorkmaiden and tries his best for the sake of his friends.
---
Final thoughts
With its charming set of characters and adventures that range from daily life situations to fantasy epics, the Moomins marked the childhood of many of us. These creatures delivered all sorts of lessons in a painless way. For example, they teach about the values of friendship, loyalty, braveness, freedom and knowledge. All of them have representations in the main characters without being too obvious or simplistic. That is why the Moomins still live in our hearts and keep conquering young minds despite the years.
Which is your favorite Moomin character and why? Are you an old fan of them or have you recently discovered them? Don't forget that we are open to all your comments. See you soon!