También puedes leer este artículo en:Español
As Knox, a reporter in the 1989 Tim Burton Batman film once said, why are the rich so weird? Because they can afford to be. For this latest updated list, we wish to re-explore some characters from anime who are rich and they just flaunt it in some of the craziest ways possible. To someone like Jeff Bezos, he spends $10,000 like it's $10. For Bill Gates, he wishes to use his wealth to improve education. With Elon Musk, he wants to make the Earth and Mars better places. Some use their money for good, some for bad, and some for just really weird stuff. But hey, it's their money, they can do what they want! So for today's list, we wish to re-explore rich characters from anime who express their wealth in many ways possible that stand out.
10. Shuutarou Mendou from Urusei Yatsura

Episodes: 195
Aired: October 14, 1981 – March 19, 1986
As for the OG of rich anime characters, it is without a doubt Mendou from Rumiko Takahashi's breakout hit, Urusei Yatsura. Lets just say that whatever wealth his family has puts real life one-percenters to shame. He's not just part of the 1%, he's part of the 0.01%! His family owns half of Japan, has their own private security force, and Shuutarou parachutes out of a private jet to get to school! However, he's also a total douche bag and he may remind you of such classmates you had back in high school who looked down on others because they were the star football player or their daddy bought them a BMW. When he's the slightest bit insulted by Ataru, the main character, he's rather petty to the point that he draws a katana and swings it at him. When it comes to Mendou, especially when trying to earn the affections of Lum, he is proof that money can't buy certain things such as love.
---
9. Satsuki Kiryuin from Kill La Kill

Episodes: 24
Aired: October 4, 2013 – March 28, 2014
Like many characters on this list, Satsuki is the child of a big conglomerate, but she is also the president of her school's student council. And she doesn't go to just any school but a school full of students who wear performance enhancing school uniforms as they learn to use its unique fibers to harness super powers. Though student councils in real life are just popularity contests where nobody has power; with Satsuki, she has the power to mandate student combat competitions, and can annex rival schools! Through her privileged upbringing, Satsuki has authoritative leadership capabilities, an unorthodox charisma, and is a formidable warrior. Upon her introduction, Satsuki is the manipulative type of rich kid but as the series progresses, she comes to learn the value of friendship, another quality money can't buy.
---
8. Akira Ono from High Score Girl

Episodes: 12
Aired: July 14, 2018 – September 28, 2018
Akira Ono has it all, wealth and popularity. She's multi-talented and other than humming, she NEVER speaks (due to storytelling purposes)! In addition to her regular schooling, she has a nanny/tutor at home and so she's well-rounded in the arts and academics. So, what is one of her hidden talents? Akira happens to be talented at arcade games, something that is demonstrated when she beats Haruo, her classmate, at Street Fighter II. Despite Haruo's initial frustration, they become friends. Akira on the outside seems reasonably intimidating due to her background and how she comically gets violent with Haruo. So, what makes her a worthy addition to this list? Through Akira, we see that there are some pressures to being the child of a wealthy family and those high expectations can get to you if you don't take it easy. Thanks to her past-times such as arcades (since she doesn't own a home console), she can unwind, have some fun, and make some friends. Through her relationship with Haruo, an average boy, she learns the value of friendship and enjoying the simple things in life.
---
7. Kaguya Shinomiya from Kaguya-sama wa Kokurasetai: Tensai-tachi no Reni Zunousen (Kaguya-sama: Love is War)

Episodes: 12
Aired: January 12, 2019 – March 30, 2019
From this romance anime, we have Kaguya Shinomiya, the Vice President to her school's student council. In addition to her role, she's the daughter of one of Japan's richest men. She is academically gifted, but due to her sheltered upbringing, she has trouble interacting with people and expressing her feelings, and she can be very manipulative due to her family's influence. However, audiences have to give her credit for actually trying to find a way to express her feelings. Due to her trying to navigate general social circles, her presence on this list shows that just because you have all the money in the world, it doesn't mean you know how to truly survive in it. When you don't have enough exposure and/or interaction with your peers, things can get awkward and no period gets any more awkward than high school. Still, Kaguya is very honest with herself and she genuinely wants to correct her flaws, but just doesn't know how. When you look at things from her experience, audiences can learn that there are some things that money can't buy.
---
6. Ciel Phantomhive from Kuroshitsuji (Black Butler)

Episodes: 24
Aired: October 3, 2008 – March 27, 2009
At only 13 years-old, Ciel already owns the Funtom Corporation, and is the Aristocrat of Evil. It's a recipe for crazy rich. Plus, he's tight with Queen Victoria due to his unique position. At 13, he doesn't want to dress up like today's rappers (or the 19th century equivalent) and put his feet in a pair of Jordans, he wants to dress like a genuine English gentleman and has a wardrobe that defines that. Due to his spoiled upbringing, he's appropriately acts that way while trying to claim he's mature despite not being able to dress himself or doing simple chores. With his standards, he hates being in places that he considers not worthy of him for even the shortest periods of time. Putting aside some of his immature aspects, he is pretty good at being a CEO and has made more bank with Funtom Corporation. But to put in a nutshell, try to imagine a 13-year-old British version of Gordon Gekko from Wall Street and that's what you get with Ciel.
---
5. Akane Shinjo from SSSS.Gridman

Episodes: 12
Aired: October 7, 2018 – December 23, 2018
Akane lives in a pretty big house and can collect all the kaiju figures a hardcore tokusatsu otaku could dream of, and she's one of the most popular girls at school. But deep down inside, she's lonely and puts up a front where everyone believes she's an ordinary school girl. When you see her in her room, it is filled with trash and you don't see any adult supervision which is (probably) why she turned out to be a petty and homicidal sociopath. Some people like to say people commit crimes because they were raised in ghettos or in a poor environment, that may be true to some extent, but just because someone grew up privileged, doesn't mean that they're going to turn out to be like Mother Teresa, and this is seen with Akane. She's not just willing to kill people over lets say stepping on her shoe, she's willing to destroy her own town over it! It's not just the wealth that emphasizes her negative qualities, but the god-like power she is given that shows that not everybody is equipped to handle such responsibilities.
---
4. Haru Okumura from Persona 5 The Animation

Episodes: 26
Aired: April 8, 2018 – September 30, 2018
Haru is another example of the (possible) negative aspects to being rich, and we feel that should be acknowledged on this list. In addition, her role also speaks to gender roles of modern Japanese society as she is already engaged to an older man of an influential political family arranged through her father. Due to her father forcing so much on her, and the influence her father has on the nation, people treat her differently just to keep in-favor with her father. Since this is the only way she has been interacting with people, she tends to keep to herself at the school garden. Once she becomes a member of the Phantom Thieves, Haru starts to open up and see that people want to be friends with her. Though the function of her role as a rich daughter can be considered outdated in context in a Western setting as to how everything was given to her, or with a life planned out for her, Haru does have some obstacles with how she wants to express herself and that she wants to make her own decisions. She shows that growing up wealthy doesn't always equal having freedom. As she learns the truth about her family's wealth, Haru does what she can to make the culprits take responsibility and start from scratch.
---
3. Prince Arslan from Arslan Senki (The Heroic Legend of Arslan)

Episodes: 25
Aired: April 5, 2015 – September 27, 2015
Like other characters listed here, Arslan's wealth is also inherited but he comes from royalty. Though his home kingdom of Pars has been taken over by a rival nation, it hasn't hindered whatever riches he happens to possess, and it's enough for him to set out on his journey to reclaim his kingdom. Whenever Arslan has to broker alliances with neighboring nations and armies he meets on his quest, he still manages to have the cash to pay. If someone is in need of money, he's willing to give a bag of gold to that person. The fact that he can still pull off a successful military campaign from a losing end proves not only his wealth, but how he uses it. He's proof that even when the rich go broke, they never go broke. If Donald Trump can still be filthy rich after numerous bankruptcies, so can Arslan with the brief loss of his kingdom, make a triumphant comeback and make the country great again!
---
2. Arisa Ahokainen from Akiba's Trip The Animation

Episodes: 13
Aired: January 4, 2017 – March 29, 2017
Despite her silly accent in the Japanese version, Arisa is almost a perfect example of how people should use wealth (or in this case, inheritance) to invest in themselves (and their children) instead of just mooching. Unlike some other characters on this list, Arisa is not so sheltered and she uses her wealth to travel the world and she already has a college education when most people her age are just barely out of high school. Arisa wants to prove her self-worth and that she is worthy of her inheritance. Not only is she highly educated and has great business sense, but she is proficient in martial arts to the point that she can fight the bugged ones without any enhanced abilities. Arisa is very friendly and supportive, and she can relate to Akihabara's otaku culture just like the writers and readers here. However, she just happens to be able to afford a lot of the expensive rare figures you can get there.
---
1. Mina Tepes from Dance in the Vampire Bund

Episodes: 12
Aired: January 7, 2010 – April 1, 2010
When you're the queen of all vampires, you got it made and still look like jailbait. Considering Mina's upbringing, she naturally acts like a Kardashian as if she were immortal but with actual political influence. So, how does she use her wealth? First, she bought an island off the coast of Japan and uses it as her personal kingdom of vampires, and actually boosts Japan's economy by paying off its national debt and brings in some vampire-owned businesses into the country. The fact that she has economic dominance over Japan shows pretty much how rich she is to the point that the government has to bend to her will at times (TAKE THAT ABENOMICS!).
---
Final Thoughts
For this edition to our richest anime characters list, we have to admit that these characters are rich because they're inheriting their wealth and by no means is that a bad thing (some real life rich people came from privilege, too). Some have proven that they are worthy of their inheritance, and there are others who aren't, and there are those that just simply don't care and just want to enjoy life for themselves. They express their situations in many ways. Haru may not have freedom, but Arisa has all the freedom in the world to enjoy herself. Some can just easily get more money because of immortality and when certain currencies inflate/deflate, then they're more than ready to take advantage during an economic crisis to further their own agendas. There are those can handle something as crazy as high school, and some can't. And all of these situations leads us to our one honorable mention, Naoto Date, the original Tiger Mask. He earned his money through his success as a professional wrestler and what does he do with the money? He donates it to the orphanage that raised him and since Naoto knows what it's like to grow up with nothing, compared to our top 10, he has a different sense of value to having money, and we could also learn by his example.
---
---
Who are 10 richest characters in anime? Well, for this list of super rich characters, I narrowed it down by using a few rules. Number one, they lived through the entire series, because when you die you can't take your wealth with you. Number two, to keep things fun, the characters needed to be single and ridiculously wealthy. That surprisingly made this list harder to compose as a lot of the insanely rich characters tend to die in anime or be engaged since birth.
So, lets check out what we have for you all as we look at the Top 10 Richest Characters in Anime!
Enjoy!
10. Kumiko Yamaguchi From Gokusen

Episodes: 13
Aired: Jan 6, 2004 - Mar 30, 2004
Kumiko AKA"Ojuo" is a 23-year-old high school teacher whose bank account is definitely not lacking funds, as her grandfather is the head of an influential group of yakuza. Kumiko really doesn't have to work, but she decided to go after her dreams and after being rejected from several teaching jobs, she landed a job at a delinquent high school. Ironically, that job goes perfectly with her background.
One of the most notable parts of her personality is despite being super rich she has a good heart, strong work ethics, can fight, and tries to teach her students to do the right thing. She has a heart of gold with a large bank account, plus she's single and looking! So, that makes her a highly eligible bachelorette and number 10 on this list.
---
9. Keigo Atobe from Prince of Tennis

Episodes: 178
Aired: Oct 10, 2001 - Mar 30, 2005
Keigo is the highly charismatic heir to the Atobe Conglomerate. Not only is he a rich pretty boy, his athletic abilities are not to be taken lightly as the captain of the tennis club and the student body president. On top of all of that he is extremely well educated, loves Greek literature and has a sharp business mind.
Smart, good looking, athletic and rich. The only draw back is that he's only 175 cm tall so… He almost had it all. Anyway, he's got a bit of an ego but he's very hard working and single placing him at number 9.
---
8.Tamaki Suou from Ouran High School Host Club (Ouran Koukou Host Club)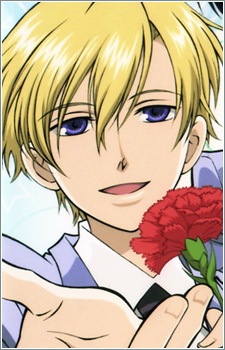 Episodes: 26
Aired: Apr 4, 2006 - Sep 26, 2006
Tamaki is the richest student at a school built exclusively for the elite and the president of the Ouran Host Club. The members of the club are the richest and hottest boys of the school who all work together to ensure their guest (the female students) all feel like princess. Anyone who leaves an 8,000,000 yen or 80,000 dollar vase out in the open with no case or any type of protection certainly isn't worrying about its value. Not the mention the fact they use such lavish decoration in their clubroom only scratches the surface of how wealthy they are.
However with Tamaki, money isn't everything as he has some serious family complexes, but his prince like appearance, along with his playful and naive attitude, are what makes him so lovable. Also, there is a live action TV drama and Yusuke Yamamoto, who happens to be single and a very attractive actor in Japan play Tamaki's role. ;D
---
7. Roger Smith from The Big O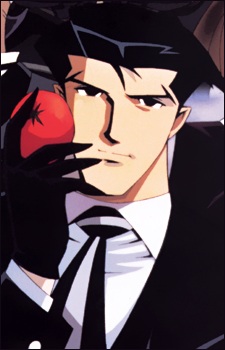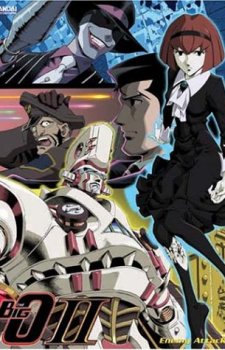 Episodes: 13
Aired: Oct 13, 1999 to Jan 19, 2000
Roger, the playboy millionaire, is the anime equivalent of Bruce Wayne by not only resembling Bruce quite a bit, but by also having his own version of a bat cave that holds his "Megadeus," Giant robot named, "Big O". On top of his massive amount of wealth, this single rich boy has a difficult job that requires him to fight both hand to hand combat, as well as with other Megadeus' by using Big O.
I can't image how much it costs to update all the abandoned subway lines he uses to transport Big O, but his bank accounts are definitely not hurting. Plus, he makes a killing helping the rich regain their lost memories as Paradigm City's top Negotiator.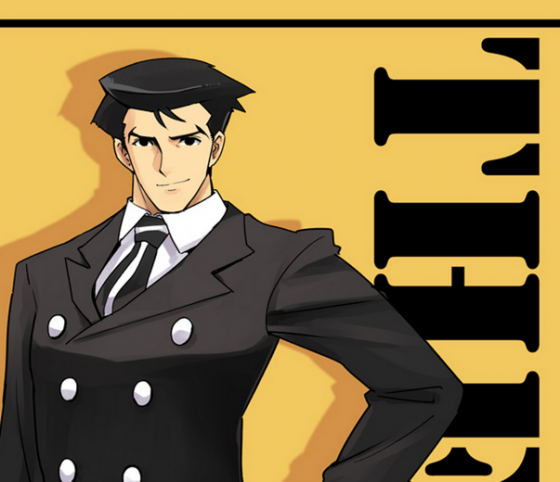 ---
6. Seto Kaiba from Yu-Gi-Oh! (Yu-Gi-Oh! Serie Zero)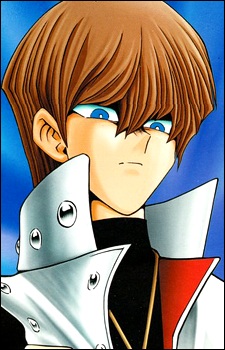 Episodes: 27
Aired: Apr 4, 1998 - Oct 10, 1998
Seto is pretty much the type of rich bad boy that you either love or hate, with his famous lines about how rich he is constantly being thrown about through the series. As the CEO of Kaiba Corporation, Seto truly embodies someone who is used to having things go his way and feels that he can use money to get whatever he wants in life.
While his personality is less than charming, and his ego is out of this world, he still runs the largest entertainment company in the world. So love him or hate him, he's still tacked with cash and not married so he made it on our list at number 6.
---
5. Momoka Nishizawa from Sgt. Frog (Keroro Gunsou)

Episodes: 358
Aired: Apr 3, 2004 - Apr 3, 2011
Momoka is the daughter of a multi-billion dollar family and frequently buys islands whenever she wants. Enough said… She buys islands at a whim, that's got the be the wildest hobby any 13 year old has ever had. Also, she's a little obsessive about her crush, Fuyuki, but she's a 13 year girl after all, so that's understandable.
None the less she's the richest 13 year old female anime character and number 5. You can see a lot of the frog-like aliens on posters and video clips on trains throughout Tokyo to help remind people to use their manners on the train.
---
4. Mine Nakahara "Auntie" from Yamato Nadeshiko Shichihenge (The Wallflower)

Episodes: 25
Aired: Oct 3, 2006 - Mar 27, 2007
Not only can Auntie afford to house her own collection of pretty men with troubled past in a billion dollar estate, but she can also drop by when ever she pleases in her personal helicopter, jet, or limo. But, being this rich means she can't just appear in any old limo! In fact, she probably has the longest stretch limo in the anime world. Not to mention she flaunts some serious bling and designer clothes every time she reappears, so when it comes to spending cash, nothing would be too much for her. On top of that, she's known as the "infamous Marie Antoinette of the East," now that's a title only money can buy!
In addition to her lavish lifestyle, she pours tons of money in turning her niece into a proper lady, while chasing after romance and an adventurous life. It must be nice to live like that, although I do wonder why she's not a cougar...?
---
3. Satsuki Kiryuuin from Kill La Kill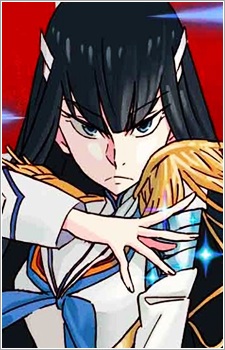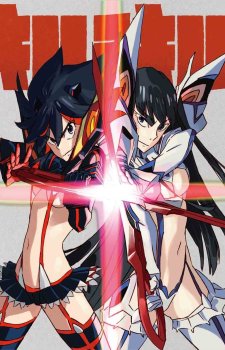 Episodes: 24
Aired: Oct 3, 2013 - Mar 27, 2014
Not only does Satsuki rule over her school with an iron fist, and at times not wearing very much clothes, she is stacked with money! In the Kill La Kill world, your rank determines your lifestyle and income. The higher your rank is, the more money you'll get, and since she's number one, she's definitely not hurting for cash.
Not to mention, she comes from a wealthy family, even though her mother may be, to put it lightly, mental. Satsuki definitely enjoys having a super high tech student room that makes the Ouran Host Boy's clubroom look like child's play. In fact I think Batman himself would prove of that room.
---
2. Rumaty Ivan di Raginei from Hanasakeru Seishounen

Episodes: 39
Aired: Apr 5, 2009 - Feb 14, 2010
Rumaty is the second in line to the Raginei throne, and one of the men Kajika's father selected as her possible future husband. Not only does he have a striking appearance, a wild personality, and his own handler since birth, as he will take over ruling the richest nation in the world. Out of all the men that were selected as possible candidates, Rumaty is by far the richest and starts out with an overly demanding attitude, but who can blame him. He was raised to be royalty.
However, the most important aspect of Rumati is he not only learns to care about people, but he matures and will be able to wisely rule over his nation. Oh and ladies, added bonus, he's not engaged to anyone! Over all, he would probably win on any bachelor game show once he's over 18.
---
1. Ookuninushi from Kamisama Hajimemashita (Kamisam Kiss season 2)

Episodes: 12
Aired: Jan 6, 2015 to Mar 31, 2015
Ookuninushi is the "God of Wealth." Being that he's the highest-ranking god in their world, has eternal life, beauty/youth, and riches. He would be the catch of the day for any lucky goddess, or even mortal woman. His temple is massive and he definitely didn't spare any expense on decorations or alcohol. He really knows how to party!
His beauty is only matched by his flamboyant, playboy personality, but he does have a sensible side to him as well. Being the "God of Wealth" would definitely make you the richest anime character in the world hands down, no questions asked. In the anime, he's single with no love interest; however there is someone in the manga, but the story isn't covered, so there's still hope for all the single ladies out there.
---
So here's a great top 10 list of the richest anime characters, AKA the most eligible bachelors and bachelorettes. From gangster teachers to millionaire playboys, these characters all have wealth, power, and respect. Also, there are a lot of Ojou (rich girls similar to princess type characters), but it's very hard to rank them by wealth because it's not directly stated, or they don't give much background on exactly how wealthy their family is.
by Fenix D'Joan