Light novels are a specific writing style in Japanese literature, which is oriented toward middle school and high school readers. Unlike novels, light novels have an easier vocabulary, and they feature some illustrations drawn by amazing manga artists. In the last few years, this genre gained a huge popularity; in fact, many light novels received anime, or manga adaptions, gaining even more popularity in time.
Exactly like manga and anime, light novels come with different genres, and sub-genres, but in this article, we'll focus on shounen-ai. We'll mention 10 shounen-ai light novels that became really popular thanks to a captivating plot and cute characters. Stick with us until the end to discover our picks!
10. Neko no Kuni e Youkoso (Welcome to the Country of Cats)

Authors: Sugihara, Rio (Story) Techno, Samata (Art)
Genres: Fantasy, Romance, Supernatural, Shounen-ai
Volumes: 1
Published: 2014
In the so-called "Country of Cats" there's Touya. Formerly a human, after his death in the human world he turned to an ayakashi cat. However, these are just Kiri's suppositions; Kiri is the man who helped Touya when he came to the Country of Cats, but Touya can't remember if he was a human, or a cat originally. Natsuki and Akio are children with cat ears, and they told Touya that he was to be married to Kiri, but is that even possible?
If you are approaching the shounen-ai light novels just now, Neko no Kuni e Youkoso is your little gem to be read in one go. Touya, turned into an ayakashi in the Country of Cats, will spend a lot of time trying to figure out whether he was a human or a cat to begin with. In the meanwhile, there's Kiri, the person he had to be married with, who will make Touya's heart beat faster! Pick Neko no Kuni e Youkoso, and see for yourself the outcome!
---
9. Yuusha datta Ore wa Konse koso Heibon na Jinsei o Ayumu! (The Former Hero Wants To Lead An Ordinary Life)

Authors: RIO
Genres: Comedy, Fantasy, Mystery, Psychological, School life, Shounen-ai
Volumes: 71 chapters
Published: 2016 – ongoing
Satou Kakeru has memories of his past life, in which he was a Hero in a fantasy world. However, those memories have no place in the current world, and the modern society. One day, a new transfer student begins to wreak havoc on Kakeru's life. It's Suzuki Teru: alias the Demon King. Due to an accident, the two of them get separated, and three years later Kakeru's brother tells him something that will change his life for good...
The Former Hero Wants To Lead An Ordinary Life is a very interesting shounen-ai, web light novel. Our protagonist is a former – in a previous life – hero who wants to lead a normal life, but he is suddenly thrown in a difficult situation. The adventure Kakeru will live, makes him realize how enemies can turn to friends, and how friends can turn to something else. He and the Demon King will eventually understand the importance of bonds. As this web light novel is still ongoing, give it a try to see how things will turn for our protagonists!
---
8. Bara no Maria (Maria Rose)

Authors: Jyumonji, Ao (Story) Bunbun (Art)
Genres: Action, Adventure, Comedy, Fantasy, Gender bender, Romance, Shounen-ai
Volumes: 21
Published: 2003
Maria Rose is a boy always mistaken as a girl, what with his androgynous, and delicate features. After some inexplicable events, he finds himself burdened with a debt, and if things couldn't get any worse, his sword – "Fake Consuming Inferno" – gets confiscated. Katari, a member of Maria's clan, managed to get a hold of some important information, but in order to obtain them, they need to go to an "Underground Raid". The problem is that things aren't as easy as they seem...
Bara no Maria is a shounen-ai light novel which revolves around a boy who is the exact opposite of what he looks like. In fact, even with his feminine features, Maria Rose is a skilled swordsman. To get himself out of trouble, Maria Rose begins his adventure, bound to get information, and understand who lies behind the entire matter. Bara no Maria is a sweet romance, highlighting the importance of friendship, as well. Join Maria Rose in his journey, and you won't get disappointed!
---
7. Mainichi Seiten! (Clear Skies!)

Authors: Sugano, Akira (Story) Ninomiya, Etsumi (Art)
Genres: Comedy, Drama, Slice of life, Shounen-ai
Volumes: 11
Published: 1998
Taiga leads an ordinary life, working at a publishing company. One day, out of the blue, his sister marries Shu, who is an author, and Taiga's best high school friend. But Taiga has harbored feelings for Shu since high school years, and those feelings don't seem to fade even now that he is his brother-in-law. However, Taiga's sister disappears, and Taiga is left living with Shu, taking care of his little brothers. Step by step, living together and facing daily troubles, the two of them begin to get closer...
Mainichi Seiten! is different from the shounen-ai light novels we mentioned so far, as it features adult men, and lacks the supernatural elements altogether. In fact, this shounen-ai light novel is a slice of life work portraying a slow romance between the two main characters, in which romance is the very cornerstone of the entire story. On one side, there's Taiga and his feelings toward Shu, conflicted because his sister is Shu's runaway bride; on the other side, Shu is left living with Taiga, and faced with developing feelings toward him. You have 11 volumes to see how their romance will evolve, so go catch it up!
---
6. Tenonaru Hou e

Authors: Kuriki, Shinobu (Story) Ogura, Muku (Art)
Genres: Romance, Supernatural, Shounen-ai
Volumes: 1
Published: 2015
Kusamakura is a lonely youkai wearing a fox mask and waiting for someone who will eventually fall in love with him. After two hundred years of waiting, he meets Tatsumi, a blind man emplyed at an ordinary company. The two of them begins spending Tatsumi's lunch breaks together, and Kusamakura's honest attitude breach into Tatsumi's heart. When love blossoms between the two of them, some strange things begin to occur around Tatsumi, though...
Here we are with another supernatural, shounen-ai light novel, this time involving a nopperabou – faceless ghost – wearing a fox mask, and a blind man. Tenonaru Hou e is a sweet romance with an important message; in fact, it takes a faceless ghost, and a blind man, to convey the message that love knows no boundaries. So, if you want to read a lighthearted shounen-ai light novel, with very good vibes and a lot of love, pick Tenonaru Hou e!
---
5. Itoshi no Nicole (Dear Nicole)

Authors: Nagira, Yuu (Story) Yoco (Art)
Genres: Drama, Romance, School life, Shounen-ai
Volumes: 1
Published: 2016
Niko is a fourteen-year-old boy, and he is gay; in the countryside where he lives, he is considered "ill" because of his sexual orientation. This situation is hard on Niko, so one night he decides to commit suicide. That same summer night, though, the fated meeting with the carefree Sakae saves Niko. Sakae is a young boy visiting from a faraway city, and thanks to him Niko finds a way to protect himself from bullying: he starts acting as the trans "Nicole". Years after, Sakae is the new transfer student at Niko's school and the two meet again...
Dear Nicole is a shounen-ai light novel touching delicate themes lightheartedly. It's a coming-of-age story in which we witness our characters' growth, as they face the angst of the teenage years. It's a story about friendship, love, and the importance to learn self-acceptance. If you wish to read a shounen-ai light novel revolving around such important matters, Dear Nicole is a must-read!
---
4. Kyou kara Ma no Tsuku Jiyuugyou! (Demon King from Today!)

Authors: Takabayashi, Tomo (Story) Matsumoto, Temari (Art)
Genres: Action, Adventure, Comedy, Fantasy, Shounen-ai
Volumes: 22
Published: 2000 – ongoing
Yuri Shibuya was leading a normal life, until he saved a classmate who was being harassed by some bullies. In fact, Yuri became the new target of the bullies, and ended up with his head shoved into a toilet. Actually, the toilet was a swirling portal, and Yuri woke up in a place resembling medieval Europe. What's more, upon stepping into the new world, he is told that he will become the next Demon King...
Kyou kara Ma no Tsuku Jiyuugyou! (also known as Kyou kara Maou!) is a humorous, shounen-ai light novel, full of comedy parts and amazing characters. If at a first glance it may look just like your typical hilarious light novel, it actually debates more serious themes, as well. Yuri finds himself struggling to bring peace in a new world, which isn't even his own world, and the task will be very challenging. However, he will learn more about bonds with people in the process, and find himself surrounded by wonderful persons helping him, and cheering for him. Kyou kara Maou! is 22 volumes long so far, but still ongoing, so you can always catch it up!
---
3. Loveless (Loveless: Ephemeral Bonds)

Authors: Natsui, Aya (Story) Kouga, Yun (Art)
Genres: Mystery, Drama, Fantasy, Shounen-ai
Volumes: 2
Published: Jul 2008 – Apr 2009
Ritsuka and Soubi work together as the "Loveless" pair in the battles against the other named couples, and in the meanwhile, they try to find out who killed Ritsuka's brother – Seimei. However, Ritsuka's life is turned upside down once again when a man named Seiryo Yukiharu appears before his eyes. Seiryo claims to be Ritsuka's real partner, and what's more, his voice is similar to Seimei's. Ritsuka is torn, as he doesn't want to break his bond with Soubi...
If you enjoyed Loveless in its anime, or manga version, you'll be delighted to know that this light novel expands the world of Loveless, and explores it further. In this shounen-ai light novel version, we find the same dark themes, and strange events we came to love in the anime, and manga. Plot twists, and unexpected revelations throw light on the matter involving Seimei, and make the readers understand the relationship between Soubi and Ritsuka better. Give it a shot, all the more if you like Loveless universe!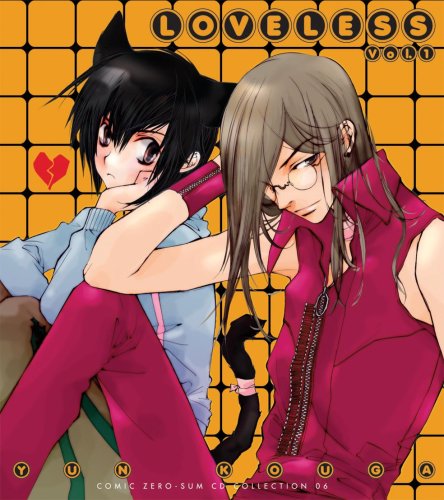 ---
2. Sono Yubi dake ga Shitteiru (Only the Ring Finger Knows)

Authors: Kannagi, Satoru (Story) Odagiri, Hotaru (Art)
Genres: Drama, Romance, Shounen-ai
Volumes: 5
Published: Jul 2001 – Sep 2008
At Wataru Fuji's high school there's a strange custom, which is to wear paired rings with the person you love. Wataru is single, but he wears a ring anyway. One day, by chance he discovers that his ring pairs up with that of Yuichi Kazuki. The boy has the reputation of being kind, and good-natured, yet he doesn't stand Wataru for some reason. Those rings keep drawing them together, and in time certain feelings develop between the two...
Sono Yubi dake ga Shitteiru is an adorable shounen-ai light novel! It was partially adapted to a manga, but the light novel covers the entire development of Wataru and Yuichi's relationship. Their romance wields a realistic feeling to it, what with the initial hardships, or Kazuki's coldness toward Wataru. Yet, by the end of the fifth volume, you'll want to read it again, as it's one of the sweetest shounen-ai light novel out there!
---
1. No.6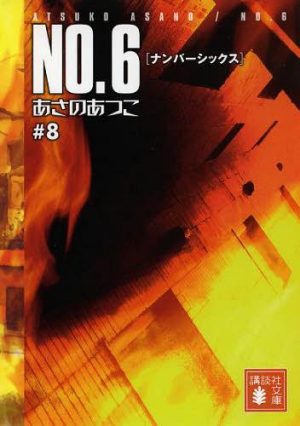 Authors: Asano, Atsuko
Genres: Action, Drama, Mystery, Psychological, Sci-Fi, Tragedy, Shounen-ai
Volumes: 9
Published: Oct 2003 – Jun 2011
It's the year 2013 in the city of No. 6, a megalopolis embodying the highest ideals of humankind, kept under strict surveillance. Shion has lived as a "high ranking elite" so far, and therefore a brilliant future awaits him. His life, though, is turned upside down on his 12th birthday, as a boy covered in blood appears in front of Shion's home. The boy calls himself Nezumi (rat), and by helping him out, Shion is eventually deprived of his brilliant future. But it's only some years later that Shion actually understands the shocking truth involving everyone's lives...
No. 6 is an amazing shounen-ai light novel, which revolves around important and delicate themes. It had an anime and manga adaption, and even though they went a bit unnoticed, we think No. 6 deserves our attention. Even if the relationship between Shion and Nezumi is not the cornerstone of the entire story, but simply a consequence, their romance is really the sweetest thing. It's slow-paced, but inescapable. The plot unfolds while leaving the readers with their mouths wide open, offering food for thought. Trust us, No. 6 won't fail you, but beware... you're bound to shed tears!
---
Final Thoughts
This is it! With the popular No.6, our ranking of 10 shounen-ai light novels came to an end. We really hope you'll find it useful somehow, whether you are veterans of the light novels, or you are just approaching this specific genre involving shounen-ai. In the attempt to suit everyone's tastes, we tried to pick 10 shounen-ai light novels featuring various themes and sub-genres, from supernatural, to slice of life. Don't forget to let you know what you think in the comments below, and see you next time!