The shounen genre shouldn't be unfamiliar to those who love anime. From stories like Naruto, One Piece and My Hero Academia, your choice of shounen stories is pretty vast. Equally in the world of light novels there are a fair bit of shounen light novels that you can pick up and enjoy. Similar to the anime world, shounen light novels come in a variety of genres and types to ensure there's something for you to enjoy. Though maybe you're still a novice in finding good shounen light novels out there or need some help. That's our job here at Honey's Anime.
Welcome, folks, to our Top 10 Shounen Light Novels list. After countless hours of reading—which is a daily ritual with most of us here—we have narrowed down ten of the best shounen light novels. We here at Honey's Anime try our best to make sure that out of these ten, you'll find one good story to read and obviously we've made sure to rank them for easier understanding. Our ranking comes from not only us but from seeing how the internet and other fans have rated these works as well. From worlds filled with magic to worlds about dating women to save the planet, our list is pretty diverse and should be a blast to go through. Now let us dive into our Top 10 Shounen List so you don't have to wait any longer, we see those anticipating eyes out there.
10. Campione!

Authors: Taketsuki, Jou- Sikorsky
Genres: Action, Adventure, Comedy, Ecchi, Fantasy, Harem, Romance, Shounen, Supernatural
Volumes: 20
Published: Sept, 2008- Present
Campiones, legendary warriors who use different elements and spirits to enhance their abilities. Even in the modern day, Campiones are still regarded as great figures and are loved for their powers. However, one day a rouge Campione begins causing mayhem with his powers but is somehow stopped by a young baseball enthusiast by the name of Kusanagi Godou. Defeating the Campione Godou has gained the same power and now has joined their ranks of champions. Alongside several warriors—who just so happen to be cute girls—Godou must save the world from those who wish to abuse the Campione power.
Beginning our Top 10 Shounen Light Novel list is Campione. At 20 volumes, Campione has continued to provide readers a thrilling story filled with action, adventure and some ecchi for good measure. Campione hasn't come to a conclusion yet, but we're certain for now this amazing shounen series will be enjoyable to anyone who loves the genre. Why not go and give volume one of Campione a read and then tell us later your thoughts.
---
9. Gosick

Authors: Sakuraba, Kazuki- Takeda, Hinata
Genres: Mystery, Drama, Adventure, Historical, Romance, School, Shounen
Volumes: 9
Published: Dec, 2003- Jul, 2011
Taking place in the year 1924, Gosick tells the tale of a young man named Kazuya Kujo. Young Kujo is a huge fan of mystery and horror story and finds any of these tales a good reason to go on an adventure. That's why when Kujo gets a chance to investigate one of his favorite stories known as the Queen Berry—a mysterious ghost ship with tons of legends—he's all too eager to set forth right away. Alongside his longtime friend Victorique, the two are about to explore the reality behind the Queen Berry. However, can the two deal with the realities held within the ship?
One of the more important elements of a good shounen is adventure. When you combine mystery and a few other genres, what you end up with is an amazing story like Gosick. This shounen light novel will keep you hooked with multiple mysteries and tons of cool storytelling thanks to author Sakuraba Kazuki. Trust us folks, you won't want to miss out on Gosick as it has plenty to love for those who have an affinity for shounen related media. The only mystery after you read Gosick is how did you read 9 volumes so fast?
---
8. Tokyo Ravens

Authors: Azano, Kouhei- Sumihei
Genres: Comedy, School, Super Power, Supernatural, Shounen
Volumes: 14
Published: May, 2010- Present
Poor Tsuchimikado Harutora has a lot of issues in life. While Harutora may hail from a high ranking Onmyoji family he doesn't get the respect his family members do. The reason for this is thanks to Harutora being unable to see spirit energy. Despite this, so far Harutora has made the most out of life at school and has been able to live in a peaceful environment. However, when an old friend reappears in Harutora's life, his peaceful days are about to shatter.
Tokyo Ravens is such a fun and exciting read thanks to author Azano Kouhei and illustrator Sumihei. These two have crafted a shounen work filled with magical battles and a rich story that has some shocking moments within. If you have seen the anime for Tokyo Ravens—which we do recommend if you haven't—then you need to read where it all started from. Tokyo Ravens definitely deserves to be on our Top 10 Shounen Light Novel list and we know you'll agree after picking it up for yourself. Now when will volume 15 be released…we can't wait any longer.
---
7. Full Metal Panic!

Authors: Gatoh, Shoji- Shiki, Douji
Genres: Action, Comedy, Drama, Shounen, Mecha, Romance, School, Sci-Fi, Military
Volumes: 12
Published: Sept, 1998- Aug, 2011
Kaname Chidori's life at Jindai High School was calm and normal until a boy named Sousuke Sagara appeared. Sousuke seems to be a military nut with a proficiency to cause explosions and odd trouble around Chidori. However, Chidori doesn't realize that Sousuke isn't just a military fanboy but is an actual soldier sent to protect her. What is Sosuke protecting Chidori from? Find out in this comical action packed story known as Full Metal Panic!
Shounen series need to appeal to younger audiences to be considered a shounen work. Thus what better work could be considered for a shounen theme then Full Metal Panic? This action packed comedy—with tons of other genres from mecha to romance—is 12 volumes long but we wished it was more. Most only know that Full Metal Panic is an anime series and that's why we need to remind people the light novels came first. If you want to see where the hit show came from then you're going to need to dive into Full Metal Panic as soon as possible.
---
6. Date A Live

Authors: Tachibana, Koushi- Tsunako
Genres: Mecha, Romance, School, Sci-Fi, Shounen, Harem
Volumes: 16
Published: Mar, 2011- Present
It should have been just a normal high school day for Itsuka Shidou turned into anything but normal. A large shockwave resonated across Japan and a young woman appeared. Using a giant sword, this woman—known as a spirit—began destroying property and threatening human life. As Shidou was about to evacuate to a shelter with his sister Kotori, he finds himself in a giant ship with Kotori wearing a military outfit. Kotori then tells Shidou that the only way to save the world is for him to date the spirit and make her fall head over heels in love with him…
Let's be honest for a moment here folks. Who wouldn't want to date a super attractive supernatural being? That's why we loved Date A Live because it lets our minds wonder if this is how it would be to go on dates with super human girls. With a mixture of comedy and action—plus tons of harem elements—Date A Live is a fun mecha shounen series that is worth reading. We knew we needed to add Date A Live to please our mecha fans out there on the internet, you welcome in advance.
---
5. Naruto Shinden Series (Naruto: Itachi's Story)

Authors: Kishimoto, Masashi- Yano, Takashi- Towada, Shin
Genres: Action, Adventure, Martial Arts, Shounen, Super Power
Volumes: 3
Published: Sept, 2015- Nov, 2015
Many have seen the Naruto series and have experience the pains of Itachi Uchiha. Though maybe you want to explore more of the troubled Uchiha clan? Thus enter the Naruto Shinden Series. These stories will focus on Itachi's life leading towards his inevitable fate in the Naruto lore. What made Itachi fall alongside the Uchiha clan? Find out in this narrative tale filled with the pains of a brother who sacrificed it all for a chance at keeping his younger brother alive and safe.
In the Naruto universe many people love Sasuke and Itachi. These two brothers have been seen as the series most tragic duo experiencing painful pasts and events as the series continued. Though with the Naruto Shinden Series, you'll get to experience a more in depth narrative following Itachi and his past events. Filled with action, drama and plenty of the shounen staples we've come to expect from the Naruto lore, Naruto Shinden Series is definitely worth a read for fans of the series. All we can say is get ready to see Itachi in a possibly brand new light…
---
4. The New Gate

Authors: Kazanami, Shinogi- Makai no Juumin
Genres: Action, Adventure, Fantasy, Magic, Shounen, Romance, Comedy
Volumes: 4
Published: Dec, 2013- Present
The New Gate was known to be a deadly online game that trapped the souls of tens of thousands of players. As the players risked their lives in game, one of the long time players named Shin grappled to defeat the various bosses and enemies of the game. After many hardships, Shin and his allies defeat the last boss which freed all of those who were trapped in the game. However, a strange light envelops Shin and he finds himself waking up still in the game but 500 years in the future. What must Shin now do to escape and why did this happen?
The New Gate may sound like a few other isekai works but this story stands out with some interesting ideas in its storytelling. The New Gate is a thrilling shounen that will keep readers wondering what happens next after each page or lightens the story with some nicely placed romance and comedy themes. The New Gate is still only 4 volumes in but we're really digging where this story is going and have high hopes it will continue to blow us away. If you want an isekai focused shounen story, your best bet will be to check out The New Gate. Now please anime studios, think about adapting The New Gate sometime soon.
---
3. Owari no Seraph: Ichinose Guren, 16-sai no Catastrophe

Authors: Yamamoto, Yamato- Kagami, Takaya
Genres: Action, Drama, Vampire, Supernatural, Shounen
Volumes: 7
Published: Jan, 2013- Present
Ichinose Guren is about to start his new school life at a well to do Sorcery Training School. Though regarded as worthless and weak by the student body, Guren chooses to hide the fact that he is actually a very powerful swordsman to avoid any issues with the other families. Though fate is about to show the world as well as the student body what Guren is capable of. This is a story that takes place before the great event that will kill all those who over the age of 13 and change the world forever.
We here at Honey's Anime love vampire stories, especially when they have a shounen aspect. That's why when the anime for Owari no Seraph released we were immediately drawn to it. While that show was amazing, Owari no Seraph: Ichinose Guren, 16-sai no Catastrophe is just as amazing and acts a great prequel light novel series. While Owari no Seraph: Ichinose Guren, 16-sai no Catastrophe isn't yet complete, the first 7 volumes are excellent and worth a read if you were a fan of the anime. Even if you know what may happen, Owari no Seraph: Ichinose Guren, 16-sai no Catastrophe is a great story to see how events led to the end of mankind in Owari no Seraph.
---
2. Tsuyokute New Saga

Authors: Fuse, Ryuuta- Abe, Masayuki
Genres: Action, Adventure, Shounen, Fantasy, Magic, Comedy, Harem, Romance, Drama
Volumes: 7
Published: Mar, 2013- Present
After a fierce battle with the Demon King and his army, Kail stands victorious. However, during the fight and even before, Kail lost friends, allies and even loved ones. Kail also being gravely injured may soon meet with his fallen companions. Though as Kail approached a strange relic held by the Demon King he finds himself sent back into the past. Now with the knowledge of what will happen Kail will attempt to alter the future.
Many people ask what they would do differently if they could change the past. Its human nature to wonder what wrongs we can fix to better our futures. That's why we love Tsuyokute New Saga as it offers up a nice set up, especially for a shounen story. With tons of action and drama—plus a bit of romance and comedy for good measure—Tsuyokute New Saga is a truly enjoyable read. We do wonder if an anime will ever release for this, as we think it would be a solid show.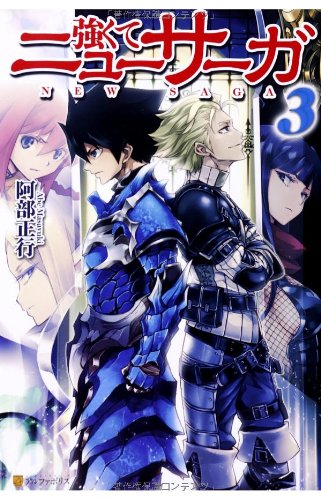 ---
1. Toaru Majutsu no Index (A certain Magical Index)

Authors: Kamachi, Kazuma- Haimura, Kiyotaka
Genres: Action, Comedy, Fantasy, Shounen, Supernatural, Magic, Sci-Fi, Super Power
Volumes: 22
Published: Apr, 2004- Oct, 2010
Kamijyo Touma has both a blessing and a curse. In a world where magic and science exist he is seen as a rarity thanks to his right hand Imagine Breaker. This unique power known only to Touma allows him to negate all forms of magical power. However, the curse comes from it also negating his good luck. Maybe that is the reason why one day Touma runs into a young girl dressed like a nun named Index who just so happens to have a very special power of her own...
Coming in at number one is a well-known shounen series by the name of Toaru Majutsu no Index. Do you love magic? Do you love action? Well Toaru Majutsu no Index has both of those elements and plenty more to keep the readers engaged from volume 1 to 22. We placed Toaru Majutsu no Index on the number 1 spot for a reason, now it's up to you to discover why this series is so well known and loved.
---
Final Thoughts
We have to admit the shounen genre is pretty amazing. The fact that so many different genres can blend together to make cool and entertaining tales is something only a few other genres can accomplish. Thankfully the authors above also know how to infuse into their tales different ideas and concepts to keep the reader from ever growing tired of a story they made. With that folks we do unfortunately come to an end with our Top 10 Shounen Light Novels list. We hope you enjoyed it and would love to hear from you via the comments down below. As always if you want more recommendations and other articles to read then keep scouring our great site.
---