There is no better feeling than teaming up with your friends in a video game, putting in that effort to win it all! From survival games to FPS battles, there are many different options for what style of team-based game you can excel at. Even Starcraft II, a real-time strategy game that has been touted as one of the biggest influences on team-based games, can provide players with the thrill of victory in kind. And with team eSports competitions continuing to gain popularity (due in part to popular games like Starcraft II), who knows? You and your friends could be the next big names in gaming!
Of course, with so many options of games to choose from, it can be a bit overwhelming. We here at Honey's Anime are here to help you narrow down the best team-based games currently available so that you can find your own specialty much faster! The games on our list are great at giving you a unique style/build all your own, and also cater to the team dynamic. So what are some of the team games we think are best? Keep reading to find out!
10. Killing Floor 2

System: PS4, XBO, PC
Publisher: Tripwire Interactive, Iceberg Interactive, Deep Silver
Developer: Tripwire Interactive
Release Dates: Nov. 15th, 2016
If you're looking for an alternative to the traditional co-op shooting game, Killing Floor 2 is definitely something to check out! With ten classes to choose from and a myriad of guns to upgrade to, this game takes the thrill of Call of Duty's "Zombie" mode to a whole new level. Although there is not much to this game, the challenge comes from you and your friends struggling to conserve ammo and balance resources long enough to last each round. And while the enemies are the same as most other zombie shooting games, their overwhelming presence brings the level of despair that kicks this game up one more notch.
Killing Floor 2 is rather limited in several of its mechanics, but if you're searching for a game where you can try a different combination of classes and skills each time, you can certainly find that here! The rounds are difficult and the enemies are great in number, but with a calm head and a great team strategy, you and your friends can conquer Killing Floor 2.
---
9. Splatoon 2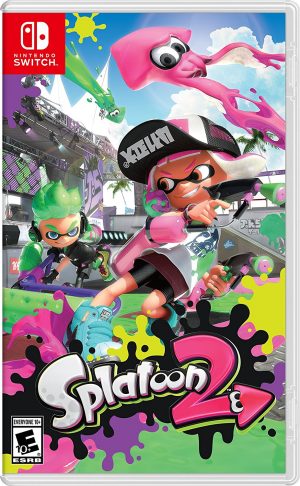 System: Nintendo Switch
Publisher: Nintendo
Developer: Nintendo
Release Dates: Jul. 21st, 2017
One of the newest games to grace our list, Splatoon 2 is the rehash of the colorfully adorable team-based shooter by Nintendo. If you're familiar with the original Splatoon, this one is much the same, with a few key improvements. As in the original, players use ink weapons to color the battlefield and their enemies, dealing damage while providing mobility to your team. Splatoon 2 offers a bundle of new weapons that are easier to obtain, as well as several new multiplayer modes and improvements to game fluidity that make this shooter one of the most fun to play with your friends.
Splatoon 2 does have issues with matchmaking, which were especially prevalent upon its release. However, when you do get in a game, the experience is a fun and unique one. With plenty of opportunities for different weapons and an overall graphically-pleasing experience, Splatoon 2 is a good choice for someone looking for a different type of shooter!
---
8. Payday 2

System: PS4, PS3, XBO, XB360, Nintendo Switch, PC
Publisher: Overkill Software, Starbreeze Studios
Developer: 505 Games, Starbreeze Studios
Release Dates: Aug. 13th, 2013
Payday 2 is one of the more unique games on our list, being a co-op shooter that focuses on players working together to pull off a heist. Taking on the masks of the original Payday crew, you and your friends must devise a strategy, following it through successfully if you want to make the cash. Although it is another first-person shooter at heart, the circumstances and setting of the game are certainly different.
A game that requires strategy, skill and an immense amount of teamwork, Payday 2 is still popular among players several years after its release. Due to new content and updates available, in addition to an upcoming VR experience in the works, this game has plenty of new experiences for its players. It is certainly something worth checking out!
---
7. Left 4 Dead 2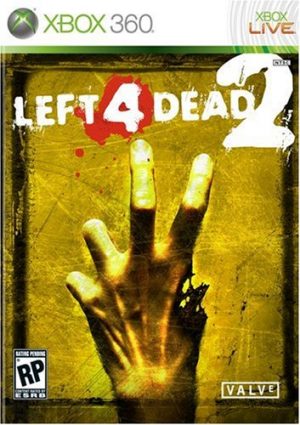 System: XB360, PC
Publisher: Valve Corporation
Developer: Valve Corporation
Release Dates: Nov. 17th, 2009
Another co-op shooter that is a lot of fun, Left 4 Dead 2 is a co-op game where players try to make it through a zombie apocalypse. Although this sequel was highly anticipated, it has far surpassed its predecessor in terms of sheer popularity. Combining survival and horror with the ultimate in teamwork gameplay, Left 4 Dead 2 is a perfect combination of so many classic apocalyptic tropes rolled into one.
While Left 4 Dead 2 seems like a generic survival game, it has several elements that make it worth all the hype it continues to get. Set in the apocalyptic world Valve created, Left 4 Dead 2 offers some of the best zombie-themed gameplay, with several different modes that can even let you fight as one of the Infected. The game is still radically popular, with tons of mods available and a great learning curve for new players. And although we're all still hoping for a Left 4 Dead 3, this game has more than enough enjoyment to tide us over in the meantime!
---
6. DotA 2 (Defense of the Ancients 2)

System: PC
Publisher: Valve Corporation
Developer: Valve Corporation
Release Dates: Jul. 9th, 2013
An iconic multiplayer game, Dota 2 is a free battle arena game with hundreds of characters for the player to choose from. Regular updates mean that this videogame is one you can expect to change, with variances in characters, items, and features causing massive ripples in its rather simple formula. Dota 2 is one of the most popular games in the world, with millions of players logging on consistently. It may not be much to look at, but Dota 2 stands as one game that people seem to always go back to, whether it be for professional or casual play.
Dota 2 is a game where you earn what you and your team put into it. There are plenty of characters and roles to choose from, so you're sure to find some niche for yourself. If you're willing to put in the hours of practice and research to get better, you will do so – and you'll generally have a better time playing! However, if it's a completely casual experience that you're looking for, Dota 2 might not be the greatest place to start out brand new…
---
5. League of Legends

System: PC
Publisher: Riot Games
Developer: Garena, Riot Games, Tencent
Release Dates: Oct. 27th, 2009
On the other side of battle arena games, we have the equally infamous League of Legends. And while we would be remiss to mention League of Legends in our list, we must also point out that both this game and Dota 2 can be interchanged with one another based on your own personal preference. League of Legends and Dota follow each other's formulas closely, with both having hundreds of characters and similar battlefield styles. League of Legends is also quite popular among players, and can be difficult when starting out brand new to the game.
Coming from a style only a little different than Dota 2, there's not much more we can say about this game. League of Legends will have different champions to choose from, different features and different items to build, but the basic mechanics are the same. Whichever one you decide to play is really based on personal preference. However, we do think at least one of these battle arena games is worth your time, given their ability to let you choose from a vast amount of possibilities and work together with your team to win!
---
4. Team Fortress 2

System: PS3, XB360, PC
Publisher: Valve Corporation
Developer: Valve Corporation, EA, Buka Entertainment
Release Dates: Oct. 10th, 2007
Coming in next on our list is another interesting game, Team Fortress 2. A team-based shooter developed by Valve, TF2 is also famous among gamers as one of the most popular multiplayer action games. And despite being around for a decade, TF2 is still being updated with new elements!
With nine different classes to choose from, various game modes and plenty of equipment to stock up on, TF2 provides plenty of individuality for you and your team to find your own groove. The fact that players continue to flock to this game, even after it has been around for so long, speaks to how much fun people have overcoming obstacles in TF2. If you haven't yet found a team-based game you enjoy, you might want to give Team Fortress 2 a try! This game has an endless possibility for quality team warfare, and not one match is like another.
---
3. Counter-Strike: Global Offensive (CS:GO)

System: XBO, XB360, PS3, PC
Publisher: Valve Corporation, Hidden Path Entertainment
Developer: Valve Corporation
Release Dates: Aug. 21st, 2012
One of the most popular team-based FPS games right now, Counter-Strike: Global Offensive is a hardcore experience, for those that want to get really serious about their teamwork. Although it is primarily one game mode which dominates the competitive scene, there are plenty of game modes to choose from, including some basic tutorials and AI fights to train new players for the game. While players can't really customize much beyond their weapons load-out, the quality of weapons and their style have an infinite number of possibilities.
If you're looking for the next online tactical shooter, you should definitely give CS:GO a try! The matchmaking system is fairly accurate, pairing up players based on skill level and ELO rank, so your team won't be too much outranked in competitive or casual play. CS:GO is probably one of the best FPS games out there, allowing the best in teamwork to really shine through their strategy and skill.
---
2. Rocket League

System: PS4, XBO, Nintendo Switch, PC
Publisher: Psyonix
Developer: Psyonix
Release Dates: Jul. 7th, 2015
In a unique blend of sports and driving, Rocket League is a physics-centered game of car soccer. And like most other games of soccer, playing well requires excellent teamwork, with passing, dribbling and goaltending needed by all players to have a chance at winning. Since its release, Rocket League has burst into popularity, speeding into the competitive scene and into multiple awards like the "Game of Year" for 2015.
Rocket League is an interesting take on the classic style of soccer game, taking two separate elements and combining them fluidly. And as with soccer, you can assume that there is a great deal of teamwork needed if you want to win! With various different car styles, decals, designs and game modes to play, Rocket League gives each player the opportunity to follow along with what they like best. There are even new game modes for other sports, like basketball, for those who want another change of pace!
---
1. Overwatch

System: XBO, PS4, PC
Publisher: Blizzard Entertainment
Developer: Blizzard Entertainment
Release Dates: May 24th, 2016
If there is one team-based game that stands out above all the rest, it would have to be Overwatch. With a wide cast of characters to choose from, this online FPS takes the idea of the classic multiplayer fight and turns it into something that virtually everyone can enjoy! The fast-paced gameplay can be difficult to get into at first, but once you find a team that you click with, the game becomes that much more fun!
A role for everyone can be found in Overwatch's myriad of characters, whether you prefer a support role with Mercy, gun slinging with McCree, or running down your opponents on the front lines with Roadhog. And once you find a character that you fight well with, finding a good team is paramount to racking up those wins. After all, no single hero is a one-man army in Overwatch!
We have chosen Overwatch for the best team-based game on our list because it has a spot for everyone to excel. It also is one of the few games where the teamwork and effort you put into the matches matter. That is to say, it is less likely to see one man carrying an entire team – players matched based on skill are usually fairly equal, while there are always exceptions. From the moment the game released, it has been one of the most popular games, with its numbers rivaling ever-popular games like League of Legends and Dota. And as the competitive scene starts gaining even more ground, who knows where we'll see Overwatch in a few years? This is definitely a game we recommend everyone try!
---
Honorable Mentions – Fortnite and Destiny

While we didn't quite have room on our list for all of the amazing team games, we have at least two more we thought were important to mention. Fortnite is a brand new survival/battle royale game, similar in game mechanics to Player Unknown's Battlegrounds or the H1Z1 "King of the Kill" game mode. Despite its recent release, it has already been gaining a large amount of popularity due to its exciting formula for both single-player and team-based matches. Destiny is also worth mentioning on our list, as it has a constant online element to gameplay that brings in teamwork for almost all of the game's fights. With plenty of customizable gear for your individual class, Destiny has its own flair as a space-themed shooter.
---
Final Thoughts
When it comes to the games on our list, there is no denying that teamwork is important. Each of these games also has some way to make your experience unique, to allow for each individual to be their own person. This element only enhances teamwork – for it is only together that we can be stronger, even in video games!
So what do you think of our list? Do you have any others you felt we missed? What is your favorite team game? Let us know in the comments section below!
---