What better game to play when you're relaxing than a visual novel to keep you stimulated. Visual Novel games are known for their very immersive gameplay and allow players to take the lead in the story, giving you a very personal feel when playing. While many do pertain to romantic settings, there are visual novels titles that reel the player in with suspenseful scenarios such as figuring out who the killer is, to the more simplistic adventures that take the player on this incredible path of discovery. Whatever your inner desire quenches for, visual novels will always provide a unique experience that you can take with you on the go.
10. Katawa Shoujo

System/Platform: Windows, Mac OS X, Android
Publisher: Four Leaf Studios
Developer: Four Leaf Studios
Release Date: January 12, 2012
The story of Katawa Shoujo, which is a bishoujo visual novel, takes place mostly in Yamaku High School which is known for its disabled children. You follow main protagonist Hisao Nakai on an emotional journey as he struggles to cope with his heart defect, while taking on new challenges such as building friendships, and love in this first person narrative.
While there are adult themes located throughout the game, much of the series has the player building this very close bond with Hisao, as he tries to overcome his differences and perhaps live a more positive and richer life. It deals with issues that many of us go through throughout our lives such as stress, depression, and coping with certain issues out of our control. This is what makes the game such a powerful one because as you read through the lines of text, you start to see a little bit of yourself in Hisao, as he learns to understand the world around him and realize that none of us is perfect and that we just need to accept who we are as individuals in spite of what fate throws at us.
---
9. If My Heart Had Wings

System/Platform: Windows, PS Vita, iOS, Android
Publisher: Pulltop
Developer: Pulltop | MoeNovel
Release Date: May 25, 2012 [JP] | June 28, 2013 [NA]
If My Heart Had Wings is created around the eroge genre, and focuses on the struggling life of Aoi as he tries to find direction in his life. During his journey of self discovery he meets a young girl in a wheelchair named Kotori, and the two eventually build a close bond with one another. With many of his other childhood friends around him, they all decide to recreate their dream of the soaring club, one which will allow them to someday soar the skies.
This story is yet another emotional piece of work that focuses on mature themes such as psychological distress, as well as physical weakness. It takes the player on a journey which often swings you in various directions which can be very saddening at times, simply because everything hits you unexpectedly and you end up shedding a few tears for Aoi and his life. So much is lost in his life and yet somehow, he manages to find the light in others around him as they all work together to create a world suitable for them to live in.
---
8. School Days HQ

System/Platform: Windows, PS2, PSP
Publisher: 0verflow
Developer: 0verflow
Release Date: June 27, 2012
School Days HQ is a slice of life visual novel that revolves around the world of Makoto, who becomes the love interest of many girls in his high school. Through these interactions he becomes overwhelmed because he's just not sure who's best for him, and so this creates a love triangle between him, Kotonoha Katsura, and Sekai Saionji. Now with all of these fleeting emotions going in various directions, just what is Makoto to do in this situation?
Much of the gameplay in School Days HQ is more or less your typical visual novel archetype, where you aren't really doing much playing at all, let alone any. Everything is minimal and requires the player to just read along and follow the course, making the right decision within in hopes that it leads down the right course. Unlike other visual novels, however, that are usually static in their movements, School Days HQ incorporates fluid movements along with voice which makes it feel like you're sitting back and watching an anime. Everything plays out naturally and allows you the freedom to move ahead in the plot if you've already seen the cutscenes. The real fun part is that each ending is entirely different, with some leading to sex scenes but you'll have to play through the game more than once to get those. Good luck!
---
7. Grisaia no Kajitsu [The Fruit of Grisaia]

System/Platform: Windows, PSP, PS Vita
Publisher: Sekai Project | Front Wing
Developer: Front Wing
Release Date: February 25, 2011 [JP] | May 29, 2015 [WW]
Known as The Fruit of Grisaia in English, Grisaia no Kajitsu is an adult romance visual novel that has you controlling main lead Yuuji Kazami, as he transfers to Mihama Academy which only consists of five female students, and must deal with the odd circumstances that come his way. There are many plots that you'll have to get through, five in total, which will take you on a journey with plenty of twists and turns to pull at your heartstrings.
What makes Grisaia no Kajitsu really fun is how it branches out in various directions via plot lines, all of which contain their own unique endings some of which depict highly sexual CG scenes with Yuuji performing. To achieve these endings however will most certainly fall on you, the player, so experiencing the various plot lines may lead you down really interesting paths. With CG and traditional anime mixed in together, the game has a very interesting look to it which definitely separates it from the bunch. This is a game that will take up a chunk of your time, since replaying it multiple times will reward you with a chance to further the already romantic plot in a new direction.
---
6. Rewrite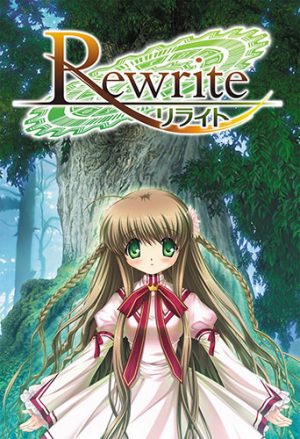 System/Platform: Windows, PSP, PS3, PS Vita, PS4
Publisher: Visual Arts | Prototype
Developer: Key
Release Date: June 24, 2011
Key is notorious for creating some of the best visual novels around, and Rewrite is most certainly one of them being ranked the best selling title in Japan during its initial release. Originally released in 2011, Rewrite focuses on the random life of Kotarou Tennouji, a young boy with powerful supernatural abilities and eventually joins a club with five other girls to uncover mysteries of the world around them. However Kotarou realizes that there's a deeper conflict ensuing right under his nose, and now finds himself caught in between the battle between summoners and superhumans with the fate of the world at risk.
Those who've enjoyed the anime will most certainly find this visual novel title to be quite satisfying, since it blends nicely with everything that's happened throughout the story, while throwing in some surprises along the way. Multiple scenarios with interactive branch plots will be sure to keep you busy for hours, while taking part in mini games and quests will open more paths in the game. The latter are important for completing the game and will take you in all sorts of directions in the eight plot main plot lines you'll need to finish. It's romantic, funny, and overall exciting as you wander through the game getting to know each character and eventually reaching the climax of it all: The Moon and Terra plots.
---
5. Phoenix Wright: Ace Attorney

System/Platform: Multi Platform
Publisher: Capcom
Developer: Capcom
Release Date: October 12, 2001
Being a lawyer takes a lot of work, and for Phoenix Wright it certainly takes a lot of clever planning and execution to win over the jury. Developed by Capcom, Phoenix Wright follows the life of the rookie defense attorney as he investigates mysterious crimes, while deducing evidence to unveil the true culprit behind it all. With the help of his colleagues Mia Fey and her sister Maya, Phoenix must divvy his time correctly in order to secure the win in this visual novel adventure.
Phoenix Wright: Dual Destinies was one of the more entertaining of the series, and featured new ways of catching the true criminal such as Phoenix Wright's ability to psyche-lock his opponents, unveiling certain hidden clues that the witnesses seem be holding back. Also, the Mood Matrix was also introduced which allows the player to look for cracks in the testimonies and provide you with beneficial information going forward with the trial. Fast forward to 2016's Ace Attorney 6 where the game felt more fluid, and clues became much harder to discover which added more of a challenge and intrigue. With a new introduction of a mode called Divination Seance, seeing the victim moments before their death adds more excitement to an already polished game.
---
4. Chaos;Head

System/Platform: Multi Platform
Publisher: Nitroplus
Developer: 5pb. | Nitroplus
Release Date: April 25, 2008
Chaos;Head is the title that helped developer 5pb. launch their gaming career and led to bigger titles which you'll find about much later. You control the character Takumi Nishijou, who finds himself embroiled in a crazy turn of events pertaining to serial murders known as New Gen. Through these events he experiences constant hallucinations and delusions, which help play a major role in the game's actual premise going forward. Set in Shibuya, Tokyo, Takumi along with his new colleagues must uncover the truth behind his own life and what New Gen is all about.
Much of Chaos;Head's story is shrouded in mystery in the beginning until you progress even further to discover some startling truths that will have you scratching your head. Using what's called the delusional trigger in the game, players can choose whether Takumi experiences positive or negative delusions which in turn will impact the direction of the game's plot. Positive decisions lead to more lewd and erotic scenes, while choosing the negative side results in graphic imagery and other gruesome acts. This is a unique way of playing through a visual novel, and the more you play through the more fascinating the story evolves. This is certainly a must play for fans of Sci-Fi, ecchi, and psychological themes.
---
3. Fate/stay night

System/Platform: Multi Platform
Publisher: Type-Moon
Developer: Type-Moon
Release Date: January 30, 2004
The Fate/stay Night series has always been impressive and originally had been catered to a more adult oriented audience. Spanning across many categories such as manga, anime and light novels, the franchise is a worldwide hit. Shirou Emiya is the main lead of the story, as much of what happens takes place around Shirou's house, and acts as the prime spot for the Holy Grail War. Working alongside Saber, the girl who saved his life from a powerful warrior Lancer and now his trusted servant, the two must survive in this game of death to ensure the Holy Grail stays in their possession.
Using various decision points throughout the game, players will have to commit to one direction since time varies between each interaction. With three major plots to embark on, you'll have so much to discover since each pertains to the main characters within the story. Much like every other visual novel experience, completing the game several times is the only way to see all of the endings to get a true glimpse of the real ending. As one of the biggest visual novel titles in history and various sequels such as the more recent Fate/Grand Order, Fate/stay night is sure to not disappoint you as its rich story and dialogue is sure to entice you for years to come.
---
2. Clannad

System/Platform: Multi Platform
Publisher: Visual Arts | Prototype
Developer: Key
Release Date: April 28, 2004 [JP] | November 23, 2015 [WW]
Clannad is sure to make any grown man cry in this emotionally powerful tale of friendship, tragedy, and love made by Key and Visual Arts. Releasing back in 2004 for PC, Clannad follows Tomoya on his personal journey through overcoming personal struggles, while learning of new ways to interact with those around him who deal with situations differently. Through meeting with Nagisa along his adventures, the two become close overtime and along the way unlock the truth behind their own insecurities.
Clannad is just a tear jerker, that's really what this game is. You can't help but feel emotionally attached to everything that happens to everyone around Tomoya including himself, and whenever you discover something new it just makes you want to cry even more. From learning of a severe illness, to a girl just wanting to live her dream and suddenly have it all vanish, you'll need at least 2 tissue boxes ready. The music is the real treasure though, because it just reels you in as you read through the dialogue and you become enchanted by it somehow. That piano solo is sure to pull vigorously at your heartstrings sooner or later.
---
1. Steins;Gate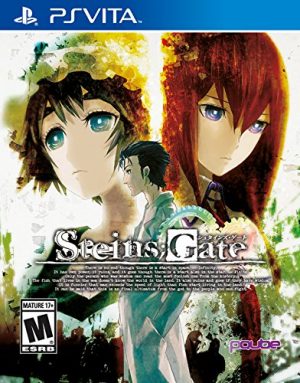 System/Platform: Multi Platform
Publisher: 5pb. | Nitroplus | PQube
Developer: 5pb. | Nitroplus
Release Date: October 15, 2009
Steins;Gate is what truly helped 5pb. become the company that it is today, simply because this title really embodies a true visual novel experience in every aspect. Much of the story follows the lives of several students as they work together to discover new technology that will somehow grant them the power to change the past. It's a science adventure visual novel that's sure to impress anybody whether you're new to visual novels or a veteran fanboy or fangirl.
Much of the plot pertaining to Stein's;Gate is nonlinear, meaning it can pretty much take you anywhere depending on what you choose to happen during decision making scenarios. With cool features such as the phone trigger system, which allows you to respond to messages and uncover more clues or simply ignore the call all together, it works very similarly to that of Chaos;Head in many ways. While not all messages need to be given attention, it's still best to read between the lines as various clues are thrown at you and if you aren't quick enough you may miss out. Cause and effect is another selling point that will have players traveling back in time to discovering what happened in the future in order to fix the present moment.
---
Closing Statement
With so many visual novels out there to cater to just about anyone these days, the genre just doesn't seem to be slowing down anytime soon. With other notable mentions such as Root Letter, Zero Escape, Air, Kanon and more, players will most certainly have a relaxing experience with these games over time. Which visual novel game do you love the most? Let us know in the comments section below, and be sure to follow us on twitter to get the latest updates and stay current!
As always, if you want to know about all the latest buzz straight from the bee's nest in Japan, be sure to keep it locked here at Honey's Anime.
---