Perhaps one of the most divisive consoles to come out in recent memory, the Wii U was Nintendo's newest console for the eighth console generation. While the Wii U had an impressive library of first party titles, there was not enough third party support for the device, eventually leading to the low sales it experienced. Regardless of the low sales, Nintendo still churned out various amazing first party titles which would keep the system afloat throughout its 5 year lifespan. Even if it wasn't the most popular system Nintendo has put out, the quality of the games was undeniable, and these are 10 of the best Wii U exclusive games to come out which made the system worth buying by themselves.
10. Donkey Kong Country: Tropical Freeze

System/Platform: Wii U
Developer: Retro Studios/Monster Games
Publisher: Nintendo
Release Date: JP: Feb. 14th, 2014 NA/EU: Feb. 21st, 2014 AU: Feb 22nd, 2014
Donkey Kong and the rest of his crew are excitedly celebrating Donkey Kong's birthday. Unbeknownst to them, a large group of Viking-like arctic animals called Snowmads are approaching their island. Before DK has a chance to blow out his birthday candle, the Snowmad leader summons an ice dragon to completely freeze Donkey Kong's island, blowing away the Kongs in the process. It is now up to Donkey Kong and his friends to take back their island and stop the Snowmad threat.
Donkey Kong Country: Tropical Freeze is a side-scrolling platformer. The player primarily controls Donkey Kong, with his friends assisting him with their own separate abilities. Tropical Freeze also has plenty of collectibles in the forms of KONG letters and puzzle pieces scattered across each level, unlocking additional levels or concept art respectively. The levels are well-designed and challenging enough to make Tropical Freeze an appealing entry into the series, as well as a faithful sequel that further improves on the formula set out by its predecessors.
---
9. Xenoblade Chronicles X (XenobladeX)

System/Platform: Wii U
Developer: Monolith Soft/Nintendo SPD
Publisher: Nintendo
Release Date: JP: Apr. 29th, 2015 NA/EU: Dec. 4th, 2015 AU: Dec. 5th, 2015
Two alien races begin to battle one another close to Earth, causing severe damage to the planet, and force humanity to evacuate onto spaceships across the globe. The ship for the city of Los Angeles eventually crash on "Mira", a planet where the passengers eventually create their own "New Los Angeles". The player is awoken in a life pod by a girl named Elma, where they fight off predators before reaching the city. Elma is part of a government organization named BLADE, which is tasked with defending NLA and humanity as a whole. As the player becomes a member of BLADE, it is now up to them to try and help the people of NLA survive on this new planet.
Xenoblade Chronicles X is an expansive open world RPG in which the player is encouraged to explore the new planet of Mira. One of the main selling points of Xenoblade Chronicles X are the Skells, giant robots which the player can control and use to explore Mira with ease. The combat in Xenoblade Chronicles X is performed in real time, with various special attacks (Arts) which work on a cooldown period when used. Plenty of loot can be found either through slaying the wildlife of Mira, or completing the many quests that the game has to offer. When it comes to RPGs, Xenoblade Chronicles X is the best that the Wii U has to offer.
---
8. Pikmin 3

System/Platform: Wii U
Developer: Nintendo EAD
Publisher: Nintendo
Release Date: JP: July 13th, 2013 EU: July 26th, 2013 AU: July 27th, 2013 NA: Aug. 4th, 2013
When planet Koppai begins suffering from famine, they decide to send various explorers all over the solar system in search of more food. Three explorers, Alph, Brittany, and Charlie, discover food on a planet titled "PNF-404" and decide to explore it. Unfortunately, their ship begins to malfunction on their way there and they all crash land, separated from one another. They soon discover the mysterious "Pikmin" creatures, and must use their abilities in large numbers if they ever plan to get off of PNF-404 and return food to their home.
The primary gameplay of Pikmin revolves around using hordes of the creatures in order to perform tasks that the player avatar is unable to do alone. Each Pikmin has unique attributes which come in handy to get certain plant seeds. Pikmin has a serene feeling to it as the player explores various facets of nature, but in direct contrast is the time limit which gives each day a frantic sensation. However, the time limit is also where a lot of the emotion one may feel comes from - a day can be successful and cheery or wasted and upsetting simply because of the fact that it is a timed system
---
7. Splatoon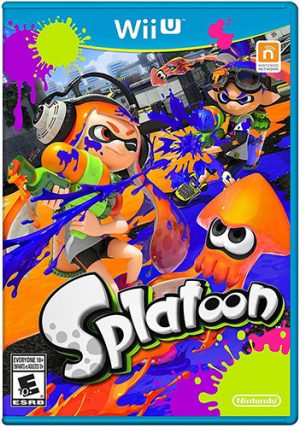 System/Platform: Wii U
Developer: Nintendo EAD
Publisher: Nintendo
Release Date: JP: May 28th, 2015 NA/EU: May 29th, 2015 AU: May 30th, 2015
Over 10,000 years into the future, humanity has become extinct and two new rivaling species have taken over the Earth - Octarians and Inklings. The Octarians were defeated and forced underground, while Inklings remained above ground. Since then, Inklings have adopted a more modern lifestyle, congregating around the city of Inkopolis. While the Inklings lived peacefully - mainly participating in playful turf wars and other games against each other - the Octarians managed to steal Inkopolis' main power source, the Great Zapfish. It is up to the player to return the Great Zapfish to its rightful spot, and restore peace to Inkopolis - or participate in turf wars instead.
Splatoon is a multiplayer shooter where your main objective is to shoot everything around the enemy. The main mechanic is that weapons are filled with ink, and two teams duke it out to see who can cover more of the map in their ink color. Along with the main mode - Turf War - Splatoon also has a short campaign to familiarize the players with the mechanics, and a competitive mode which hosts various different game modes for the more hardcore players. The subversion of typical shooter gameplay combined with the stylish artstyle lead to Splatoon being one of the most memorable franchises almost as soon as it was revealed.
---
6. Super Mario Maker

System/Platform: Wii U, 3DS
Developer: Nintendo EAD
Publisher: Nintendo
Release Date: JP: Sept. 10th, 2015 NA/EU: Sept. 11th, 2015 AU: Sept. 12th, 2015.
Super Mario Maker is a culmination of every 2D Mario game with the added twist that the levels are made by the audience. Every gameplay style that 2D Mario has had is available for experimentation, allowing players to create as many elaborate levels as they can think up using the expansive level editor. Even if the player cannot think of a level to design, the game has an online mode which allows them to search for the types of levels they want and try them out for themselves. Super Mario Maker also offers a couple of challenge modes - primarily the 10/100 Mario Challenge which gives players a set amount of lives in order to complete a random compendium of levels. Super Mario Maker is a must-buy for fans of the Mario series, as it allows for near-infinite replayability limited only by the fans' imagination and allows the player to finally create the Mario levels that they had always dreamed of creating.
---
5. Mario Kart 8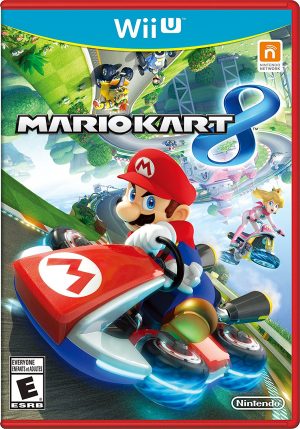 System/Platform: Wii U, Switch
Developer: Nintendo EAD
Publisher: Nintendo
Release Date: JP: May 29th, 2014 NA/EU: May 30th, 2014 AU: May 31st, 2014
Mario Kart 8 takes many of the elements from previous games, such as underwater racing and different vehicle options such as motorbikes, and improves on them in order to create a unified game which incorporates many fan-favorite design elements. Along with old features, Mario Kart 8's main new feature is anti-gravity racing, where certain portions of a track can allow racers to drive along walls or ceilings. The best returning feature by far, however, is the online races which allow players to race against friends or strangers alike, and vastly improves the overall enjoyment when players would otherwise be alone at home. Mario Kart has always been one of Nintendo's flagship series', and Mario Kart 8 is certainly no exception.
---
4. Bayonetta 2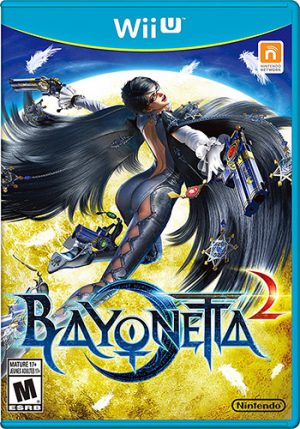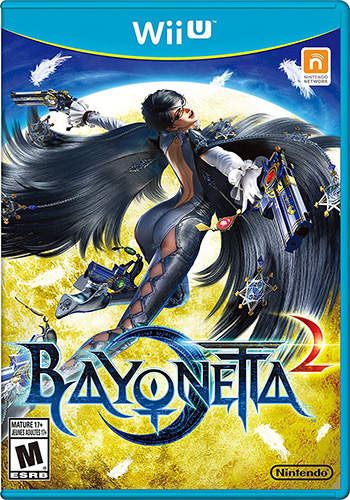 System/Platform: Wii U
Developer: Platinum Games
Publisher: Nintendo
Release Date: JP: Sept. 20th, 2014 NA/EU: Oct. 24th, 2014 AU: Oct. 25th, 2014
While out Christmas shopping, Bayonetta notices a group of angels attacking a plane and promptly goes to stop them. Along with her friend Jeanne, they dispose of the angels. Suddenly, one of the demons that Bayonetta summoned begins to disobey her and run rampant. Bayonetta takes out the demon, but is too late when Jeanne is knocked out and her soul is claimed by Inferno. In order to save Jeanne's soul and figure out what caused her demon to go berserk in the first place, Bayonetta must travel to a Gate of Hell in the mountain of Fimbulventr. On the way, Bayonetta meets a boy with powers named Loki who is making his way to the same gate for reasons he can't remember.
Few developers create action games as stylish and thrilling as Platinum Games, and Bayonetta 2 is yet another example of how incredible their action games can be. The combat is based on punches and kicks, with Bayonetta having a weapon for her arms and for her legs. The end of every encounter is also rated from Bronze to Pure Platinum, creating incentive to try and pull off the most unique combos. The fluidity of combat and amount of weapons and combinations that can be pulled off makes up the bulk of why Bayonetta 2 is so fun to play. Level design also plays a large role, as the player can face the same exact mobs in a different area and have to take a different approach depending on what is or isn't present in the new environment. Bayonetta 2 is a must for fans of stylish hack-and-slash games, being one of the best games in its genre in recent years.
---
3. Super Mario 3D World

System/Platform: Wii U
Developer: Nintendo EAD Tokyo/1-UP Studio
Publisher: Nintendo
Release Date: JP: Nov. 21st, 2013 NA: Nov. 22nd, 2013 EU: Nov. 29th, 2013 AU: Nov. 30th, 2013
One evening in the Mushroom Kingdom, the Mario bros, Peach, and Toad are all enjoying a fireworks display outside of Peach's Castle. On their walk, they find a clear pipe which Mario and Luigi quickly take to fixing. This pipe shoots out a fairy-like creature called a "Sprixie Princess", who explains that Bowser has been kidnapping other Princesses, before Bowser comes out of the pipe and captures her as well. The gang take no time to enter the pipe and chase after Bowser in the Sprixie Kingdom, where they must rescue the Sprixies and put an end to Bowser's nefarious plan once again.
Super Mario 3D World mixes both the 3D and 2D elements of Mario games. Several mechanics from the 2D games are shown, such as the timers and flagpoles, as well as 4 characters who each have different traits and abilities. Despite the similarities with 2D Mario titles, the gameplay is still almost entirely 3D, culminating in a game that could be enjoyed by players who like a little bit of both sides of Mario. The gameplay remains largely the same from Mario games before it, with new additions such as the Wii U Gamepad incorporation allowing for several nuances in level design. The level design in particular is the shining star, taking various risks and deviating from the normal Mario level and world formula. Super Mario 3D World is a perfect example of both genres that Mario has tackled being combined into a fantastic game that any platforming fan should pick up.
---
2. Super Smash Bros for 3DS/Wii U

System/Platform: 3DS, Wii U
Developer: Bandai Namco Games/Sora Ltd.
Publisher: Nintendo
Release Date: NA: Nov. 21st, 2014 EU: Nov. 28th, 2014 AU: Nov. 29th, 2014 JP: Dec. 6th, 2014
Super Smash Bros from the very start was among the most hyped games for the Wii U, and it delivered on almost every front. With an expanded character roster, various new maps, and different modes, it was by far one of the most expansive versions of Smash Bros. What shines in this installment is that there was an effort made to appease both the casual audience who want large Smash matches - modes such as 8 player Smash being a large staple - along with trying to cater to the competitive crowd through the Omega stages - stages that are completely flat and more geared towards skill. There are also various challenges with their own rewards that can keep the game going even longer than regular play. All of the different modes help elongate the game and train on certain characters before heading into the deep expanse of online multiplayer to duke it out.
---
1. The Legend of Zelda: Breath of the Wild

System/Platform: Wii U, Switch
Developer: Nintendo EPD
Publisher: Nintendo
Release Date: Mar. 3rd, 2017
The kingdom of Hyrule has been lost to the forces of Calamity Ganon, and the hero, Link, has been asleep for 100 years. Link awakens from some form of stasis to the voice of a female guiding him. Link has none of his memories, but still heads out of the cave he woke up in to the huge expanse of Hyrule, filled to the brim with the evil influence of Ganon. Link must traverse the wilderness and master various survival techniques in order to regain his memories and save the people of Hyrule from Calamity Ganon.
The gameplay is completely revamped from previous titles while still retaining certain staples of the series such as bows, bombs, and magical powers. Rather than relying on potions or hearts dropped by enemies, players can regain health through eating food they catch, find, or cook into more powerful concoctions. Clothing and potions also play a large role, as they buff Link in various ways such as making him resilient to elements. Players are rewarded for going out of their way to find new recipes and items, especially given that weapons eventually break over time. Legend of Zelda: Breath of the Wild is a masterpiece in the open-world genre, and one game that shall be used as a standard for games in the future - anyone who owns a Wii U should instantly consider picking this game up.
---
The Wii U had an impressive lineup of first and second party exclusives which overall made it a system worth having in the end. Regardless of how successful the system itself may be, some of the games that were released on it quickly became staples in their own respective genres and will be remembered for years to come. This list is only scratching the surface of what the Wii U had to offer, so make sure to leave some other recommendations in the comments!
by Ed Moreno
---