What You Need to Know:
Based on the weekly data collected on the Japanese anime tracking site Ani x Me, the ranking for top 20 anime of last week has been updated.
It seems that Mr. Osomatsu is holding down its 1st place spot for the time being. Though with the next season on the horizon, it remains to be seen just how long it can keep this up.
It will be fun to see which one comes out on top next week, with many Fall 2015 anime reaching their seasonal conclusion.
Ranking | (Change From Last Week)

1st. Mr. Osomatsu (No Change)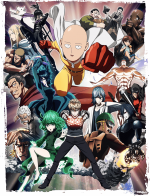 2nd. One Punch Man (No Change)
3rd. Beautiful Bones -Sakurako's Investigation- (↑6th)
4th. Haikyu!! Second Season (↑9th)
5th. Is the order a rabbit?? (Season 2) (↑8th)
6th. Attack on Titan (↓4th)
7th. The Perfect Insider (↑20th)
8th. Shomin Sample (↑19th)
9th. Yuru Yuri San Hai! (↑22nd)
10th. Young Black Jack (↑30th)
11th. Noragami Aragoto (↑24th)
12th. Mobile Suit Gundam: Iron-Blooded Orphans (↑13th)
12th. Attack on Titan: Junior High (↓11th)
14th. Owarimonogatari (↑21st)
15th. Lupin III (2015) (↑32nd)
15th. Shinmai Maou no Testament Burst (New)
15th. Seraph of the End: Battle in Nagoya (↓13th)
18th. Heavy Object (↑28th)
19th. Monogatari Series Second Season (↑-)
20th. Chivalry of a Failed Knight (↓15th)

Source: Ani x Me
---
Osomatsu-san sure is holding it down this season. Is it even that interesting?!
It's funny, but I don't think it deserves 1st place, TBH...
---
[ad_dfp position="bottom1" unit_pc1="true" unit_pc2="true" unit_sp1="true" class="mt40"]