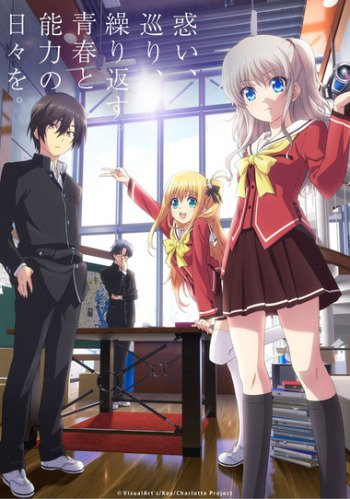 What You Need to Know:
A running poll asking Japanese anime fans to vote on the best anime which aired since 2013 has been updated. This week saw the popular anime, Charlotte, take back 1st place!
Other favorites for this season like Prison School and Gakkou Gurashi are holding steady in the top 5.
Several anime such as Yowamushi Pedal and Ushio to Tora have broken into the top 20 this week as well.

Ranking | (Change From Last Week)

1st. Charlotte (↑4th)
2nd. Gakkou Gurashi! (←2nd)
3rd. Working!!! (Season 3) (↓1st)
4th. Prison School (↓3rd)
5th. Yowamushi Pedal (↑24th)
6th. Himouto! Umaru-chan (↓5th)
7th. Shimoneta Sekai (↓6th)
8th. Food Wars! Shokugeki no Soma (↑20th)
9th. Attack On Titan (↑28th)
9th. GATE (↑12th)
11th. Non Non Biyori Repeat (↓8th)
12th. Oremonogatari!! (↓7th)
12th. Rokka: Braves of the Six Flowers (↑21st)
14th. The iDOLM@STER Cinderella Girls 2nd Season (↓9th)
15th. The Heroic Legend of Arslan (2015) (↓12th)
16th. Monogatari Series: Second Season (↓10th)
17th. Yowamushi Pedal Grande Road (Season 2) (↑-)
18th. Everyday Life With Monster Girls (↑29th)
19th. Shirobako (↑52nd)
20th. Ushio to Tora (NEW!)

Source: Ani x Me
---
It looks like we can be pretty sure about the top 5 summer anime, huh?
Pretty much! But you never know, there's still room for surprises!
[ad_dfp position="bottom1" unit_pc1="true" unit_pc2="true" unit_sp1="true" class="mt40"]