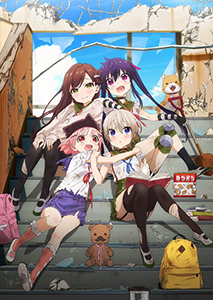 What You Need to Know:
A running poll asking Japanese anime fans to vote on the best anime which aired since 2013 has been updated, and there are some surprises.
Still on top is the mega-popular Gakkou Gurashi (SCHOOL-LIVE). But others, like Attack on Titan, have risen through the ranks to second place. This is likely thanks to the recent opening of the Attack on Titan live action film in theatres across Japan.
Tied for 2nd place are Attack on Titan, Oremonogatari!!, and Prison School. Check out the full ranking below:

Ranking (Ranking Last Week)

1st. Gakkou Gurashi (←1st)
2nd. Attack on Titan (↑61st)
2nd. Oremonogatari!! (↑10th)
2nd. Prison School (↑9th)
5th. Charlotte (↓2nd)
6th. WORKING!!! S3 (↓4th)
7th. GATE (↓6th)
8th. Shokugeki no Souma (↑11th)
9th. Shimoneta (↓5th)
10th. Arslan Senki 2015 (↓3rd)
11th. Non Non Biyori Repeat (↓8th)
12th. Snow White with the Red Hair (NEW)
13th. Overlord (↑15th)
13th. iDOLM@STER Cinderella Girls 2nd (↑20th)
15th. Seiyu's Life! (↑19th)
16th. Kyoukai no Rinne (↑53rd)
17th. GANGSTA. (NEW)
18th. Ace of Diamond (↑143rd)
18th. iDOLM@STER Cinderella Girls (↑61st)
20th. Jitsu wa Watashi wa (↓16th)

Source: Ani x Me
---
Attack on Titan made a huge jump to 2nd place!
Probably because of all the people who needed to heal after watching the live action film!
[ad_dfp position="bottom1" unit_pc1="true" unit_pc2="true" unit_sp1="true" class="mt40"]