The wonderful, wonderful world of yaoi has a lot to offer; we get new manga almost on a daily basis and, if we're lucky enough, our favorite story can surprise us with a new extra. But hey, we all have that one manga that we hold dear, the one that we revisit once in a while and still makes us get all warm and fuzzy. To be honest, picking five from this vast and ever-growing list is no easy task, but I've been able to narrow it down to the ones that I enjoyed the most. Hopefully, you will enjoy them too!
5. Secret XXX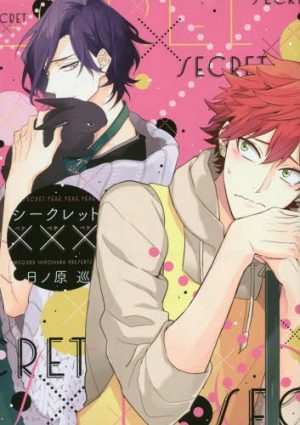 Author: Meguru Hinohara
Genre: Romance, Yaoi, Slice of Life
Volumes: 1
Published Date: January 2016 - March 2017
Shouhei is used to being around exotic animals, and he's really good at taking care of them, but he craves to be near a particular one: a rabbit. That's why he helps out in a rabbit specialist shop, taking care of and feeding them. Oh, and it also happens to be the shop where Mito, Shouhei's unrequited love, works. Shouhei is happy just being in the same room as Mito, but he has a secret that threatens to take his moments of bliss away from him.
How can Secret XXX not be part of my list when it has such an amazing art style, and one of the most caring seme out there?! Mito is attentive and is always making sure that Shouhei doesn't strain himself too much with work. Shouhei is allergic to rabbits—or at least, so he thought—so he can't be near them too much, and when Mito notices this, he tries to keep him away from the shop, for his own good. However, soon he realizes that he can't keep Shouhei away from the cute animals that he adores, and decides to come up with a plan to enable his loved one to be near the rabbits. A cute story that will make your heart go doki doki!
---
4. The Man in the Mirror

Author: Eight Hisamatsu (story), Yugiri Aika (art)
Genre: Fantasy, Yaoi
Volumes: 1
Published Date: February 2018 - May 2019
The soon-to-be head of the Senba clan, Sal, is struggling to find inspiration to create a breathtaking flower arrangement for the succession ritual. Lost in thoughts, he falls into a mirror and is suddenly transported to a beautiful garden with flowers that he hasn't seen before. There, he meets Prince Shaal, a kind and handsome man who takes interest in Sal, and is eager to know more about him and the art of Japanese flower arrangement.
The contrast between the different cultures comes to life with the mangaka's art style. Prince Shaal is tall, dark, and handsome, while Sal gives off the image of fragile beauty. The relationship that these two characters have is so cute one can't help but fangirl every time they look at each other with so much love in their eyes. Prince Shaal is willing to leave his country and duties to search for Sal, and when he finally finds him, he confesses his undying love in such a romantic way! Trust me, you'll definitely squeal while reading this manga.
---
3. Kazoku ni Narou yo

Author: Tomo Kurahashi
Genre: Yaoi, Slice of Life
Volumes: 1
Published Date: April 2016 - January 2017
Chiaki and Kazuma have been together since forever. Together with their lively but not-so-girly friend Tomoe, they went through high school and the hardships of adult life. When Tomoe gets pregnant, both boys agree to help her out and are more than happy to see how their best friend turns out to be a caring mother. But Chiaki and Kazuma's life will change when Tomoe decides to leave the country, asking them to take care of her little girl.
I have a soft spot when it comes to manga like this, centered around a loving couple raising a child. Ayumi, Tomoe's daughter, is extremely cute and makes the lives of Chiaki and Kazuma even livelier. Being a long-term couple, these two have great chemistry and their relationship is simply adorable. Kazoku ni Narou yo depicts the daily lives of a couple trying to do their best to raise a child and still have some time for themselves. Of course, after reading this you have to go for the prequel, Itsuka Koi ni Naru Made, where Tomo Kurahashi shows us how it all started.
---
2. Paradise View

Author: Lalako Kojima
Genre: Drama, Romance, Yaoi, Slice of Life
Volumes: 2
Published Date: March 2013 - February 2015
Hideo and Tomohisa have been going out for nine years now. Even though they are struggling to find some time together due to their busy schedules, the love that they have for each other grows with each passing day. But soon, the stress over not being able to share much time together starts to take a toll on their relationship, so Hideo grows distant and Tomohisa doesn't know what to do…
First things first, Paradise View comes after Kimi to Parade, so if you want to know how the love story between Hideo and Tomohisa started, you should definitely read that one first. That being said, Paradise View is an emotional rollercoaster on its own! It starts out being super sweet, showing us little moments of happiness and joy between the main couple, but d don't get too comfortable since the drop is brutal. Hideo starts to have second thoughts and, as he starts to feel that he's not what Tomohisa really deserves, he grows distant. Tomohisa, on the other hand, is working full-time and finds it hard to have some alone time with the person he loves. Luckily for us, it all ends well between these two… kind of.
---
1. Life: Senjou no Bokura

Author: Miya Tokokura
Genre: Drama, Yaoi, Slice of Life
Volumes: 1
Published Date: August 2016 - January 2017
Yuuki is a carefree high school student whose life changes upon meeting Akira. They both enjoy playing the "White Line Game", following a single line and pretending something terrible will happen to them if they step outside this line. Their paths cross at one point, and they have to find a way for both of them to stay on the line and continue their journey. Akira soon realizes that he wants to share more adventures with Yuuki and, on an impulse, kisses him.
Where to start with Life: Senjou no Bokura?! The art is amazing, and the way the characters change as they grow up is detailed and well thought out. Yuuki remains his carefree self throughout the story, never missing his spark and youthfulness, while Akira is the one to struggle with his feelings and what he wants from life. From the beginning until the end, this manga is a true masterpiece, depicting the characters' struggles and sorrows, together with their happy moments. A word of advice, though: have some tissues ready because you're going to cry a lot!
---
Final Thoughts
It's never easy to come up with your top 5 picks when there are so many options out there! Still, all these stories are worth a read, and I'm sure that every yaoi lover will appreciate the characters, art, and feels that these manga portrays as much as I do. If you have the time, let me know what you think of these!