You may know Masakazu Katsura as the character designer for some classic anime titles such as Iria, or in recent hits such as Tiger & Bunny and Garo: The Crimson Moon. Katsura-sensei is originally from Fukui prefecture and as he was bedridden with an illness during his youth, he spent his time drawing. While in high school, like many other manga artists, he entered a contest and won the Tezuka Award, which would jump-start his career.
Despite his success as an anime and manga artist, Katsura-sensei says many of his influences come from novels and movies, and didn't read much manga in his schoolboy days. While he has made numerous contributions to anime through his distinct art style, his mangas also demonstrate that he is a great storyteller. So for today's Top Manga, we give you the best of what Katsura-sensei has to offer.
5. Wingman

Genres: Action, Science Fiction
Volumes: 13
Published: Jan 1983 – Aug 1985
Kicking off this list is Katsura-sensei's break out hit, Wingman. Wingman tells the story of Kenta Hirano, a fan of Super Sentai (TV shows that Power Rangers are adapted by), and wants to be a superhero himself. Kenta creates his own superhero, Wingman, and acts out his fantasies to the point he makes a fool out of himself in school. But fantasy meets reality when Kenta meets Aoi Yume (literally meaning Blue Dream), a princess from an alternate dimension called Podreams. Aoi has a book called the Dream Note, which can make fantasies come true. Kenta draws Wingman into the Dream Note and it allows him to become the hero for real. But along with Aoi comes a villain named Rimel, who wants the Dream Note to rule Podreams. Thanks to Kenta's new found abilities, Kenta and Aoi have a chance to maintain peace.
Though the design of this manga is rather cartoonish compared to his present style, the series still shows that Katsura-sensei loves his inking, and his fondness for sailor uniforms and/or tight leotards for his girls. It takes great inspiration from Japanese superheroes and gives it its own unique twist. Though it may seem comedy driven on the outside, the series has a lot of drama, slick action sequences, and tense romance. But if this manga can teach us anything, it's that the power of imagination has no limit. On one last note, Katsura-sensei played homage to the character by dressing up as Wingman in the live-action version of one of his other earlier titles, Video Girl Ai.
---
4. DNA²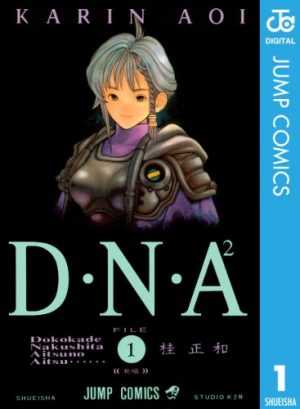 Genres: Romance, Sci-fi, Slice of Life, Action
Volumes: 5
Published: Aug 1993 – June 1994
Junta Momonari is probably one of the unluckiest guys on Earth. He claims to be allergic to women. Any exposure to a woman's skin, he will instantly throw up. But little does he know that in the not too distant future, he overcomes his allergy, hooks up with 100 women and knocks them all up. And out of the boys, they end up knocking up 100 women and so on to the point that Japan has an overpopulation problem (though the idea in reality for today's Japan doesn't sound so bad). Coming from the future to stop this problem is a government operative named Karin Aoi. She has to use a special bullet that suppresses his playboy gene in order to prevent this outbreak. Little does she know, she accidentally uses a bullet that activates the gene five years premature. However, Junta finds himself falling in love with the woman that came to stop him.
While there was an anime version of DNA² that came out around the same time of its publication, it fails to compare to the manga. DNA² allows Junta to explore his inner conflict between who he is now, the person he could be and demonstrates what kind of person he wants to be. Plus, DNA² does a very excellent job of developing Junta and Karin's relationship and goes full circle in its own bittersweet way. Artistically, this is the manga that solidifies Katsura-sensei's present style. He puts very excellent and organic detail into the eyes, the clothing, the furniture, and hair. Even though Junta has Dragon Ball style hair, Katsura-sensei finds a way to make it believable.
Speaking of Dragon Ball, volume 3 is one big fight between Junta and his rival, Ryuji that compares to Dragon Ball (we'll get into that later). But if there is anything that we can take from this manga, it allows us to question the definition of our identities on many levels. For starters, do our present circumstances define who we can be? Sure Junta may be a loser at 16, but does mean he can be that way for the rest of his life? Next, does our DNA truly define who we are? Does our DNA define whom we love? This series is probably a great recommendation to explore those answers.
---
3. Zetman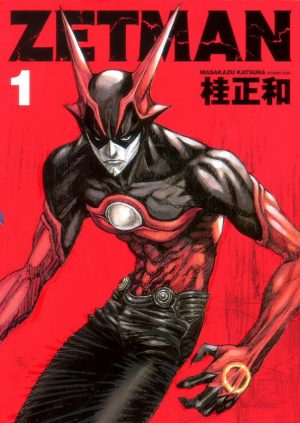 Genres: Action, Drama, Romance, Sci-fi
Volumes: 20
Published: Oct 2002 – Jul 2014
This version of Zetman happens to be a reboot of one of Katsura-sensei's earlier mangas. In this version, two rival hero factions, ZETs and Alphas, trace their origins to two young men, Jin Kanzaki (who can become a ZET) and Kouga Amagi (who can become an Alpha). Both of these men are motivated to fight for justice, but their methods of achieving those goals are about as different as day and night. Jin comes from the school of hard knocks and tends to isolate himself from others. Eventually, his differences with Kouga lead to their unfortunate rivalry.
This updated version of Zetman tends to take a break from Katsura-sensei's more notable romance and comedy driven titles and is action driven. It is balls to the walls, and this style exhibits a very different side of Katsura-sensei with how imaginative he can be with the costume designs, the environments, and the action sequences. The man is a master of inking and shadowing, and this manga is the perfect demonstration of those qualities. He shows that he can tell dark stories that can go to provocative extremes.
---
2. I"s

Genres: Romance, Comedy, Drama, Ecchi
Volumes: 15
Published: April 1997 - May 2000
Coming in at a very close second is I"s, where the title comes from the fact that many of the characters have the letter I, or have the Japanese kana character ai, which shares the same pronunciation. Unlike Katsura-sensei's other romantic predecessors such as DNA² and Video Girl Ai, this series does not have any Sci-fi and/or supernatural elements. If anything, it's just purely about teenage romance and awkwardness and is probably one of his most realistic stories.
The main character is Ichitaka Seto, and like all teenage boys, he has a crush on that one hot girl. But due to bad experiences with girls in the past, he tends to be sensitive about rejection. He is in love with his classmate, Iori Yoshizuki. When you look at her, you can't help but feel how cute she is and has a great personality. In fact, she has been featured as a swimsuit model so she is the target of numerous men. Though Iori is the target of Ichitaka's affections, there is one girl that has her eye on him and that is his old childhood sweetheart, Itsuki Akiba, who is more of a tomboy.
If anything, this is the series that ultimately solidifies Katsura-sensei's sense of organic art and storytelling. This is a series that can show how big and awkward teenage love can get. It demonstrates that in the end, there is somebody out there who loves us for who we are. Granted it's a very teenage-centric cast, the characters and situations are relatable to people of all ages, or some of us old folks went through some of what these characters did when we were in high school. What can happen to this cast can happen to anyone at anytime. People come and go in our lives and this is a reality in this manga.
As for the art style, Ichitaka's hair may seem a little wild by Western standards, but his hairstyle is pretty common amongst young Japanese men and Katsura-sensei has an understanding of teenage fads. The girls still maintain their liveliness and there will still be school uniforms and tight leotards for fans to enjoy. Other than that, enjoy a great story of teenagers and how they deal with their feelings.
---
1. Video Girl Ai

Genres: Romance, Comedy, Sci-fi
Volumes: 13
Published: Nov 1989 – Sept 1992
At number one is one of Katsura-sensei's titles that brought him the fame he has today, Video Girl Ai. So do you think nice guys finish last? Then maybe this is the story to check out! Youta Moteuchi is the ultimate loser. He is dorky and awkward, but he's a really nice guy. Despite his status on the high school hierarchy chain, he is still best friends with Takashi Niimai, the most popular boy in school, and is also good friends with Moemi, one of the most beautiful girls in his school.
However, Moemi is in love with Takashi and tries to confess to him but Takashi turns her down out of respect for Youta's feelings for Moemi. Youta could have made his move but chooses to console and support her. Due to his selflessness, he is given membership to a special video rental store (remember those?) called Gokuraku. On the surface, the store contains why may seem like gravure videos which are common throughout Japan. However, video girls are girls who come from out of the TV to be something as a cheerleader for the customer. Youta chooses a girl named Ai. Unfortunately, his faulty VCR has regressed a good portion of Ai's femininity, but she still gets the job done.
Ai is technically not supposed to be human and isn't supposed to fall in love, but in fact, she does. So through her story, the readers learn what it means to be human and what it means to love. Due to their predicament, Youta is given numerous trials throughout the manga that will test his dedication to everyone he cares about as well as Ai's role as Youta's companion. The first half of the manga in terms of art style is a little cartoony but not to the extent of Wingman. As the manga progresses, it starts to show some evolution to his present style but not as refined in DNA2 or in I"s. In fact, Ai's design happens to be inspired by of Japan's top pop idols from the late-1980s and early-1990s, Noriko Sakai, who would also contribute the anime's theme songs.
---
Final Thoughts
In case you didn't know, he happens to be best friends with Dragon Ball creator, Akira Toriyama. They met through their mutual editor, Kazuhiko Torishima, back in the 1980s. In fact, the idea of fusion actually came from Katsura-sensei himself. Despite ribbing each other through their works, they had their first collaboration in 2008 through the one-shot, Sachie-chan Good!! and Jiya between 2009 and 2010.
In addition, Katsura-sensei is a huge Batman fan and his love for Batman is subliminally shown in some of his mangas (like in Video Girl Ai and the first version of Zetman). In fact, he actually designed a Batman figure for Bandai in the past. The man has an art style that is very difficult to emulate and with the present use of bright colors and the glossiness of hi-definition, it is complicated to transition his art style that relies a lot on shadowing and cross-hatching into present anime form. Katsura-sensei is one of a kind who has well-rounded storytelling and puts attention to detail.
So, any other fans out there that want to share? Write your feelings in the comments below!