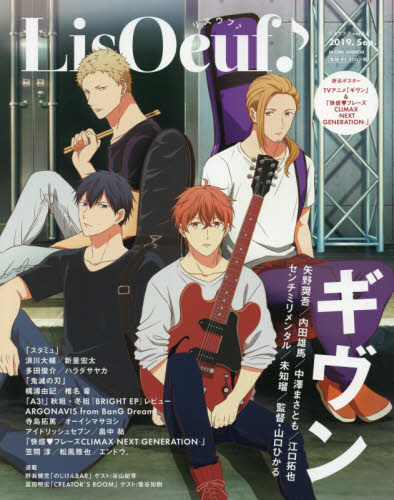 Based on the manga by Natsuki Kizu, Given is the story of boy meets….boy…. Ritsuka Uenoyama just wanted to take a nap in a secluded area of the school only to find another student from a different class was already there, Mafuyu Sato. What makes Mafuyu stand out to Ritsuka is that he has a guitar with him with some broken strings. Being a guitar player himself and noticing the condition, he goes out of his way to help him. Unfortunately, Mafuyu doesn't know how to play and after much reluctance, Ritsuka invites him to a band that he plays for and from there, relationships start to blossom. From this romantic hit, we'd like to share with you some of our top 5 scenes from Given. One simple warning before we start: THERE ARE GOING TO BE SPOILERS!
1. Learning the Ropes/Paying Your Dues (Episodes 2, 3, & 4)

Throughout a good portion of this series, Ritsuka and his band do what they can to show Mafuyu the ropes of being in the band and playing the guitar. For starters, you see that Mafuyu learns how to put the strings on his guitar, and eventually learns how to strum basic chords. As he progresses, he learns to find the right amplifier and pedal, and where to buy at the right price. Through Mafuyu's journey, you learn what it takes to be in a band. Not only does it take practice, it also takes money not just for the equipment, but for studio time as well. As a result, you see Mafuyu going out of his way to get a job to help pay. Through this scene, you get a better idea of the hard work and sacrifice it takes to become a successful band.
2. Date in Yokohama (Episode 10)

At this point, Ritsuka and Mafuyu have shared a rather forced kiss on Ritsuka's part. They still had yet to express their feelings verbally, which has always been a flaw with Mafuyu. On a weekend, they both go on a date to Yokohama. Just like how Mafuyu visited the beach the first time in Enoshima with Yuki, his ex-boyfriend, his date with Ritsuka to Yokohama happened to be his first time there (despite being 16 and living within reasonable distance to both places from Machida, a suburb of Tokyo where our leads live). This is another moment where it allows the audience to realize that there's so much we can all take for granted, but since he's able to share this first time (no, not THAT first time!) with someone he loves, it makes this moment all the more special.
3. Ritsuka's Internal Feelings (Episode 11)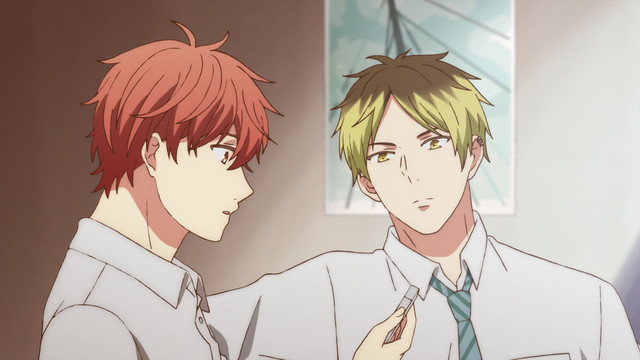 As a continuation from the end of episode 10 of when Ritsuka and Mafuyu share their feelings for one another, Ritsuka's "process" of how he internalizes it is rather funny. First, he internalizes it to the days of the dinosaurs to visually symbolize how wild things are from him, and from there, his "personalities" all have a party to celebrate that he is going to experience love. Though the "personalities" portrayed aren't to the same exaggerations of Pixar's Inside Out, it just has regular Ritsuka wearing t-shirts that indicate his personality such as "angry," "happy," "sad," and even "virgin." Through this particular scene in the series finale, you get an idea of how some people, especially teenagers, may process such situations. Due to how he composes himself, this scene gives us an internal glimpse as to how and why he is the way he is.
4. Yuki and Mafuyu (Episodes 8 and 9)

Throughout the series, Mafuyu is kind of a mystery with how much of an introvert he is. Eventually, we get to learn about Mafuyu as we meet his former classmates from junior high. Due to their encounters with Ritsuka, Mafuyu is forced to share about the loss of his ex-boyfriend, Yuki. They also shared an interest in music, but shortly after an argument over something that seemed trivial, Yuki allegedly killed himself. Shortly after his passing, Yuki's mother gave his old guitar to Mafuyu, which is the origin of his guitar. Through their flashback episodes, you get a better understanding of Mafuyu and see that he was a quiet person to begin with, and not as a result of the trauma of losing Yuki.
5. Their Debut (Episode 9)

A large majority of the series leads up to the debut of Mafuyu as the lead singer. After hearing Mafuyu's humming, Ritsuka thought he had the potential to become a great singer despite being a total beginner at the guitar. Throughout the build up, Mafuyu doesn't know what to sing due to the pressure put on him. Then when it's showtime, and without any rehearsing, the always so quiet Mafuyu finally lets himself loose. The performance allows Mafuyu to externally process the loss of Yuki in his own way as portrayed through his classmates in the audience. It's not just a song to showcase the amazing talents of the band, but a way for Mafuyu to express himself as loud as he can as a contrast to his quiet and introverted personality. If you're someone who has experienced loss, the song is truly relatable. Shortly their standing ovation, Ritsuka confesses to Mafuyu by kissing him.
---
Final Thoughts

Given is certainly a once in a lifetime romance anime series you don't get very often. It expresses teenage hormones in a very distinguishing way and it'll make you laugh and cry at the same time. It treats gay romance with taste and not as a novelty. The series does a great job of showing how it comes naturally to our leads and we can accept them for who they are. Not only do they have genuine feelings that aren't just there for the sake of fan service, the leads are talented musicians and you see them work hard to achieve that, and all of that put together makes a beautiful story.
---