También puedes leer este artículo en:Español
You probably don't recall well this strange name, but maybe you are familiar with Di Gi Charat. Yeap, this lady mangaka is the creator of Di Gi Charat and her friends. That alone speaks volumes of Koge Donbo's sugary cute style. Originally named Kokoro Koharuno, Koge Donbo started her career with doujinshis. She chose her name inspired by a pet owned by the legendary Osamu Tezuka. So… that partly explains how animal inspired Koge Donbo is perhaps? Anyway, let's review some of best works by Koge Donbo. Let's go!
6. Kon Kon Kokon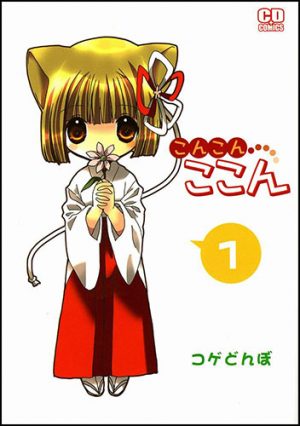 Genres: Action, Sci-Fi
Volumes: 1
Published: Jun 13, 2007
Let's start with this manga from a decade ago. The story is simple but cute, as most of Koge Donbo's work. Ren is a kid who just wants to be friends with others, but it doesn't help that he is considered weird because he likes stories about ghosts and monsters. However, his solitude might change when Ren meets Kokon, a girl fox who tells him she will grant him his wish because he helped her years ago. So, how will this play with the girl Ren fancies? You will have to read the manga to find out 🙂
If you are into traditional spirits from Japan (called yokai), you will love Kon Kon Kokon. If you kind of like harem but would prefer something more innocent and happy at the same time, Kon Kon Kokon is the right mix of both. It has a lot of super deformed characters (chibi) after all! Add up a bit of crossover with Kamichama Karin and you get a nice fairy tale like story. Its only fault is that it is only one volume long… but on the other hand, it is ideal for an introduction to Koge Donbo's style.
---
5. Di Gi Charat Theater: Piyoko is Number One!

Genres: Comedy
Volumes: 1
Published: November 24, 2003
This one is a well known series to most otakus. Di Gi Charat was created for a retail chain store called Broccoli. The protagonist of the manga stories is Princess Dejiko a.k.a Di Gi Charat, a ten year old girl from outer space that came to Earth with the wish of becoming an idol. This is the character that Koge Donbo herself has admitted is more like her, so you can imagine how adorable she is. And well, the franchise has been soooo successful that we have a lot of anime versions to choose from.
Curiously, the best rated manga among the many Di Gi Charat volumes is the one centered on one of the Black Gema Gema Gang members: Pyocola, or Piyoko to her friends. In this adventure, we get a closer look to the lives of Piyoko, Rik, Ky and Coo, and to why they want to conquer the Di Gi Charat Planet. We also follow their attempts at kidnaping princess Dejiko and their many failures… But hey, they also have tomorrow to try again! How good is this volume? Well, it got its own OAV, so, we can only recommend it to hard Di Gi Charat fans!
---
4. Doki doki Tama-tan

Genres: Fantasy, Shoujo
Volumes: 3
Published: 2009
Have you ever been waiting for someone special? Like, for years? This is what Tama-tan has been doing since a bunny eared boy gave her a strange object and disappeared. Seven years pass and then one day, Tama is confronted by an UFO. The boy came back! Now, he is searching for "Lunar Ladies", girls who can become the Moon Princess. It turns out that Tama is one of them! Does this situation means that they are destined to be together forever? Or is there more to the story than it is evident?
So yes, the story reads all fairy tale like and all, right? However, we don't know the real purpose of the Moon Princess at the beginning. We get the usual cute scenes and happy adventures by Koge Donbo in this manga, with a bit of mystery added to the mix. Of course, there is some fluffy, platonic love between Tama and bunny eared Akane! And if all these was not sufficient for your sugary manga daily dose, we also get a cross-over with Kamichama Karin.
---
3. Pita-Ten

Genres: Comedy, Drama, Fantasy, Magic, Romance, Shounen
Volumes: 8
Published: Aug 27, 1999 to Jun 27, 2003
What happens when you are young, have had to cope with lots of things in life and you are mostly alone? Bet you would like to have a helping hand around. That is exactly what Kotarou Higuchi gets when a girl called Misha moves into his neighborhood. She is always following him and trying to make him happy, but somehow, all her efforts end in a clumsy mess… which does not discourage her from trying again, of course!
Pita-ten is apparently all sugar, happiness and humor until we get into the later chapters. We will not go into details, but let's say there is a reason why Misha, despite being some sort of angel, wears black. If you like sweet stories that have a deeper background, Pita-Ten might be the manga for you. It also has an anime version, but some consider the manga better, so maybe you should read that one first 😉
---
2. Naki Shoujo no Tame no Pavane (Pavane for a Dead Girl)

Genres: Fantasy, Music, Romance, Shounen
Volumes: 6
Published: Jul 30, 2008 to present
This manga is filled with music, as most of the action revolves around a Music Academy. Our protagonist is Nanao Kaga, who overhears a violin during a field trip to Tokyo. By following it, she encounters a talented young guy named Takenomaru Sagami, and falls in love at first sight. ThenNanao defies the arranged marriage her family has prepared for her, flees her family home, and enters the Marianne Music Academy in hopes of meeting Takenomaru again. However, he is not your regular guy, as he is looking for something called the twelve tears of Maria…
Naki Shoujo no Tame no Pavane has all the cute style and nostalgic scenes that we have learned to relate with Koge Donbo. The story gets a bit more complicated than her regular works, though. Her heroines are assertive, but tend to have super powers. In this case, Nanao is a normal girl who decides to follow her heart. The consequences might not be what she expect, and that is where the story gets exciting!
---
1. Kamichama Karin (Little Goddess Karin)

Genres: Comedy, Drama, Fantasy, Magic, Romance, Shoujo
Volumes: 7
Published: Nov 2, 2002 to Apr 3, 2008
Do you like manga like Cardcaptor Sakura? If the answer is yes, here we have the perfect Koge Donbo manga for you! Let us introduce you to Kamichama Karin, the story of an elementary school student called Karin Hanazono. She is not the best or brightest, but she treasures her deceased mothers memory in the ring she left behind. When Karin discovers that the ring has powers, she is off to adventures she could not have imagined. Starting from finding other people with similar powers (including the handsome Kazune) and defending Kazune's cousin from evil forces, of course...
From the story's conception to the endearing characters, Kamichama Karin is by far Koge Donbo's best work. With the right combination of cuteness, happiness, magic, action, sorrow and one or two surprises, the world of Karin will undoubtedly trap all the shoujo lovers. The manga has a sequel called Kamichama Karin Chu, and the characters do a few cross overs in other mangas by Koge Donbo, as you could see in other entries of this article. So, if you are a fan of Donbo's work, you simply can't miss out Kamichama Karin!
---
Final Thoughts
When life is though or stressful, you might need a good dose of shoujo, sugary manga, or both to take with a cozy cup of tea. Koge Donbo is sure to meet your expectations for such moments. In this article, we have proved that there is much more to her than Di Gi Charat. Yes, no one denies the fame of our beloved Dejiko, but Koge Donbo is still active and creating new titles. We cannot help but to wonder which other worlds she has in store for us. In the meantime, please tell us, which is your favorite manga by Koge Donbo? Don't forget that we are open to all your comments and suggestions. See you soon in Koge Donbo's worlds!