Hinako Takanaga is a super-popular BL/shounen-ai manga artist, who gained a lot of popularity thanks to a wonderful and cute art style, and very good stories. Her drawings are characterized by a lot of details, and a neat trait. Hinako Takanaga's boys are always in love without too much drama: her stories wield amazing boy-on-boy actions, a solid plot which is meaningful in order to understand each character and their reasons, and happy endings.
Basically, she manages to create the sweetest stories, even when one of the main character is a homophobic tyrant unable to admit that he is gay. Yes, we're talking about Koisuru Boukun, her masterpiece which gained so much popularity, it had an anime adaptation in 2010. But let's focus now: we're going to list seven manga from this golden manga artist, down to her best story. Stick with us until the end, you won't be disappointed!
7. Croquis

Genres: Drama, Romance, Yaoi
Volumes: 1
Published: 2004
Let's get this ranking started with Croquis! Our protagonist is Nagi, an artist/model who didn't fail to notice art student Kaji's gaze upon him. Because of some circumstances and misunderstandings, the two of them gradually get to know each other. After a bit, they become lovers and their relationship goes safely by for four months. There's just one thing bugging Nagi, and that is, they haven't gone beyond a simple kiss. Is Kaji unable to accept a relationship with another boy? Kaji's secret is about to be discovered!
Nagi and Kaji's love story is very cute, and tender. In this manga, you can begin to see those traits that characterize all Hinako Takanaga's works; from the art style, to our protagonists who are caring, lovely and nice. Sadly, there's no room for a deep analysis of each character, but Hinako Takanaga does her best to make her readers fully understand them. In this volume there's a little treat, too: two one-shots called Wish on a Star and My First Love, and we are sure you'll totally love both!
---
6. Challengers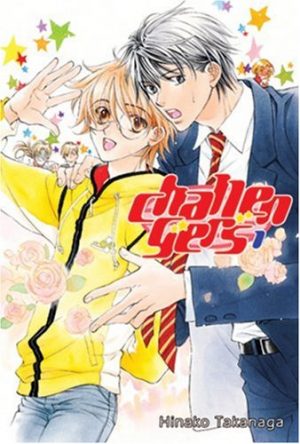 Genres: Comedy, Romance, Shounen-ai, Yaoi
Volumes: 4
Published: 1997 – 2004
Let's go on with our sixth position, Challengers, which is also the beginning of Hinako Takanaga's masterpiece: Koisuru Boukun – The Tyrant Falls in Love! It revolves around Tatsumi's little brother, Tomoe, who is a freshman attending university in Tokyo. Tomoe lives in a nice apartment, with the landlord Mitsugu Kurokawa, a salaryman. Kurokawa and Tomoe are in a loving relationship, but what if Tomoe's big brother is a homophobe who would never accept their relationship? Kurokawa, whose goal in life is to cherish Tomoe, will have to struggle in the name of his love!
As we said up above, this is the manga that lays the foundations for Koisuru Boukun! In this manga – the first she created – all Hinako Takanaga's skills pop immediately up. In fact, Tomoe and Kurokawa are the typical lovey-dovey couple we are used to seeing in all her stories. The art style is still a bit raw, but equally enjoyable. As for the boy-on-boy action, Challengers is in the middle between a shounen-ai and a yaoi, but the tender moments of this couple are wonderful. All of you fans of Koisuru Boukun, should totally give Challengers a try!
---
5. Liberty Liberty!

Genres: Comedy, Shounen-ai
Volumes: 1
Published: 2005 – 2008
Liberty Liberty! is our fifth position, and it revolves around Itaru Yaichi and Kouki Kuwabara. Their story begins when, because of some circumstances, Yaichi falls on a trash heap, dead drunk and sure he will end up thrown away. Then, a good man – Kuwabara – saves Yaichi, but Yaichi ends up breaking his video camera. What could he do to pay Kuwabara back? Yaichi decides to work his debt off... even though he is basically useless! Will he manage to extinguish his debt, finally?
Liberty Liberty! is a non-conventional shounen-ai manga. In fact, it's like a description of a relationship's hardships. Yaichi and Kuwabara's love is not depicted in the usual "lovey-dovey" way that we like about Hinako Takanaga's works, but on a different scale; of course, it is equally enjoyable. Yaichi and Kuwabara are cute and care about each other, but since Liberty Liberty! is a shounen-ai manga, we don't find hot boy-on-boy actions. Because it is out of the ordinary, Liberty Liberty! is one of Hinako Takanaga's best stories, so it's better if you check it out.
---
4. Kimi ga Koi ni Ochiru Series (You Will Fall in Love)

Genres: Drama, Romance, Yaoi
Volumes: 6
Published: 2006 – 2013
Let's step towards our fourth position, with a wonderful series! The first one is Kimi ga Koi ni Ochiru, and it revolves around Haru and Tsukasa, and their tormented love. Haru is the student adviser of the Archery club, and falls in love with a student – Tsukasa. Tsukasa's older brother, Reiichiro, in love with Haru, decides to back off and starts a brand-new life as a manager in a kimono shop. There, he meets Jinnai, an employee who dislikes Reiichiro in the beginning, but falls for him afterward. At the same time, Kijima, Jinnai's friend who has a crush on him, tries to conquer Jinnai's heart, but it's too late.
As you can see, each of these characters is somehow related to the other, in a one-sided love sequence. Hinako Takanaga, though, manages to show how each character is able to go on and take a risk once again, in the name of love. So, what may seem like a sad story about brokenhearted guys, is actually a story full of mutual love and understanding. This is a peculiar series where you actually can see all of Hinako Takanaga strong points: from the cute and detailed art style, to the solid plot and the amazing characters! You can't miss this one, when you're a fan of Hinako Takanaga.
---
3. Little Butterfly

Genres: Drama, Romance, School life, Yaoi
Volumes: 3
Published: June 2001 – July 2003
Our third position had to be Little Butterfly! Atsushi Nakahara has family issues: his mother is mentally ill, and his father is abusive and uncaring. Yuki Kojima is Nakahara's classmate, and constantly tries to befriend him, until he finally gets to know about his family. While trying to comfort Nakahara, Kojima finally realizes that he may feel something deeper for him, than mere sympathy. While pondering whether talk about his feelings to Nakahara or not, Nakahara musters his courage up and confesses to Kojima. Their loving relationship begins, and they will step into the adulthood together...
This rare gem is amazing: Hinako Takanaga's art style is gorgeous, and full of details. The characters are deeply analyzed, even the supporting ones. The main themes are described in a delicate way. We can observe the couple's growth and evolution, and enjoy their hot smut scenes, which are one of the reasons why we love Hinako Takanaga! If you enjoy reading a BL manga featuring drama, comedy and a wonderful love story, Little Butterfly is literally what you're looking for. As fans of Hinako Takanaga, you really can't miss it!
---
2. Bukiyou na Silent (Awkward Silent)

Genres: Comedy, Romance, School life, Yaoi
Volumes: 6
Published: September 2004 – September 2016
Our second position is Bukiyou na Silent – Awkward Silent! Satoru Toono is an introverted boy, unable to show on his face what he really feels. Toono has always had a crush on Keigo Tamiya, but he doesn't know his feelings are mutual. When Keigo asks him out, Toono doesn't know what to say, but even though it doesn't show on his face, he is the happiest boy in the whole world. When Toono and Tamiya start to date, all sorts of misunderstandings pop up because of Toono's attitude: will Tamiya manage to read Toono's expressionless face, thanks to his love?
Bukiyou na Silent is a funny manga that really deserved our second position! Toono and Keigo are the cutest couple: we witness Tamiya's efforts at dealing with Toono's moments of silence, while some cute chibi Toonos explain what's going on in Toono's mind for us readers. Awkward Toono, too, will put a lot of effort towards coming out from his shell in order to help Tamiya. This is one of the funniest stories Hinako Takanaga created! There are a lot of gags, started by Toono's poker face; there are spicy scenes between Toono and Tamiya; the art style is absolutely amazing. You will find all what we love about Hinako Takanaga, so catch it up if you still haven't!
---
1. Koisuru Boukun (The Tyrant Falls In Love)

Genres: Comedy, Drama, Romance, Slice of life, School life, Yaoi
Volumes: 10
Published: April 2004 – ongoing
Let's end this chart with the best story Hinako Takanaga created! As you would expect, Koisuru Boukun – The Tyrant Falls In Love is our first position, and you can guess why. Souichi Tatsumi is a university researcher and, as we said while talking about Challengers up above, he is a homophobe. His junior, Tetsuhiro Morinaga, has been in love with him for about five years, but Tatsumi absolutely cannot accept those feelings. Morinaga, though, with his attitude and ginormous (to say the least) patience, will gain a special place in the tyrant's heart. Even though it will cost him a lot, love will be stronger for Morinaga!
By far, Koisuru Boukun is the best story Hinako Takanaga came up with. Of course, the art style is wonderful and full of details, but that's a given with Hinako Takanaga. The plot is solid, and the characters are deeply analyzed, in several respects. The couple is non-conventional: a homophobic researcher, chased after by his gay junior, who almost becomes his slave (this explains the "tyrant" in the title). Morinaga's struggle in the name of love is heartbreaking, at least until Tatsumi finally decides to give him a chance. Koisuru Boukun features every single thing legitimizing Hinako Takanaga as one of the best manga artists of the BL/shounen-ai genre: comedy, a lighthearted atmosphere, hot boy-on-boy action, a bit of drama that never gets old, and a lot of love. This manga had to be our first position, and it's the one we recommend to you all the most!
---
Final Thoughts
With the ever-angry Tatsumi, and the delusional Morinaga, our chart comes to an end. We really hope you enjoyed the ride, as Hinako Takanaga is an amazing manga artist, one of the best out there! As we already said up above, Hinako Takanaga is famous for her sweet and cute stories, amazing characters madly in love with each other, and a solid plot. If you enjoy BL/shounen-ai manga, without dramatic turn of events, you can't miss her series! We thank you for sticking with us until the end, and let us know what you think in the comments below. See you next time!