Readers tend to appreciate and remember works with strong female leads, especially, in a shoujo manga. Damsels in distress are fine but wouldn't it be fun if the main heroine was badass with a soft side to her? It makes the story much more interesting since the female lead can stand on her own and help her main guy in times of trouble.
Motomi Kyousuke is an expert at making cool and badass female leads. In fact, Motomi is very well-known for it, along with her rich and engaging storylines. Motomi Kyousuke debuted in the year 2002 with her first work, Hetakuso Cupid (No Good Cupid). Although she usually portrays herself as a male in her manga, she is actually a female, hence why some first-time readers of hers might think that she is indeed a man. Her works are mostly comedic, in general, with romance and drama as a secondary part. Contrary to other shoujo artists who mostly have a soft and clean art style, Motomi's art style can be described as sharp and a bit rough, which compliments her characters quite well. Her story also doesn't disappoint! Some of Motomi's works may have this peculiar feeling to them, but this aspect is what makes her work fresh and original.
We are sure that all of you are still curious about this amazing mangaka. So, if you want to know more about Motomi Kyousuke, then the best way to do it is to read all of her works, which we will list here. Now let's get into it!
8. Mikkai Coffee Flavor

Genre: Comedy, Romance, School, Shoujo
Volumes: One-shot
Published Date: 2010
Mikkai Coffee Flavor revolves around Ayuko and her classmate, Shouta, during a stormy night. Shouta is asked by Ayuko's father to accompany her since he worries for his daughter's safety. Being in love with Ayuko for quite some time, Shouta takes the opportunity to be with his crush. But Ayuko would not relent and just give out her heart to someone like Shouta. Though, why does her heart beat faster every time Shouta is near?
Mikkai Coffee Flavor is one of the contributions that Motomi made for the anthology, Mitsuai Celeb. The story is very straightforward with not much going on. The manga simply explores Ayuko's unnoticed feelings for Shouta. Cute moments are nicely presented. Shouta is very adorable in his ways as tries to persuade his longtime crush. It's a short read, but give it a try along with other stories presented in this anthology.
---
7. Purikyuu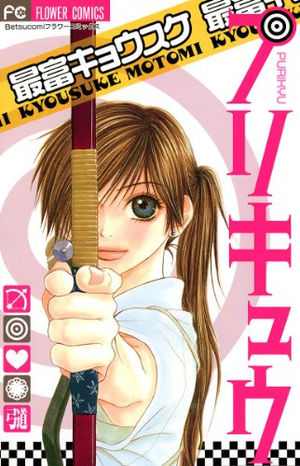 Genre: Comedy, Romance, School, Shoujo, Sports
Volumes: 1
Published Date: 2005
Katsuragi Anna is a talented ballerina and even became a Prima Ballerina at a young age. But all of those glorious days of hers are all in the past. Now that she's 15 years old, she wanted to start anew and aimed to find a boyfriend fit for her. However, after being led to the archery club by her friend, she is reunited with her rival from childhood, Jinnai Takeru. Challenged by Takeru to beat him in his own game, Anna swears that she will defeat Takeru at all cost!
Purikyuu focuses more on its character development rather than the romance part of it. In the beginning of the manga, the female protagonist may come off as irritating and annoying because of her arrogant behavior. But as you progress in the story, you will begin to love her as she changes for the better. Takeru is a nice male lead who helps Anna her in times of confusion. They certainly compliment each other since their personalities balance well despite their differences. Although the love story of Takeru and Anna only spans five chapters, the development of their relationship doesn't feel too rushed or too slow. The flow of the story feels just right. Purikyuu will absolutely make you laugh, but the struggles of Anna and her determination are the best part of the manga.
---
6. Penguin Prince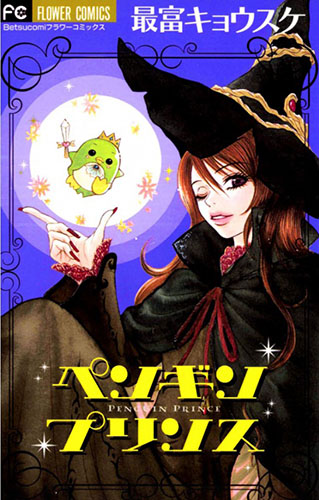 Genre: Romance, School, Shoujo
Volumes: 1
Published Date: Aug. 2003 - Sept. 2005
Penguin Prince includes five one-shots by Motomi Kyousuke. The first chapter is called "Penguin Prince", which tells the story of the "Witch" Ranka as she learns the cute secret of the "Prince", Murakami. The second story "One Thousand Years Love Song" follows the struggle of Minagawa Tamaki as she tries her best to suppress her feelings for her classmate, Kazama. The third and the fourth stories, "Sitting Straight Tea Time" and "Tea Time with Flowers and You", are related. It is about Hatsune learning tea ceremony with her delinquent classmate, Tamiya Kei. Lastly, "Searching for Four-Leaf Clover" is the story of Kajiyama Kiku and Sasaki Tomohiro as they begin to connect with each other through music.
In Penguin Prince, each chapter is presented by a different couple. The stories are fairly simple and easy to digest. While some chapters are ridiculously funny, others are adorable with a lot of fluff going on. Since this is one of Motomi's earliest works, you might not see the difference between the characters as they almost look alike. Not only that, you will see some cliches here and there, but they are used in a fascinating way. Overall, all of the stories are equally entertaining, especially, the characters.
---
5. Seishun Survival (Youth Survival)

Genre: Shoujo
Volumes: 1
Published Date: 2006
Seishun Survival is a collection of one-shots by Motomi Kyousuke. The first story, "Youth Survival", revolves around Kiriko Meajima during her Summer Camp; while the second story, "Liar Love Letters", is about Horikawa Ritsu's growing feelings for ex-boyfriend's buddy, Kido Shuusei. The third chapter "Sword and Heart Dangerous Relationship" is about Ohgami Shizuru and her fellow ninja, Yamada Kousaku. The fourth chapter is simply a side story of Otokomae! Beads Club.
Motomi presents us with another fun volume of her stunning works! As usual, her works are funny, and with nice characterization. If you enjoy something hilarious with a sweet premise, then the first story and the third story are the ones that you should read. But if you want something a bit more dramatic that can give you feels, then the second story is for you. Each story is filled with cute moments that you will certainly enjoy, so just read it all since it only has four chapters all in all. If you've read Otokomae! Beads Club and you want to see more of Ibuki and Takumi, their side-story is in the fourth chapter.
---
4. Otokomae! Beads Club

Genre: Comedy, Romance, School, Shoujo
Volumes: 1
Published Date: Feb 2004 - Oct. 2004
Ibuki Oikawa is known to be a manly girl. Because of her enormous strength, Ibuki doesn't have a boyfriend yet. That's why she decides that on her first day of school, she will act ladylike in order to grab a manly boyfriend for herself. But after saving a dog from a traffic accident, she meets a creepy "crow messenger". While looking for the student council office, "crow messenger" Takumi Urabe, tells Ibuki to follow him. Thinking that Takumi will guide him to her destination, she is shocked when Takumi deceives her by making Ibuki as a member of Beads Club.
If you want to be introduced to Motomi's works, then Otokomae! Beads Club is the way to go. The manga has a lot of peculiar moments in it that will surely make you laugh your ass off. Just like any other Motomi female lead, Ibuki never disappoints! Her adventures while seeking love are certainly hilarious. Add in the very weird Takumi and their eccentric friends in the scene, it all goes haywire! Otokomae! Beads Club is a very fun manga to read. It has a lot of things going on and it may be random at times, but we assure you that this manga will leave a good impression on you. Motomi also includes an extra, namely, Very Black White Day.
---
3. Beast Master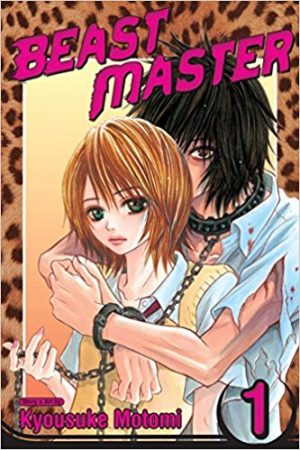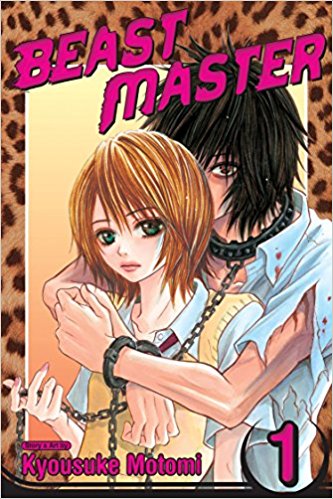 Genre: Comedy, Romance, Shoujo
Volumes: 2
Published Date: Sept. 2006 - Feb. 2007
Yuiko Kubozuka has always been fond of animals. Unfortunately, animals do not like her. They either run away or leave a farewell bite or scratch on her. Although she has problems connecting to animals, she can tame her new wild classmate, Leo Aoi, into submission. Because of this, she became known as the "beast tamer". But despite this, Aoi only sees Leo as someone who is very shy and reserved with a nice affinity for animals, much to her dismay.
Beast Master does have a very simple premise, but what makes it so memorable are the characters.Yuiko and Leo are so perfect for each other. Even though they act totally in contrast to their appearance, this is what makes them distinguishable and unique. Yuiko and Leo help one another in times of need, which is definitely a sweet thing to behold. What is great about this couple is that they openly accept each other for who they are. They are ready to sacrifice for each other's safety just to make sure that no harm comes to one another. Their story might be short, but nonetheless, Yuiko and Leo are one of the most unforgettable couples out there. This manga also includes two extras that you can enjoy, which are Fly and Saboten Summer Surprise (Cactus Summer Surprise).
---
2. QQ Sweeper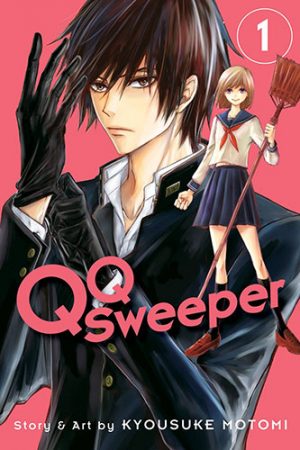 Genre: Comedy, Romance, School, Shoujo, Supernatural
Volumes: 3
Published Date: Mar. 2014 - May 2015
If you don't like cleaning in general, then maybe Kyuutarou and Fumi can help you with that! Being left alone by relatives and by the death of her parents, Fumi Nishioka only has one goal in sight: To marry a rich man! Maybe the man she has been looking for is Kyuutarou Horikita! But before she can fully grasp the heart of Kyuutarou, Fumi must learn to cleanse the evil spiritual dirt bugs that can distort a human heart.
QQ Sweeper is the latest work by Motomi Kyousuke, and at first glance, you can see the immediate change in Motomi's artwork. Her art style is the same all in all, but it becomes refined and softer in the eye. Out of Motomi's works, QQ Sweeper is by far her darkest one. The story presents issues such as depression, insecurities, loneliness and more, which makes the story very relatable, as people do face this kind of obstacles in their everyday lives. Although the manga does have darker themes, Motomi never fails to give a good amount of comedy and romance. She makes sure to show her readers that there is always light at the end of the tunnel. If you miss the characters of Dengeki Daisy, then you will surely enjoy their special cameos here. QQ Sweeper is already finished, but all unanswered questions here will be hopefully answered in its sequel Queens's Quality which is still ongoing.
---
1. Dengeki Daisy

Genre: Comedy, Drama, Romance, Shoujo
Volumes: 16
Published Date: May 2007 - Dec. 2013
After the death of her precious brother, Kurebayashi Teru's main source of comfort and support is the cellphone that was left behind by her brother. With her cellphone, she can contact "Daisy" who always watches over her. Although Teru is doing her best to live her everyday life, her school's janitor, Kurosaki Tasuku, is more than willing to disrupt her seemingly peaceful life. To make matters worse, it looks like a group of people is out to get her, more particularly, the phone that was handed to her by her brother. Why? Is the death of her brother connected to "Daisy"?
Dengeki Daisy is a very heartwarming manga. It is overflowing with comedic moments, but the overall story is truly touching. In this manga, Teru and Kurosaki's past are often explored little by little and each revelation comes with a heavy price. They get stronger together as they support one another while facing their dark pasts. If you enjoy a well-written plot and wonderfully developed characters, then you can never go wrong with this manga. Each character is portrayed realistically with flaws and all. It has the perfect balance of comedy, drama, and romance. Dengeki Daisy is also filled with mysteries that will certainly keep you interested until the end. Motomi's debut work, Hetakuso Cupid (No Good Cupid), is also featured here as an extra, so make sure not to miss that!
---
Final Thoughts
Motomi Kyousuke is not just your ordinary shoujo mangaka. Not only does she make incredible storylines out of simple things, she makes excellent characters that are always memorable and unique. If you are feeling down because of everyday life, Motomi's works will undoubtedly help put a smile on your face because of her fantastic humor.
How about you? What work of hers did you enjoy the most? Tell us by commenting on this article! Enjoy your stay at Honey's Anime and we hope to see you again in the next article. Bye! Now signing off~
---