También puedes leer este artículo en:Español
Miki Aihara is one of those mangakas who are easily missed from our radars. The reason why is that her works have not been adapted into anime… yet. However, this does not mean that Aihara's stories are not interesting. You only have to give them an opportunity! That is why we are presenting them to you now. Born in Shizuoka, Japan, Miki Aihara has been active for a long time in the manga world. Let's see what manga Miki Aihara has to offer...
7. 5 ji kara 9 ji made (From Five to Nine)

Genres: Drama, Romance, Shoujo
Volumes: 14
Release: Jul 24, 2009 to Present
Warning: There are signs of abuse in this manga. Proceed with caution.
English teachers in Japan, we found your alter ego! The protagonist of 5 ji kara 9 ji made is Sakuraba Junko, an English teacher in an Language School in Tokyo. Her expectations for her life in a new country were high, but at 27, she is still single. When she meets Hoshikawa Takane, a buddhist monk who expects his future wife will be devoted to a house life, Junko rejects him. However, Takane will not give up on her.
Junko is a mature protagonist who is not naive, stupid or shy. The manga also takes time to develop the stories of her workmates, whose pains are varied and complex landscape of the teaching life. As for Takane, well, he is sometimes controlling with Junko, so he is not a very nice male protagonist. All in all, Miki Aihara might not have anime, but this manga became a real life drama already.
---
6. Sora ni Taiyou ga Aru Kagiri (As Long as the Sun Shines in the Sky)

Genres: Romance, Shoujo
Volumes: 3
Release: 1998
Okay, maybe josei manga and conservative guys are not what you are looking for. Maybe you prefer something for younger audiences, something lighter and that makes you smile. In that case, we could go to East Edogawa Academy, the private school that Rieko Edogawa attends. Popular and energetic, Rieko is unbeatable with a tiny exception. See, this girl likes her childhood friend, the attractive Teppei Sakamiya. But oh, tragedy, he only sees her as a friend! Can Rieko do something about this problem?
Miki Aihara become more known with this story. In three volumes, she is capable of using plot twists and develop her characters well. Although the story starts off pretty straightforward, there is a third wheel (Naoto Akutsu) added early on. Also, the ending is not what you would expect. Nope, we are not going to spoil it for you. Read Sora ni Taiyou ga Aru Kagiri to find out what happened!
---
5. Tokyo Boys & Girls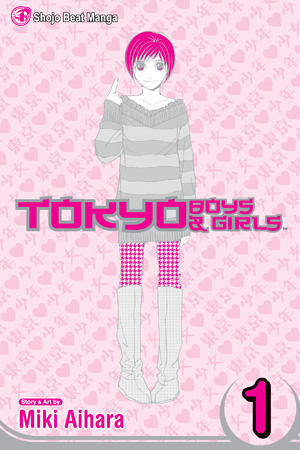 Genres: Romance, Shoujo
Volumes: 5
Release: Jul 5, 2005 to Jul 4, 2006
This is another school themed manga with a twist. Kosaka Mimori gets accepted in her dream High School and could not be happier about it. Now her other dream of having a boyfriend is a little bit closer, as a guy called Kuniyasu Kazukita is apparently interested in he, but is someone looking for revenge on Mimori? Is her pink colored school life going to be ruined? Not if she can help it!
If what you crave in a manga is to feel identified with the characters and that they are well, natural, Tokyo Boys & Girls might be what you are looking for. Mimori is not a doormat, though. She might be naive, but she adjusts quickly to difficult situations too. Overall, if you are looking for a good manga to pass the time that remembers you of both the good and bad school days, this is a good choice by Miki Aihara.
---
4. Hot Gimmick

Genres: Comedy, Drama, Romance, Shoujo
Volumes: 12
Release: Dec 2000 to Aug 2005
Warning: there is also abuse in this manga. Proceed with caution.
There is an apartment complex where only the very poor ones live. This place is ruled by the powerful Mrs. Tachibana, a woman you do not want to cross. Hatsumi Narita lives in such a place, but she gets in trouble when Mrs. Tachibana's son finds her buying a pregnancy test for her sister. In exchange for his silence, she agrees to become his slave. Will Hatsumi's childhood friend Asuza be able to help her in this predicament?
In Hot Gimmick, we have two couples who could not be more different. One is the slave owner one and the other is a more realistic and balanced one. If there is anything that we can see in this manga is how poorly made decisions can grow wrong more and more, especially if you do not have money. This story is not for everyone, just for those who like more extreme emotions.
---
3. Seiten Taisei

Genres: Drama, Romance, School, Shoujo
Volumes: 6
Release: Jul 13, 1998 to Aug 14, 2000
Ok, so maybe you do not like to complicate your life. You love school and your life as a teenager, and would like to read about girls that are similar. Well, perhaps you should give Ako Doumoto a chance in Seiten Taisei. She loves shopping and is not worried about exams at all (they are sooo far away). However, when Ako meets the coach of the basketball team, she decides to change her hairstyle in order to get closer to the guy of her dreams.
This is a more typical shoujo than is normal for Miki Aihara. We even have a love triangle in the middle of school life! The drawing on this one might look a bit old for some, but those of us who appreciate retro manga do not mind. Did we mention that despite being a drama, there are plenty of laughs in Seiten Taisei? We just have to see the faces Aihara draws in Ako when something unexpected happens! If you have a shoujo manga heart, just try this one!
---
2. So Bad!

Genres: Drama, Romance, Shoujo
Volumes: 6
Release: 1992 to 1998
Warning: There is some abuse again in this manga. Proceed with caution.
We know those stories about a girl who has to serve one or more guys. Kyoko is in such a situation. She is a great student who is eager to win the Student of the Year award. However, her life starts getting complicated when she falls in love with one of three brothers. They are her masters, but maybe her past is linked to them. Will she discover exactly what is going on? You will have to read So Bad! to find out!
Although this is not the most original work by Aihara, the suspense saves it pretty well. Kyoko's mother knows many secrets about the boys. There also comes a point when we do not know who will Kyoko chose among the brothers. The characters also have their own characteristics and are easily distinguishable. There is a bit of comedy, so if you do not like overly dark stories, do not worry because So Bad! is well balanced.
---
1. Sweet II - Embrace Me Until I Break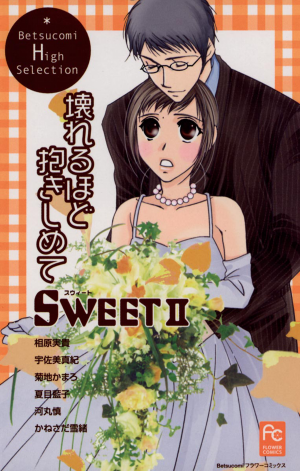 Genres: Romance, Shoujo
Volumes: 1
Release: 2004
Finally, we are in the first place! The most famous manga by Miki Aihara is a collaboration with several artists. In Sweet II, several shoujo mangaka teamed up to draw short stories. In Ten Days, Aihara introduces us to Aiko, a regular high school girl. She has consented to enter an arranged marriage with Shiwakara, who is two decades older than her. However, they decide to be a couple for ten days before deciding if they will go ahead with the marriage or not. Will their little experiment succeed? We are not telling!
Our protagonists are engaging and the story develops well for them. Miki Aihara's art was also at its best here! If you are a dreamy shoujo type otaku, this is the right Aihara story for you. The only fault of Tend Days is that it is too short! It would have been much better to have an entire volume for it.
---
Final Thoughts
The worlds of shoujo and josei manga have proved again and again that they can be flexible and have room for everyone. Miki Aihara might not be widely known, but in her little universe of stories, she is engaging, sensible, funny and sometimes mysterious and dramatic… just like girls! Which is your favorite manga by Miki Aihara? Tell us in the comments! Don't forget that we are open to all your suggestions. See you soon!