INTRODUCTION
Akira Amano is an amazing manga artist. She was very young when, in 2000, she began the serialization of her first story – Petit Petit Rabbit, a seinen two-volume series – and started to build her own path in the difficult world of the manga. In late 2003, she conquered Weekly Shounen Jump, with a one-shot story about Reborn. It was so popular that Weekly Shounen Jump decided to serialize it in 2004.
Akira Amano's art style is very beautiful and peculiar. Her trait is neat, and each character is recognizable and unique. It fits perfectly with her stories, which are full of humor and witty comments, without forgetting good feelings and high ideals, like friendship and love. Of course, her plots are very articulate and accurate, too. Akira Amano's masterpiece is Katekyo Hitman Reborn, which had an anime adaption and was among the most loved shows in the shounen universe.
We created this ranking in order to talk about her popular stories, as she is a very skilled manga artist who keeps up the good work. Our expectations from her are very high, so we really thought she deserved a mention. Let's start this ranking, then; here we are with a top 3 of Akira Amano's popular manga!
3. Puchi Puchi Rabbit (Petit Petit Rabbit) + One-Shots

Genre: Comedy, Seinen, Gender bender / Comedy, Shounen, Supernatural
Volumes: 2
Published Date: 2000 – 2001
Probably only few people know that Akira Amano's first try was a two-volume seinen manga. Puchi Puchi Rabbit is her debut manga published in Young Magazine, 6 years prior the super popular Katekyo Hitman Reborn. The story revolves around a girl who is able to turn into a rabbit, and the plot is a bit demented. It's just a seinen manga to lighten your mind. Those who love her for her art style, would easily recognize the seeds of her artistic character traits. Those who love her for her plots, would easily recognize the humorous situations.
As for the one-shots, Akira Amano published two of them in 2013, and 2014: Nemuri Netarou Awararu and Warashibe Tantei Numa Shichirou. Both of them are comedy shounen one-shots, where the readers will find all what they enjoyed about Akira Amano's stories in the past. What's more, in 2016 she published a one-volume crossover between Katekyo Hitman Reborn and ēlDLIVE, called Rebo to Dlive: 24H extra sketches. It shows how each character of both stories spend their time during a summer, sunny day. Quite enjoyable for all the fans of the series!
---
2. ēlDLIVE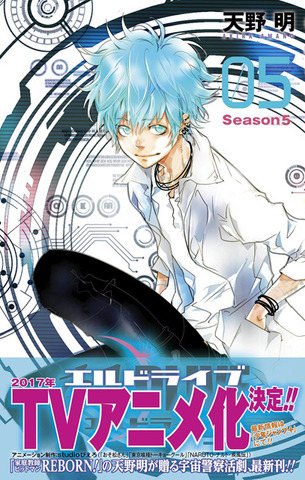 Genre: Action, Comedy, Sci-Fi, Shounen
Volumes: 9
Published Date: August 2013 – ongoing
Chuuta Kokonose is our protagonist in ēlDLIVE, and he is a 14-year-old boy. Chuuta looks very weird for a teenager: he talks to himself a lot, and his classmates tease him because of his habit. They don't know, though, that he has a voice inside his head with whom he tends to talk a lot. One day, his life takes an unpredictable turn: followed home by a strange creature, he is suddenly shot by a beam of light and when he opens his eyes, he finds himself in the space police station.
Laine Brick, as the chief of the solar system bureau, reveals to Chuuta that he's been chosen to join the ēlDLIVE agency. Right after, poor Chuuta Kokonose meets his classmate, who is his crush, too: Misuzu Sonokata. Far from being friendly, Misuzu opposes Chuuta in every way. Her behavior, though, helps Chuuta to give his best in order to prove that he is worth it. That's how Chuuta's adventures begin!
Those who enjoy Akira Amano's style, will find ēlDLIVE overly amusing: from its art style which is always beautiful, as its characters are very detailed and cute, to the plot which can make the readers crack up. Chuuta is your weird little boy frequently bullied because of his habit of talking to himself; after he joins the ēlDLIVE agency, he will gradually get stronger and will find himself surrounded by friends, either humans or otherwordly. With ēlDLIVE, which comes right after her masterpiece Katekyo Hitman Reborn, Akira Amano lives up to her readers' high expectations!
---
1. Katekyo Hitman Reborn! (Tutor Hitman Reborn!)

Genre: Action, Adventure, Comedy, Drama, School life, Supernatural, Shounen
Volumes: 42
Published Date: May 2004 – November 2012
And now, meet the clueless, absent-minded and talent-lacking Tsunayoshi Sawada. This 14-year-old boy in no good at studying, at sports, and he's not popular among his classmates who bully him constantly. Tsuna's life is literally turned upside down by the meeting with his new home tutor: Reborn. Behind the facade of a mere home tutor, Reborn is actually a member of the Vongola family, which is a Mafia family. Reborn's purpose is to train Tsuna and make him a worth heir of the ninth boss, who is about to retire. What appears to be a difficult mission, will turn out to be almost an impossible task. Will Reborn be able to turn Tsuna into a real leader, eventually?
Among the shounen lovers, probably everyone either read Katekyo Hitman Reborn, or watched the anime series. Initially, this manga is set in school, and it's episodic. Each chapter is self-contained, and the readers follow Tsuna's antics under Reborn's close supervision. Those initial chapters made it look like an idiotic manga with no real purpose, but step by step the plot builds up and Katekyo Hitman Reborn gradually becomes the action, comedy shounen manga we all learned to love!
Tsuna, alongside with those friends who support him and decide to join the fight against the various Mafia families, will keep getting stronger. We follow his growth, as he becomes a worth leader; as a very "human" protagonist, his mind only focuses on protecting the people he loves. One adventure after the other, the readers are totally sucked in the story and begin to cheer for this little boy and his friends. As for the art style, it keeps getting better as the chapters go by, until it becomes the wonderful masterpiece we love about Akira Amano! If you like a shounen manga which can be full of comedy, adrenaline-filled, and even serious at times, choose Katekyo Hitman Reborn! It's the best story Akira Amano could give us.
---
Final Thoughts
With Reborn, Tsuna and all their friends, this ranking ends! It really reminded us what a talented, skilled and amazing manga artist Akira Amano is. We really thought she deserved a mention, as she already proved to be very passionate about her manga, and she's managed to give us amazing stories. We are sure she will keep achieving great results: her peculiar art style, her witty stories and her stunning characters are hugely appreciated. We really like a manga artist like her, who is able to give the readers lighthearted atmospheres, good vibes and solid plots. Now, why don't you let us know what you think about Akira Amano in the comments below? We hope you enjoyed this ranking as much as we did! See you next time!