Movies are the extension of the human imagination, transforming what would normally be just a mere thought into a blockbuster film. Many of these movies are so inspiring that they leave a lasting impression on you well after watching it, and for mangaka Buronson, they surely did. Buronson, or otherwise known as Yoshiyuki Okamura, came up with the name Buronson through watching a lot of Charles Bronson movies and became so influenced by him that Okamura borrowed not only his name but also the trademark moustache Charles had been known for. Due to these influences from movies ranging from Bruce Lee to the popular Mad Max, Buronson believed he could create stories that would transcend the norm and so he did. Buronson's manga titles have become blockbuster hits on their own, with Hokuto no Ken being at the forefront of it all, while other heavy hitters like Lord and Heat cementing his name as one of Japan's greatest storytellers.
9. Japan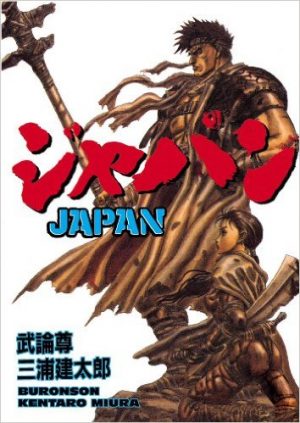 Genres: Action, Adventure, Drama, Mature, Seinen
Volumes: 1
Published: 1992
Japan is one of those stories that showcased both the talents of Miura and Buronson at work, as it tells the story of Katsuji, a Yakuza thug who grows a strong affection towards a young news reporter named Yuka after seeing her on TV. He travels to Spain along with his brother to track down her whereabouts only to be turned down by her in person. However tragedy strikes as a massive earthquake hits the city, leaving Yuka, Katsuji, his brother, and four high schoolers stuck underground beneath all of the rubble. While traversing through the unknown depths below, they confront a mysterious old woman who prophesied that Japan will too, suffer the same dark demise as Carthage, a once opulent city. Katsuji claims it's all just fluff and points fingers at the woman, who then sends them into the future to let them all realize the truth for themselves.
Japan took bits and pieces from that of Buronson's western influences and turned it into an action style story that focused on mafia, brutal murders, time travel, and post apocalyptic warfare. You can definitely see some trace of Mad Max in the story just a little bit as much of the world that these characters find themselves in is some dystopian world, where everything is out of whack and there's no guarantee of survival. Buronson, along with Miura created a tale that not only felt good to read but also looked extremely good due to Miura's trademark illustrations. It also sheds light on some of the political issues that Japan had to face during reform, but throws in a ton of action to keep you on your toes.
---
8. Mammoth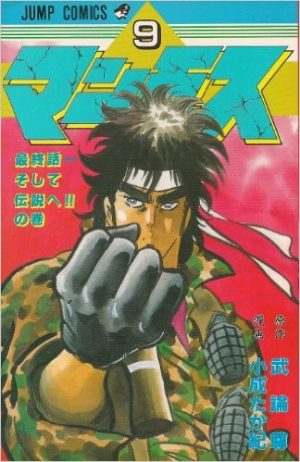 Genres: Action, Shounen
Volumes: 9
Published: 1984 - 1988
Ippei Hyodo is known by many to be the gentle giant of his police force, but when he is forced to witness the brutal murder of his young sister and partner, the gentle giant transforms into what we now know as the mammoth. With his soul bent on revenge, Hyodo will stop at nothing to pick off any threat that stands in his way and to ensure that the man who killed those close to him will pay dearly.
The summary itself just sounds so incredibly satisfying doesn't it? A man on the edge due to those close to him being killed, and now he becomes this vigilante..Wait, this sounds a lot like a Charles Bronson movie! That's right, Mammoth takes a few notes from Bronson films to implement into the story. It's an action packed drama in manga form with every detail being laid out as you read, and emotions overflowing as you're right there with Hyodo as he takes out anyone who stands in between him and the assassin that ruined his life. If you've ever watched any action drama where the main lead had a great beginning only for it to be shattered by fate, Mammoth is a great comparison but also details the genius storytelling that Buronson is quite known for. It's riveting, incredibly sad, but somehow it draws you in more as you desperately cling onto the book hoping that, in some way or another, Hyodo will come through it all alive.
---
7. Gokudo Girl

Genres: Action, Comedy, Ecchi, Martial Arts, School Life, Seinen
Volumes: 5
Published: November 2002 - January 2004
Mai Hyodo is a young freshman in high school, who many boys find attractive due to her cuteness and fashionable sailor uniform. However Hyodo isn't about seeking relationships or flirting with the boys around her, but rather her intent is to revive the notorious Kanto Hyodo Gang, a crime family which had been run by her late father. Mai, along with her father's ex-lieutenant Tetsu, are now working together to ensure that the organization is fully restored back to its original ways, and Mai will do whatever it takes to do so.
Mai's passion is to ensure that her family's once unstoppable reputation is revitalized, and that her name can be held in high regard. Despite her attempts however, Mai always finds herself in sticky situations which brings the comedy factor out. Her stunning body grabs the attention of one too many thirsty boys which ends up being ecchi at times, but she tries so hard to be this tough girl and everytime she almost gets there, something weird happens. Mai essentially wants to run the school and become the boss of everything, but it often backfires on her so she continues to muster her way through it all. It's a nice mixture of action, school life, and some comedy to tone things down when the action does start to heat up in later volumes.
---
6. Strain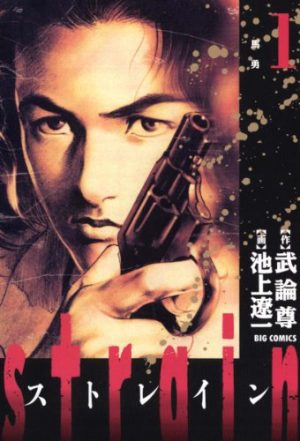 Genres: Action, Adult, Drama, Mature, Mystery, Romance, Seinen
Volumes: 5
Published: 1996- 1998
Mayo is one crazy assassin, a mysterious one at that, since much of his backstory is vague to many who ponder about it. He'll take anyone out for you for just as low as five dollars, and no refunds of course. He's a Japanese man in Malaysia who doesn't take 'no' very lightly, and he may even kill you if the money was available too. Mayo's not alone in this journey however, as allies who are also outcasts in their own right, fight alongside him while his enemies pursue them with the intent of settling the score. Mayo must now rely on his instincts to get him out of trouble, and solve a global conspiracy that's about to create more turmoil if it isn't stopped anytime soon.
This story will surely rock your world as there's just non stop killing all over the place, with Mayo and his crew doing whatever it takes to stop the deadly threat before it worsens. Out of pity, Mayo sacrifices the life of a mother who he was supposed to kill and this sparked an outcry which leads Mayo down the dark path of uncertainty. This soap opera style action manga will shake you in many ways because you're just never sure how the story will end, or what Mayo's fate will be. One thing is for certain though, that there's never a shortage of boredom because you're always introduced to new characters with new motives, mafia related incidents, and more.
---
5. Heat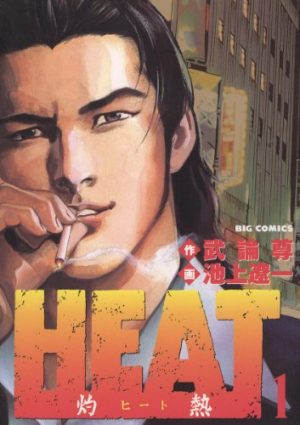 Genres: Action, Adult, Drama, Mature, Seinen
Volumes: 17
Published: 1999- 2004
As a heads up, this isn't the manga version of 1995's critically acclaimed movie starring Robert Deniro and Al Pacino. We will say however that there are a lot of similarities once you dive deeper into the crime riddled lifestyle that's Tatsumi. Tatsumi hits it big in Shinjuku and becomes the owner of a well known hostess club in only two days. Behind it all however, he leads a pack of corrupt criminals who aren't afraid of anyone, especially police, and will do whatever they need to do in order to secure the city. With his cronies by his side, Tatsumi walks the treacherous path of the gangster life, in hopes that he'll find his way to the top.
This award winning work of Buronson deserves praise for it's incredible mastery of storytelling, which Buronson is quite notable for. A young man who's hungry for the rich lifestyle, and will do anything to attain it, even if it means to blackmail and use tact to get his way. Heat uses a realistic art style which only highlights the story in a remarkable way, and pulls you into this corrupt mafia lifestyle that gets more exciting over time. What really sells Heat overall is its strong dialogue, because you can sense the emotion through each character that Tatsumi encounters, but you're amazed at just how clever his team is in overcoming obstacles laid out in front of them. Tatsumi's control over the city is almost invincible, and the drama behind it all is heart racing.
---
4. Ourou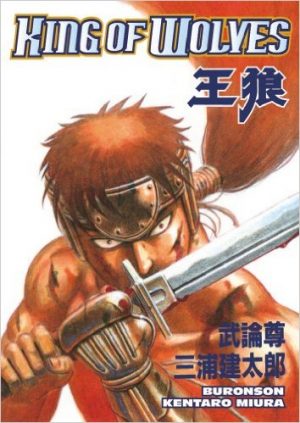 Genres: Action, Historical, Sci-Fi, Seinen
Volumes: 1
Published: March 1989 - May 1989
For those who read our top manga by Kentarou Miura, you'll notice that Ourou is also on that list and for good reason. While Buronson is the man behind the story, Miura collaborated with him on the illustration side. Iba is on a desperate journey to find out more about the Silk Road, but suddenly disappears without a trace, leaving behind only a charm that his girlfriend Kyoko discovers when she arrives at the ancient landmark. Both Iba and Kyoko are then thrown into a new world where Genghis Khan is in rule, and the two must now band together to overcome the Mongolian rule.
A lot of historical elements are thrown into this cool story such as the 13th century Mongolian dictatorship, but a lot of it also is somewhat exaggerated to give the reader some added excitement. Iba must rely on his skills as a trained swordsman to not only protect Kyoko, but also the innocent who are being threatened by the leader. Since this was drawn by Miura you'll most definitely feel a sense of Berserk in some way or another, but it's very much a thrilling action ride that Buronson is most passionate about.
---
3. Lord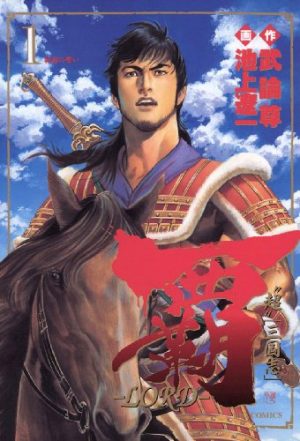 Genres: Action, Adventure, Drama, Historical, Mature, Seinen
Volumes: 22
Published: September 2004 - February 2011
Buronson really loves his history and Lord takes a look at the historical period known as the Three Kingdoms Period, which uses various real and original characters from the events that took place during that fateful Chinese era. It's a story of folklore and Chinese history pertaining to the romance which took place during that time.
Those who are quite familiar with ancient Chinese history will surely find themselves at home with this fantastic work, which showcases a lot of events which took place during that warring period, and provides the reader not only with a sense of fulfillment but some food for thought. Blood, gore, and execution are just some of the themes you'll encounter throughout this incredible manga, as Buronson tries to retell the story in his own way by creating wonderful and compelling dialogue, introducing a plethora of characters to the fray, and exposing the truths behind the civil disorder that had taken place during that era. Ikegami Ryoichi, the man behind the artwork, painted a very extraordinary picture of Buronson's depiction superbly, as Ikegami takes tidbits from Dynasty Warriors and blends them along with the captivating story. It's definitely a must read for any fan of Buronson's work, but also for those yearning for a little history lesson.
---
2. Souten no Ken

Genres: Action, Adventure, Drama, Historical, Martial Arts, Mature, Seinen
Volumes: 22
Published: May 2001 - August 2010
Bruce Lee films most certainly played a major role in the creation of Souten no Ken, also known as Fist of the Blue Sky, right down to the attire and mannerisms that you'll encounter throughout the story. The story takes place in the 1930's and Kasumi Kenshiro is forced out of his teaching job as he must now try to settle a rivalry with an old gang using his martial art prowess to get him out of trouble. During his new journey he encounters an old friend and a mysterious old man who guides him along the way, and instructs Kasumi about new techniques he must learn to overcome the enemy. As political factions clash and gangs now scour the streets, Kasumi must now uncover the truth all that's transpiring and unlock the ultimate power that lies within.
Souten no Ken is the precursor to all of the high flying action that you'll later find in Hokuto no Ken, and all of the flashy kicks and overpowered moves are all here for your enjoyment. This manga is nothing short of spectacular as the story is enough to keep you on the edge of your seat, as you learn more about Kasumi, who's actually the uncle of Kenshirou, and just how he attained this extraordinary power. Souten no Ken is an all out bout, with gangs hungry for power, and Kasumi is the only one who can restore balance this corrupt atmosphere. There's no forgiving in Kasumi's eyes as any enemy who stands in his way receives a swift deadly kick to the throat, sending their spirit to the netherrealm.
---
1. Hokuto no Ken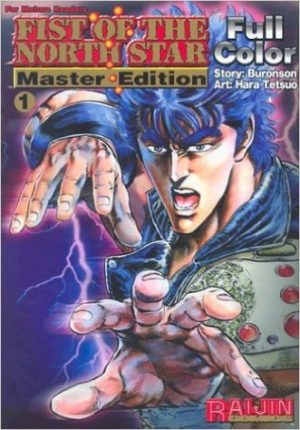 Genres: Action, Adventure, Drama, Mature, Sci-Fi, Shounen
Volumes: 27
Published: September 1983 - July 1988
Hokuto no Ken looks at the life of Kenshirou, whose life is in complete shambles as the love of his life is taken away, friendships are shattered, and now all that's left is his fists of fury to retain it all back in this highly action packed thrill ride. As the successor to the most powerful martial art in the world, the Hokuto Shinken, Kenshirou will stop at nothing to see that his life is restored and will destroy just about anyone or anything standing in his way.
Hokuto no Ken takes place in a different time, with a different intent, and different reason to kill. In the prequel Souten no Ken, Kasumi's purpose was to protect the world around him from brutal gangs who would stop at nothing to see the world suffer, while Kenshirou is pretty much out to kill his friend for betraying him and to save his fiance. Hokuto no Ken is all about the sadistic and mind blowing kills, while Souten no Ken was all about instant death. The story shares a very strong similarity to that of Miura's acclaimed Berserk series, but that should go without saying since the two know each other well and have collaborated in numerous projects.
---
Closing Statement
Buronson's life has had its struggles but one thing is for certain, that his library of hits are nothing to complain about because they brought him into the spotlight which he deserved in every way. Which of Buronson's stories do you like best? What inspires you? Let us know what you think of Buronson's incredibly popular library in the comments section below. Also, be sure to follow, like, and tweet out our articles to always keep the honey's community buzzing.
As always, if you want to know about all the latest buzz straight from the bee's nest in Japan, be sure to keep it locked here at Honey's Anime.