Laughter, as we all know it, is the medicine that so many of us need in those moments where things just aren't going well. It's what picks us back up and restores vitality into our very bodies, giving us this incredible surge of endorphins that allows us to carry on with our day. There are an abundance of manga genres out there but none can make us laugh as hard as the comedy genre, and mangaka Hideaki Sorachi has become the master of that craft by illustrating just what it takes to keep the smiles on his readers faces. For years, Hideaki has gone through many transformations pertaining to his artistry but one thing remained the same, and that was his knack for instilling laughter in every one of his stories. His greatest piece to date, Gintama, is a fantastic example of humor as it uses various ways of expressing laughter whether it be dry humor, or just completely random. That's the wonderful side to comedy, it has no boundaries as to what can be funny, what really matters is the story behind it all because what truly makes us laugh isn't so much the character but rather how we relate to them.
Now Hideaki's manga collection isn't as extensive as some of the other more prominent figures in the field, but we shouldn't take anything away from this man because his one series has catapulted him into the spotlight as being one of the best selling mangaka in history. He has taken part in many collaborations with other famous mangaka, so his work doesn't just reach as far as Gintama, but most certainly carries him in many directions. In our top manga list we'll be taking a closer look at a few of Hideaki's small yet incredibly remarkable collection of works, and provide more details on these great pieces of art.
3. Bankara-san ga Tooru

Genres: Action, Comedy, Martial Arts, School Life, Sci-Fi, Shounen, Supernatural
Volumes: One-Shot -Volume 38-
Published: 2010
Found in volume 38 of the Gintama manga, Bankara-san ga Tooru tells the story of a young gang leader who is considered to be a legend by many. To cause massive damage and wreak havoc, many of the young delinquents in school have made use of the recent cyber revolution to their advantage. Miyamoto Shizuka is the chairwoman of the school, and possesses the great power that so many of these students seek, to maintain order on school premises. However things just aren't always perfect and there's one student who Shizuka needs to be careful of, and that's the legendary Gouda Takeru, known by many as Bankara. Just what will happen if she takes her attention away from him and he manages to run free?
Hideaki is well known for his mastery of gag and parody to really get a laugh out of his fans, and in Bankara-san ga Tooru it most certainly can be seen. While some of these comedic references are deeply rooted in Japanese culture and may shoot well past the minds of the average westerner, there's still much to be amused by because Hideaki just has this unique charm about his illustrations that make you laugh regardless of whether you understand it all or not. Bankara infuses a lot of what you know and love from the Gintama series but adds in a little bit more action this time around to provide a much better kick. It's most certainly not your historical storyline like Gintama, as this story mainly takes place in the cyberpunk era and incorporates a more futuristic approach to both the characters and the story's direction. You have this incredibly strong male lead who just wants to kick arse and take names, while the female lead Shizuka just isn't having any of that and desperately tries to keep Gouda at bay from causing anymore havoc. You'll laugh not just at the interactions between the characters in the story, but just how everything is sort of thrown at you in a random way which is pretty much what Hideaki is generally known for anyway. One minute you're caught up in all of the action between the two leads, and the next minute you're laughing at just how crazy everything is. If you happened to overlook this story while reading volume 38 of Gintama, then be sure to go back and perhaps appreciate Hideaki's work just a little bit more.
---
2. 13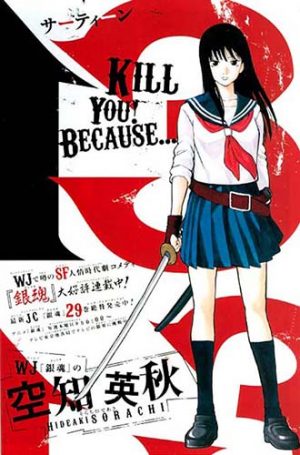 Genres: Action, Comedy, Romance, Shounen
Volumes: One-Shot -Volume 24-
Published: 2008
Much like Bankara-san ga Tooru, 13 is yet another oneshot that Hideaki worked on and threw into volume 24 of the Gintama manga. This romcom looks at Mondo Fujieda, who just can't seem to stop thinking about a girl named Izayo Gorugo. The one major problem that he's run into, however, is that her entire family consists of assassins. Mondo mistakenly humiliates Izayo, which provokes her into attempting to kill him. Probably not the right person to humiliate, but fortunately for Mondo, she moves away and so he can breathe a heavy sigh of relief. However karma just seems to have its way of finding you, and several years later Iyazo returns with a vengeance to get her retribution and, with very little in terms of weapons or protection, Mondo finds himself in a whole heap of trouble.
13 is a solid piece of work as Hideaki uses what's he well known for, comedy, and throws in a great romantic balance to really keep the reader involved. It isn't like your typical shoujo cliche romcom but rather, it's a story about a young boy who falls in love with a girl only to have her out to kill him because of past incidents. Mondo thinks he got off clean and just goes back to his normal life but then when Izayo reappears in his life you can't help but laugh because you know what he's in for. While that may not sound like a romantic encounter by any means, it's their chemistry throughout the entire ordeal that really cements it all because you can clearly tell there's something going on, and Izayo just doesn't know how to express it any other way than trying to kill Mondo. It's a story of romance, violence, and comedy all mixed together to create this wonderful atmosphere that's all about two young individuals who have feelings for each other but use other unconventional means of showing it. Think of it like a married couple who've known each other for years, their natural flow of bickering to many might seem like they're not meant to be, but only the two can truly understand what's going on in their wacky lives. If you like some fiction tied in with some real life moments, then 13 is the one you shouldn't ignore.
---
1. Gintama

Genres: Action, Adventure, Comedy, Fantasy, Historical, Parody, Samurai, Shounen, Supernatural
Volumes: 64
Published: December 2003 - Present
This right here is the creme de la creme of it all, and is what cemented Hideaki as a popular mangaka worldwide. If you thought the other two selections were funny, just wait until you dive deeper into the wacky world of Gintama. Gintoki isn't your typical samurai as he wields a wooden sword as opposed to the conventional blade of steel, and his stubborn ways just don't allow him to drop the habit. Unfortunately hard times have hit the town and Gintoki must now take up side jobs in order to make ends meet, but he's not alone as he's joined by his weird colleagues Shinpanchi, Kagura, and a giant dog named Sadaharu. All of them run a small business named Yorozuya which often lands these individuals in hot water, and random horseplay.
This is the goldmine of laughter and if you need your quick fix of it, Gintama will most surely deliver in every possible way. Gintoki's random antics paired with his out of this world colleagues are just a disaster waiting to happen, and that's where all of the parody and gags come rushing in. A lot of the comedic references poke fun at other more well known manga such as Jojo, Dragonball, even going as far as creating gags around the iconic Super Mario series. There's just such a plethora of randomness that occurs in this series that you're never too sure what to expect, and that perhaps is its greatest selling point.
Its unconventional approach to comedy is what has you clutching your ribs in hard laughter because there's really no point or meaning behind it; everything just simply happens and you're thrown into it all at random moments. As we mentioned earlier, some of the references and sarcastic remarks found in the story are generally catered to the Japanese audience, so at times the weight of the joke is somewhat lost in translation due to the cultural differences playing a major role. Be that as it may, comedy isn't something you have to completely understand to simply just burst out and tear up over, because it's not so much about the cultural references but more about the relatability between you and the characters in the story. Gintama is like having a book full of the best comedians on the go, and no matter where you are in the world, just picking this book up and reading a few chapters will turn what was once a dark day into a joyous and plentiful one because Hideaki realizes that laughter once again, is the cure to all of our deepest sorrows.
---
Closing Statement
Gintama, much like the gags and parodies it provides, will most definitely not run out of gas anytime soon and for good reason. Comedy is something that permeates deep within our souls and it's what we need in times of distress or perhaps when we just want a quick fix to boost our spirits. Whatever your reasoning behind it, Gintama is your quintessential comedy manga that everyone should at least pick up and read at least once, especially if you're a fan of Jump comics. Let us know which funny moments stood out to you the most in the series and share it with everyone in the comments section down below. Be sure to also like, share, and retweet our articles to keep the honey's community buzzing!
As always, if you want to know about all the latest buzz straight from the bee's nest in Japan, be sure to keep it locked here at Honey's Anime.