Many mangaka have come and gone, with more newcomers showcasing their talents each day in Japan. There are just some artists who, despite the fluctuating currents of the manga industry, manage to stay afloat and continue to flourish as we evolve with the times. One of those major talents is Hiromu Arakawa, who as a child, had dreams of becoming a manga artist and so she spent most of her older years studying art, while also creating a doujinshi to get some experience under her belt. Fast forward to today and Hiromu Arakawa has become one of Japan's best selling female artists, with a library of hit titles such as Fullmetal Alchemist, which has grown immensely popular in both Japan and the west since its initial release back in 2001. We'll be taking a closer look into the fabulous work that Hiromu Arakawa has made, and provide some insight as to why these manga have become such mega hits around the world.
5. Noble Farmer [Hyakushou Kizoku]

Genres: Comedy, Shoujo, Slice of Life
Volumes: 4
Published: December 2006 - Present
Much of Hiromu's earlier years prior to becoming a mangaka was situated on a farm, so for most of her youth a lot of her inspiration was drawn from her surroundings. She spent seven years farming in Hokkaido raising cattle, and planting various crops which eventually led to writing a manga based around farm life. This was at the time, Japan's first manga to describe the many aspects of farming and it's benefits in terms of agriculture and more.
Noble Farmer was more of a way to invite readers into a world that perhaps they would never get a chance to experience, and Hiromu managed to successfully capture the true essence of what it was like to live on a farm. The manga looks at the various facts situated around the farming lifestyle such as tending to the farm animals and looking after diary supplies, but does so in such a way that always keeps you coming back for more. Hiromu used a lot of creative humor to express her experiences on the farm, allowing readers to really get a sense of the responsibilities that one had while farming. Much of this was depicted by a bespectacled cow who of course was Hiromu herself, as she explained the many facets of her ups and downs while poking fun at her own misfortunes along the way such as being attacked by squirrels. Noble Farmer is more of an autobiographical piece than what you'd normally expect from any other normal manga, but it's so entertaining because you truly get to see Hiromu at her most pure and honest state which is quite the rarity in an ever growing ecosystem of various manga.
---
4. Hero Tales [Juushin Enbu ]

Genres:
Volumes:
Published:
4. Hero Tales [Juushin Enbu ]
Genre: Action, Adventure, Comedy, Drama, Fantasy, Martial Arts, Shounen
Volumes: 5
Published Date: October 2006 - August 2010
There's a legend that speaks of seven warriors, all of whom bear the powers of the Big Dipper's stars. Two of these stars are in direct conflict with one another, and are bound to inflict chaos upon the world. Taitou was never really much into hearsay, since he spends most of his time training and focusing on his coming of age ceremony. When the village finally deems him worthy enough to move forward in his journey, Taitou is presented with the Kenkaranbu, a powerful sword created by the ancients that can only be wielded by one true warrior. As he is about to release the sword in celebration a random thief appears out of the blue and steals the sword, informing Taitou about the legend of the Big Dipper as he scurries away. Now his destiny has been carved out and Taitou must seek after the Kenkaranbu while discovering more behind this legend.
As you read through Hero Tales, one thing that you'll notice is that much of Hiromu's artwork remains the same all throughout, as you'll find in Fullmetal Alchemist and also the Arslan series. Her designs are very striking as many of her main characters are young men who've had something taken from them, and now must set out on an arduous journey to reclaim what's rightfully theirs. In the case of Taitou, his chase for the Kenkaranbu leads him down many dark paths filled with enemies who he's never encountered before, and so he must band together with other allies that he meets along the way to ensure the world doesn't crumble below them. With action awaiting at every corner, Hero Tales tells the story of a young man who must now see the world through his own eyes and claim victory for his village and its inhabitants.
---
3. Silver Spoon [Gin no Saji]

Genres: Comedy, Drama, Romance, School Life, Shounen, Slice of Life
Volumes: 13
Published: March 2011 - Present
Hachiken feels like it's time to spread his wings and embark on his own journey without his family. He decides to enroll in an agricultural school that requires entrants to reside in a dorm on school grounds. He feels confident about his studying abilities and that no matter what problems arise, he'll be able to bounce back with relative ease. Unfortunately for Hachiken he's about to experience the realities of agricultural life, as he now must cope with the challenges of keeping up with his peers, along with other experienced farmers who are well beyond his league.
As mentioned in the previous entry, much of Hiromu's work is tied to a male lead who is faced with a serious problem and must now use their own intellect to get them out. Pertaining to Silver Spoon as the name suggests, Hachiken felt like that's exactly what he'd receive once he enrolled. He had this preconceived notion that problems would essentially take care of themselves, and that he could manage on his own without much assistance. Of course reality teaches him a very harsh lesson throughout his school life and now he must put his ego aside and ask for help when needed. He receives a crash course in farming which totally blows his mind, and throws him a loop every now and then which is funny to read. His lack of experience on the topic, paired with his, at times, clumsy approach to learning, gives Silver Spoon a wonderful plot to enjoy. It also pokes fun at Hiromu herself once again as it depicts much of her own experiences but through the eyes of Hachiken, who learns to create new friendships, develop new skills, and overcome challenges along the way.
---
2. Arslan Senki (The Heroic Legend of Arslan)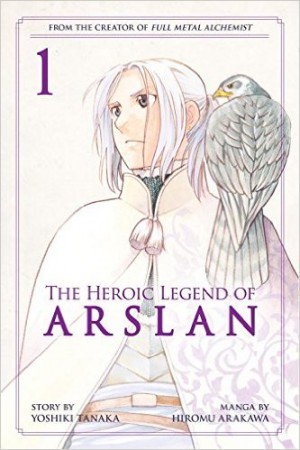 Genres: Action, Adventure, Drama, Fantasy, Shounen
Volumes: 5
Published: July 2013 - Present
For those who've watched the Arslan series are now very familiar with what's happening, but did you know that The Heroic Legend of Arslan was initially a novel? The original creator of the series, Yoshiki Tanaka, published the novel back in 1986 and since then it's seen countless manga adaptations, with Hiromu's being one of them. The story looks at the young prince Arslan, whose father was a fierce king on the battlefield and after seeing his father's defeat in a bloody battle, he decides that he could reshape the kingdom of Pars with his own hands. With Pars in shambles and other kingdoms now fighting for the throne, Arslan's destiny to become a king has now become a reality as he must now rise up to reclaim the throne.
Arslan's character is so powerful because it depicts a young boy who is shown a very harsh reality, but with that bloody reminder etched in his memory, he vows to never see that kind of disaster happen again. Arslan sets out on a journey to find strong men and women who would fight by his side in order to reclaim the kingdom of Pars, and to take down any corrupt factions that stand in his way. His calm and cool demeanor paired with his strong sense of compassion for others wins the respect and admiration of his peers, along with numerous villages who seek solace in a world full of bloodshed and religious backlash. Hiromu's depiction of the young prince is incredibly moving as you see someone who initially found it hard to even lift a sword, transform into an immaculate tactician whose army stands tall amidst all the others, with Daryun leading the way, and Narsus strategizing the next move.
---
1. Fullmetal Alchemist

Genres: Action, Adventure, Comedy, Drama, Fantasy, Sci-Fi, Shounen, Supernatural, Tragedy
Volumes: 27
Published: July 2001 - September 2010
Fullmetal Alchemist is Hiromu's best selling work to date, selling millions of copies both in Japan and worldwide. The series has seen numerous sequels such as Fullmetal Alchemist Brotherhood, as well as other popular spin offs that still continue to resonate with hardcore fans of the franchise. Edward and his younger brother Alphonse had a dream to revive their mother who meant a lot to them, but their attempts to revive their mother with alchemy lead to an unfortunate accident where Edward loses his limbs, while Alphonse is bound to an armored suit. With this gruesome past behind them, the two set out to find out more information about alchemy and never give up their hopes to restore their bodies and bring back their mother. They learn of the Philosopher's Stone, a powerful stone that when wielded, can grant the user incredible alchemy powers. With their eyes set on the stone they soon come to discover there's more than meets the eye, and now must work their way through countless battles to uncover the truth behind the stone.
There are many reasons why Fullmetal Alchemist manages to grab the attention of so many readers, but one of those reasons pertains to the loving brotherly relationship that Edward and Alphonse have. Their sheer drive and passion to restore harmony in their life is something to be inspired by, despite knowing that their actions may cost them along the way. They encounter many fierce enemies that plot to put an end to their purpose, but they manage to fight on with vigor and determination to ensure that they can live happily once again. It's such an emotional rollercoaster with these two because you become so closely tied to them in such a way, that you feel almost related to them and want the best to happen for them. They team up with powerful allies such as the Flame Alchemist Roy Mustang, and the very popular Riza Hawkeye to ensure that the Philosopher's Stone doesn't fall into the wrong hands. It's an epic journey as the two band together, never letting the other fall into dangerous traps, as they seek out the truth not only the stone but about themselves.
---
Closing Statement
Hiromu Arakawa's work will continue to shine on for many years to come, as her name has already been cemented in the history books as one of the best selling female artists out there. Her outstanding talents have allowed her to receive countless awards, and fully rectify herself as a force to be reckoned with in terms of creating powerful stories and epic characters. We hope to see more come out of Hiromu's creative mind, as well as you, by leaving your comments down below as to what you think about Hiromu's achievements. Be sure to share, like, and tweet out our articles to keep the audience buzzing!
As always, if you want to know about all the latest buzz straight from the bee's nest in Japan, be sure to keep it locked here at Honey's Anime.