INTRODUCTION
Hiroya Oku is an amazing manga artist, who gained a huge popularity thanks to non-conventional plots, a mix of genres and sub-categories and an art style that gradually became full of details and a feast for the eye. His most popular work, though, is Gantz, an undisputed masterpiece born in 2000 and able to make the readers stick to the pages. Gantz was so loved that it had an anime adaptation as well.
Hiroya Oku's latest work is Inuyashiki. Another seinen manga with a non-conventional plot, perfectly in line with Oku's twisted ideas. Inuyashiki, too, received an anime adaption and it will be aired in Fall 2017. Well, since we love this skilled manga artist who proved to be able to shift among genres without failing, here we are with a ranking of his six most famous works! Brace yourself: Hiroya Oku's manga aren't made for the weak of heart; gore, blood, mature contents and no pity at all is what you should expect! If you're ready... Let's start!
6. 01 ZERO ONE

Genre: Action, Drama, Ecchi, Romance, Sci-fi, Seinen
Volumes: 3
Published Date: April 1999 – March 2000
Let's get this ranking started with 01 ZERO ONE, a sci-fi seinen manga set in New Koshigaya. The year is 2028 and the story revolves around Neru Isurugi, who is a poor boy forced to leave school because of poverty. Neru has just one goal in his life, though: to take revenge of Yagami, one of his classmates. In a virtual reality game, where people fight against each other using superhuman bouts, Neru and Yagami will be sworn enemies and go at each other's throat!
01 ZERO ONE highlights the protagonist and his antagonist early on and then the story unfolds. Neru develops and grows up step by step, through tough challenges and hardships. The other characters, too, have very realistic personalities, but sadly with only three volumes, it is difficult to appreciate one of them in specific. The ending comes abruptly, but since it was Oku Hiroya's first try with a sci-fi manga, we can forgive him. This manga is overall very enjoyable, as we can recognize the art style we love so much: very detailed panels... and big breasts.
---
5. Me-teru no Kimochi (Me-teru's Feelings)

Genre: Drama, Ecchi, Mature, Romance, Seinen, Slice of life
Volumes: 3
Published Date: August 2006 – June 2007
Let's go on with Me-teru no Kimochi and its protagonist. Shintarou Koizumi is a 30-year-old man and a virgin who holed himself up for 15 years. After all those years, he has become a burden to his father, Yasuiro, so one day he comes up with a deal: if Yasuiro manages to get a girlfriend, he will get out of his room. The fact is, Yasuiro already has a girlfriend – Haruka Yoshinaga – and when the two of them marry and go on their honeymoon, poor Yasuiro dies. That's when the "mother" Haruka decides to take care of the "son" Shintarou. How will their life be, in that totally brand-new and uncommon situation?
These are the premises: a 22-year-old girl who decides to give advice to his 30-year-old son-in-law. Haruka wants to help Shintarou to regain his life by hanging out, seeing people and overcoming his shyness. Me-teru no Kimochi has comedy parts that prevent the mood from becoming too depressing, and as you probably imagine, every chapter has an escalation leading to Shintarou winning Haruka's heart. If you're not cynical enough to judge a manga from its first few chapters, you should give it a try! Aside from the abrupt ending, it is very enjoyable.
---
4. Hen: Suzuki & Satou (Strange)

Genre: Adult, Drama, Gender bender, School life, Seinen, Shoujo-ai, Shounen-ai
Volumes: 13
Published Date: December 1988 – 1992
Let's go to the beginning of Oku Hiroya's career as a manga artist. It was 1988 when Hen was serialized in Young Jump. This peculiar story revolves around Ichirou Suzuki, who is your typical high school boy. The only problem is that he fell in love with Yuuki Satou. He is a boy, but Suzuki is convinced that he is a girl trapped in a boy's body. Can you imagine the infinite series of trouble these two boys will cause?
This manga appointed Oku Hiroya as a full-fledged manga artist. It's interesting to see how he put himself in the story, as Satou's best friend. As Hen is his first manga, you can probably guess how the art style was very different from now. Don't misunderstand: Oku Hiroya's passion for large breasts is there already, but in Hen his art style is green. Aside from that, though, you can enjoy this manga as it contains genres and sub-categories that can suit everyone's tastes. Give it a try to see Oku Hiroya's origins!
---
3. Hen (Strange Love)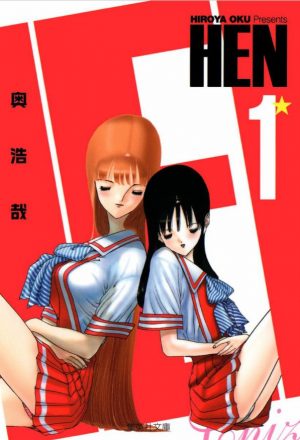 Genre: Adult, Drama, Romance, School life, Seinen, Shoujo-ai
Volumes: 8
Published Date: 1988 – 1997
Let's go on with another Hen, an alternative set of the one we talked about up above! This time, our protagonists are two high school girls. On one side, there's the manipulative Chizuru Yoshida, who wraps guys around her fingers but has never been in love. On the other side, the shy, newly-transferred Azumi Yamada. That's the moment when Chizuru's life is turned upside down, as she falls in love with Azumi! After the first moment of denial and refusal of being in love with a girl, Chizuru and Azumi become friends. But friendship is not enough for the determined Chizuru!
There's a premise: don't take Hen too seriously, try to look at it without cynicism. Yes, because this story is so absurd that you'll end up liking it. Chizuru is a bully with the boys and the destiny is cruel enough to her that she falls in love with a plain girl. While reading this manga, you can almost see how Chizuru's mind works. When you think how she didn't feel any emotion before meeting Azumi, you can understand why her reactions are so exaggerated. The art style, as we said up above, is still green: skinny pipe legs and big breasts, but you just need to get used to it. Give this alternative version of Hen a try!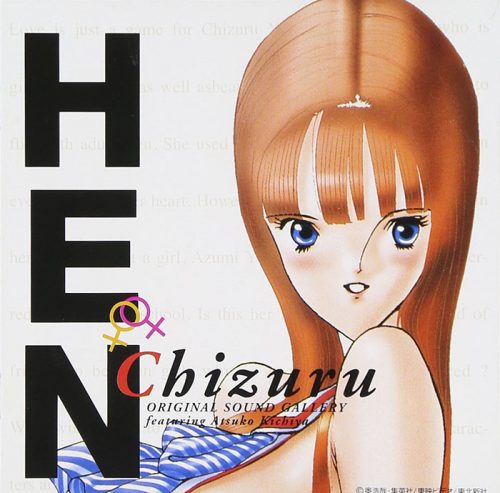 ---
2. Inuyashiki

Genre: Action, Drama, Mature, Mystery, Psychological, Sci-fi, Seinen, Slice of life
Volumes: 10
Published Date: January 2014 – July 2017
Let's get to Oku Hiroya's latest work. Ichirou Inuyashiki is an old man with a wife, two kids, and a dog. When he is diagnosed with a stomach cancer and three months remaining to live, Inuyashiki realizes how his dog will be the only one to miss him. But there's no time to even meditate on the meaning of life because he is killed by aliens landing on the earth. When he is rebuilt as a machine with human looks, how will his life change?
Inuyashiki was a hard task for Oku Hiroya, as it came after his greatest masterpiece – Gantz – but he lived up to expectations. Inuyashiki is an extremely dark manga, brace yourself before jumping into it and forget words like "lighthearted" or "heart-warming" comedy. It is introspective, psychological and with a lot of themes that most of the readers may find disturbing, but for those who are used to Oku Hiroya's twisted ideas, well, just give it a try. The art style is superb, very graphic and detailed and once you start reading is actually impossible to stop.
---
1. Gantz

Genre: Action, Adult, Drama, Horror, Mature, Mystery, Romance, Tragedy, Sci-fi, Seinen
Volumes: 37
Published Date: July 2000 – June 2013
Here we are with our first position and a controversial manga that gained a huge popularity and was adapted into an anime! Kei Kurono is our protagonist: a high school boy who is cynical to no end and bored with life. One day, while going back home from school, due to very cruel circumstances he and his childhood friend Masaru Katou die run over by a train. But something even worse than death expects the two childhood friends...
Gantz is a sci-fi, seinen manga, but it's more than meets the eye. While it's true that it is full of action, as Kei and Katou begin a deadly game against aliens or vampires with the possibility of having their life back, it's even true that it is like a mirror of this society. Oku Hiroya's skill is that behind the gore, the violence, and the death, he depicts the ugliness of the society, with cynical eyes and coldness. It's not a manga for the weak of heart: the art style is full of details and very graphic. The turn of events may be tragic and incontrovertible and the human nature is described in all its faults and ugliness, without pity.
Fans of the horror, fans of the stories that can leave scars, fans of amazing masterpieces impossible to forget: join Kei Kurono and the others. If you dare to, you'll read one of the most beautiful manga of the genre!
---
Final Thoughts
Gantz had to be our first, much-deserved position. As we said up above, Oku is a multifaceted manga artist, who can create seinen, as well as shoujo-ai. He can pass from one genre to the other, and still be able to astonish his readers. The same goes for the sub-categories, from sci-fi, to gender bender; he can do anything. With his perfect art style, and his amazing skills, Oku Hiroya creates new worlds where the readers can lose themselves into. You should try reading one of his works, you won't be disappointed! Please, don't forget to share with us what you think about Oku Hiroya and his manga, and what is your favorite one.
---