This man has been through quite a lot, and has been given the title "Mr. Hiatus" many times over. We're talking about none other than Kentarou Miura, the mastermind behind the hit series Berserk whose brilliant storytelling and incredible character development is unprecedented. The moment you pick up any of Kentarou Miura's works you immediately are rewarded with a story like no other, and you're just glued to every page eagerly waiting to see what will happen next. While most people do know Kentarou Miura generally through Berserk, his other works such as Giganto Mahkia are extremely entertaining and feature some fantastic illustration to go along with the captivating plot. It goes without saying that Miura has surely made his mark on the manga community and he'll most likely continue to do so for many years to come. Despite the influx of criticism he receives about delaying his Berserk volumes, Kentarou Miura stays determined to deliver quality when it matters most. Whether you like it or not, Kentarou Miura has his reasons for pushing his work back a little but in the end you know that when it drops, you're receiving the absolute best. Let's take a closer look at some of Kentarou Miura's other notable works, and paint you a much clearer picture on just how Kentarou Miura came to be, but also why he's become such a massive success worldwide.
4. Futatabi

Genres: Action, Adventure, Drama, Romance, Sci-Fi, Shounen
Volumes: One-Shot
Published: August 1985
Futatabi is one of Miura's more earlier works, and it looks at the very early style and approach that Miura had with regards to his stories. In this award winning work, we look at the life of Rick, a young apprentice of a mechanic who works below the surface. His budding career starts to take a u-turn when a strange intruder confronts Rick, and startles him. The intruder goes by the name of Venus, and claims to come from another world much similar to Rick but with slight differences. Venus is no normal individual however, as police are tracking this mysterious character down and the motive is currently unknown.
Futatabi is what really kickstarted Miura's career since it awarded him with 'Best New Author' shortly after releasing the one-shot, and gave Miura a lot more confidence to now move forward to creating even more striking titles. Much of the story takes place in a desolate and futuristic world, where not much is really known about how the city and the inhabitants that live there. As you scour through the pages however, little tidbits of information are scattered throughout and provide you with a better sense of just what's happening. Rick develops a strong romantic bond with Venus and that's really what the story points the finger towards, as you see two characters who are on the run from the law and help each other get through hard times. While the manga may be extremely rare to find outside of Japan, we can't help but feel somewhat eager to find more of Miura's "lost" works because they truly capture the essence of this man's pure genius and work ethic. It truly displays sophistication at its finest, and gives readers a taste of Miura's early works as somewhat of a precursor to his now more notable works.
---
3. Ourou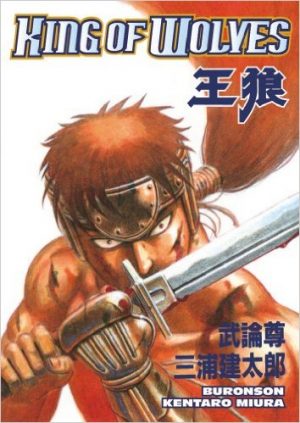 Genres: Action, Historical, Sci-Fi, Seinen
Volumes: 1
Published: March 1989 - May 1989
Not to be confused with Ourou Den, which is the sequel to original, Ourou is the story about Iba, a young scholar who disappears while on a lone expedition to learn more about the Silk Road, which is claimed to have very ancient mysteries tied to it. A year after his disappearance, Iba's girlfriend, Kyoko, decides to venture out to the Silk Road in hopes of uncovering more clues behind her boyfriend's disappearance. When she finally arrives at the ancient landmark, Kyouko's surprised to find the charm that she gave to Iba for protection, but then suddenly she's swallowed up by a black vortex and loses consciousness along the way. Kyouko awakens to find herself in a new environment and is shocked to see that Iba is very much alive, but he's become a warrior-slave under the rule of Genghis Khan. When the two finally reunite however, they come to realize that there's much more danger that lies ahead for the two of them.
Known as King of Wolves in English, Ourou is a wonderful story that combines historical elements dating back to 13th century Mongolian rule and is a team based project consisting of Buronson (Hokuto no Ken) and Miura himself. We're introduced to Iba early on and learn that he's the number one Kendo master in Japan, but then fate suddenly invades his life as he now finds himself in the midst of a war. The Mongol Empire conspires to rule most of Asia and Iba must rely on his swordsmanship to ensure his survival. Ourou does a great job of combining both history and fiction to capture the attention of the reader, by illustrating plenty of action scenes and small twists to keep you guessing. Much of the art that you'll come across will most certainly remind you of Berserk in many ways, since during the time of this release, Kentarou Miura had already started working on the Berserk story behind the scenes. While the story is short, it most certainly is sweet in its own way as it shows just how passionate Miura was during his youth, and how that very same passion carried forward into the new best selling Berserk series.
---
2. Giganto Makhia

Genres: Action, Adventure, Comedy, Drama, Fantasy, Seinen
Volumes: 1
Published: November 2013 - March 2014
The life and wellbeing of humanity is in shambles as the aftermath of the great destruction has left everyone clinging on. Humans, Demi-humans, and large creatures alike fight for their survival in a vast wasteland filled with uncertainty lying around every corner. With the Empire of Olympus commanding absurdly large beasts to crush their foes, there stands a trio that can potentially put an end to the tyranny Olympus has created. One gladiator by the name of Delos stands tall and ready for battle, followed by the Mystic Prome, and the titan known as Gohra and these three are the only hope for humanity to survive while putting an end to the genocide that's tearing everything apart.
One thing that Kentarou Miura really loves to do is to create a story of epic proportions, and really take you away to a far away land where these types of things are actually possible. Miura knows fiction very well and you can clearly see it in Giganto Makhia because he explores a world of fantasy, and does so with grace and extreme detail. All things are going wrong in this dystopian world and the three heroes are the only hope for survival, since the empire just has too much power for any normal citizen to handle. Miura implements Greek Mythology to create a very unique experience which captures epic battles of gods squaring off against each other for world peace. It's no fresh take on mythology of course, but it just goes to show you how versatile Miura can be with his work and that there's truly no limit to this man's creative endeavor.
---
1. Berserk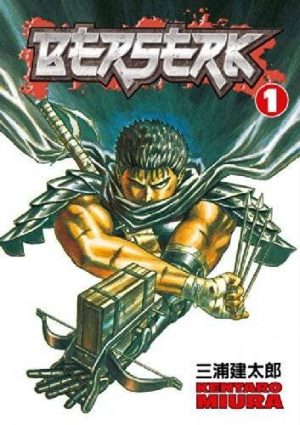 Genres: Action, Adventure, Fantasy, Horror, Mature, Psychological, Seinen, Supernatural
Volumes: 38
Published: August 1989 - Present
Berserk should come as a no brainer to taking the number one spot because this is most definitely Kentarou Miura's best work to date. Berserk has gone on to become a worldwide best seller, topping charts for years and winning over the hearts of many with it's deep dark storyline and bone splitting action. Guts is on a mission for revenge after he'd been betrayed by the one man he thought he could trust, Griffith. Once Griffith turned to the dark side and took Casca along with him, Guts turned into a crazed maniac hungry to tear Griffith limb from limb when his opportunity arises. With the help of many other amazing characters throughout the story, Guts sets out to reclaim what's rightfully his and to destroy God Hand once and for all.
We could really go on and on about Berserk and why it's simply an amazing piece of work, but we'll try and keep it short and sweet. There's a reason why so many people are hungry for the next volume to come out and it's simply because Miura left the story at an arc that truly needs an ending to play out. You're left at such a high that you start to grow agitated, desperately wanting to know what Guts will do and how far he manages to get. However health issues and stress perhaps kicked in at some point for Miura and so he put the brakes on the series until further notice. While this may be heartbreaking for many, we're sure there's certainly good reason for it and the rest of the story will fall back into place once Miura regains composure. In spite of the hiatus, everything before that is sheer gold and there's just so much going on within the story with its plot twists, that if you're new to the series you'll have plenty of time to keep up. Miura definitely showcased how far he's come as a mangaka in Berserk because his design pertaining to character backstory is some of the best out there, and the plot moving forward is truly something to admire. Whether you're an angry fan awaiting the return, or just a newbie looking for a new thrill, Berserk is the series that will truly blow you away in every possible way.
---
Closing Statement
Miura's works will most certainly leave a long lasting impression for up and coming mangaka to learn from, and his legacy will surely go far beyond the galaxy. His talents and hard work have surely paid off, and we look forward to his return to complete the Berserk series. Let us know what you think of Miura's work in the comments section down below, and share of your best moments while you're at it! We'd love to know what sparked your attention the most. Be sure to like, share, and tweet out our articles as well to ensure that the honey's community stays buzzing!
As always, if you want to know about all the latest buzz straight from the bee's nest in Japan, be sure to keep it locked here at Honey's Anime.