INTRODUCTION
Miyuki Abe is an amazing manga artist, who recently reached the peak of her success with the popular Super Lovers and Hakkenden – both receiving an anime adaption for two seasons. Miyuki Abe focused on shounen-ai genre in the beginning, and later on she proved herself with yaoi and shoujo, as well. Obviously, she showed her readers the extent of her skills!
Miyuki Abe is very passionate and devoted to her job; she doesn't take things for granted, nor does she leave things to chance. In her works, she is very precise and takes good care of the plot, deeply analyzing her characters. As for the art style, we can notice her growth. She improved effectively, and we can notice how some traits, which looked a bit old-fashioned and lacking in detail, gradually became neat, clear, and beautiful. Miyuki Abe's passion shows in the way she decided to update her artwork: in 2010 she took a break from her ongoing manga, and decided to republish the old ones, modernizing the art style, while maintaining the original plot.
Whether they're shoujo, shounen-ai, or yaoi, Miyuki Abe's stories are always full of love and tender moments. She doesn't like to give her readers an easy way towards the happy ending, but she can touch very important themes with sensitivity, and never sounding trite. With the slow pace that is her trade mark, Miyuki Abe is able to reach people's hearts and shake them violently! So, in this ranking we are listing down Miyuki Abe's most popular and loved works; stick with us until the end and discover what an amazing manga artist she is!
7. Lost Child

Genres: Drama, Psychological, Shounen-ai, Romance
Volumes: 1
Published: July 1993 – July 1995
Let's get this ranking started with Lost Child, one of the first manga Miyuki Abe created! This is a shounen-ai with a forbidden love between two brothers. We didn't mention it, but Miyuki Abe likes tormented stories about brothers, so here's one of them. Lost Child revolves around two twins, Kazuma and Naoki. Their lives go by peacefully, until Naoki falls it becomes clear how Naoki loves Kazuma more than a mere brother. Kazuma is at a loss; obviously, he loves his brother back, but what with being brothers?
Miyuki Abe tried to put in Lost Child all what she likes, from a tormented love story, to the incest. Of course, only Miyuki Abe could make it so it didn't look disgusting, nor boring, or rotten. It's just a one-volume manga, but it's very interesting if you want to really understand where Miyuki Abe began and how she developed year by year.
---
6. Bashing Renai

Genres: Drama, Psychological, Romance, School life, Shounen-ai
Volumes: 1
Published: April 1994 – June 1995
Let's go on with Bashing Renai, another manga Miyuki Abe wrote in her first years of her ascent. This story revolves around Keisuke Murakami. With his beautiful features, Keisuke has always been surrounded by many people who like him, or admire him. In spite of being so charming, he couldn't bring himself to accept those people fawning after him. Keisuke's life changes when, due to some circumstances, he becomes close to Masaki, the student council president. Will their friendship lead to something else?
Bashing Renai is a shounen-ai full of teenage angst and important themes. Miyuki Abe describes depression with her touch, which is light and frail like a snowflake. In this manga, she highlights the importance of bonds, and friendship. What's more, she explains how important it is to be surrounded by people who don't judge you, and understand your loneliness. Basically, even Bashing Renai shows the presence of the themes she will develop thoroughly later on. As for the art style, Bashing Renai was updated in 2010 exactly like Lost Child, so a neat style is to be expected.
---
5. Sweet vs Home

Genres: Romance, School life, Shounen-ai, Slice of life
Volumes: 1
Published: October 1994 – June 1996
When it was reprinted in 2010, Sweet vs Home took the name of Hatsukoi. In this manga we find two different stories, both enjoyable, all the more after the artwork's update. Sweet vs Home revolves around Tatsuya, whose whimsical mother has married her teacher and then has suddenly disappeared. Living together with his stepfather, Tatsuya starts to feel something towards him. Hatsukoi, instead, revolves around Koizumi, who had his heart broken on the last day of elementary school, being rejected by his first love. When, years after, they reunite in high school, something may be different...
Sweet vs Home (Hatsukoi) is a manga containing two wonderful shounen-ai one-shots. As you can imagine, it's impossible to fully develop a plot, or a character, with few pages at your disposal, yet Miyuki Abe managed to create two enjoyable stories. In fact, Sweet vs Home has a lighthearted atmosphere and not too many pretensions. Let's not forget it's from Miyuki Abe, though, so in order to balance the comedy, everything is filled with food for thought!
---
4. Kimi wa Boku wo Suki ni Naru

Genres: Drama, Romance, School life, Sports, Yaoi
Volumes: 4
Published: Published Date:
Let's move to our 4th position, and Miyuki Abe's first try with yaoi genre! Our protagonist is Haruka Nakazato, a high school boy who is hot-tempered and bossy. He fell in love with a boy who is his polar opposite: Kaoru Tajima, who is in the basketball club. One day, Haruka confesses to Kaoru fiercely, but seeing how Kaoru remains unfazed, Haruka adds that he will fall for him eventually. Will Haruka manage to make Kaoru fall for him?
Kimi wa Boku wo Suki ni Naru, too, had the art style updated in 2010. So, now, it is totally identical to what you would expect from Miyuki Abe: very neat, precise and full of details. As this was her first approach to yaoi genre, we can say she did her best. We find characters with a difficult family, and unrequited love. Kimi wa Boku wo Suki ni Naru is very tender, and we find a major development of the characters and the plot. It is fully enjoyable, as it mixes comedy and the unique touch of Miyuki Abe!
---
3. Komatta Toki ni wa Hoshi ni Kike (Ask the Stars for Help!)

Genres: Comedy, Drama, Romance, School life, Slice of life, Shounen-ai
Volumes: 26
Published: March 1997 – May 2005
Our 3rd position had to be Komatta Toki ni wa Hoshi ni Kike! This is Miyuki Abe's first long-term series, and it revolves around dormitories and high school boys! Takara Fujishima has lost his mother, and his father is always away for work. That's why, when he starts high school, he has to live in a dorm. His roommate is the quiet and introverted Kiyomine Hosaka, who is the exact opposite of Takara. Their differences will bring the two of them to bicker and getting on each other's nerves, yet bickering will turn to friendship, and friendship to something else...
Komatta Toki ni wa Hoshi ni Kike is literally one of a kind. It is rare to find a shounen-ai manga with this length, and yet Miyuki Abe managed to develop a story that's impossible to put down, once you start reading. She created a masterpiece and made her characters grow, with a slow pace. Takara and Kiyomine's relationship is deeply analyzed, under a lot of point of view, and we see clearly how and why it shifts from hatred, to friendship and, eventually, to love. With her unique art style, her wonderful way to describe situations, and her light touch at dealing with delicate subjects, Miyuki Abe created a masterpiece of the shounen-ai genre.
---
2. Super Lovers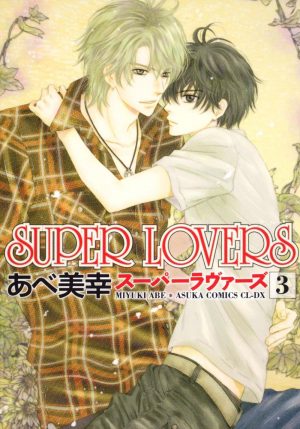 Genres: Comedy, Drama, School life, Slice of life, Shotacon, Yaoi
Volumes: 11
Published: October 2009 – ongoing
Let's head toward the end of this ranking with Super Lovers and its cuteness! Protagonists are four brothers that, due to some circumstances, ended up living together while running a bar. Haru Kaidou grew up in Canada, yet when his parents divorced, he was forced to live in Japan with his father and a new family, made of a new mother and two twins little brothers. Turned 17, Haru is called back in Canada from his mother, who has a surprise for him: another adoptive brother, called Ren. Haru and Ren have a huge age gap, but this won't change the fact that their meeting will change both of their lives for good.
Super Lovers is the super popular and loved yaoi series Miyuki Abe gave us, and it's still ongoing. It is amazing, as we find all the themes Miyuki Abe loves developed in the right way and with an amazingly good art style. A love story which seems impossible, is made possible with the patience and resolution she gave to all the characters. In this manga, Miyuki Abe highlights the importance of a steady family, and bonds. As always, her trade mark is a slow pace which is very important to fully understand each of the characters. Not too many hot scenes are to be expected yet, as you can imagine by the premises of an age gap between the two main characters, but since Super Lovers is still ongoing, we're sure she'll make us all happy later on!
---
1. Hakkenden: Touhou Hakken Ibun (Hakkenden: Eight Dogs of the East)

Genres: Action, Adventure, Comedy, Drama, Fantasy, Mystery, Supernatural, Slice of life, Shoujo
Volumes: 16
Published: June 2005 - ongoing
Let's end this chart with Hakkenden: Touhou Hakken Ibun, alias Miyuki Abe's first shoujo manga! It revolves around Shino Inuzuka and Sousuke Inukawa, who died once when their village was turned to ashes. Shino and Sousuke managed to come back to life, because of some circumstances, and grew up in an orphanage together with Hamaji, a girl sharing with them a tragic past. Both Shino and Sousuke have a peony-shaped birthmark and one day, the church shows up in front of them and forces the two to find other six people with the same mark. Those eight people will form the legendary Eight Dogs of the East!
We put Hakkenden in our first position because it really deserves the placing. It's Miyuki Abe's first approach to shoujo manga, and we can confirm she actually created a masterpiece. In this series, she touches a lot of deep themes, like death, loneliness, violence, and so on. Miyuki Abe approaches these themes with the unique way that characterizes her, and so it's frequent that readers may shed some tears. All the characters are deeply analyzed, and there's a lingering feeling of loss that gives this series a nostalgic vibe. On the other side, it wields some comedy parts that balance the sad ones. It's like a perfect mix! If you add an amazing art style to this wonderful story, full of bishounen, you have the answer as to why we put it first.
---
Final Thoughts
With Hakkenden, our chart comes to an end. We really hope you enjoyed this ride among Miyuki Abe's works, just as we did. Miyuki Abe is very passionate and it shows through her works. It's blatant how meticulous she is, with both plots and art. What's more, each of her stories can teach something, but the most important thing is how each of them is full of love and good vibes. There's always a message of hope or a happy ending waiting for the readers! We thank you for sticking with us until the very end, and, as always, let us know what you think in the comments below! See you next time!