También puedes leer este artículo en:Español
Several mangakas have loved to take into the European Middle Ages, or into the most obscure natures of human beings. That could be as dark as it gets, but it is also the perfect place for adventure. However, many of us were surprised when an ideal world with active warriors, fantastic creatures and a pig suddenly broke onto our screens like sunshine. We are talking about Nanatsu no Taizai or The Seven Deadly Sins, the brain child on Nakaba Suzuki and his most famous work, winner of several prices. Nakaba Suzuki was born in 1977 in Fukushima prefecture in Japan (of course). A great admirer of Akira Toriyama, Nakaba Suzuki debuted in 1994 with his manga Revenge. In this article, we are going to review some of the top manga by Nakaba Suzuki. So, what are we waiting for? Let's go to encounter the adventure!
6. Blizzard Axel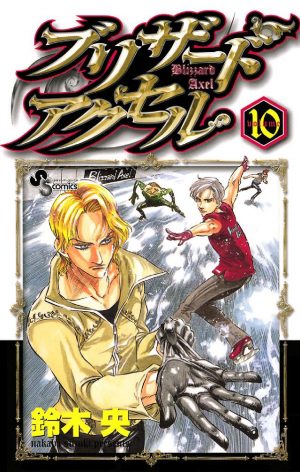 Genres: Comedy, Shounen, Sports
Volumes: 11
Published: Mar 9, 2005 to Jun 6, 2007
Before Yuri!!! On Ice was conceived, there existed a guy in a manga named Axel. He has always been overshadowed by his brothers and generally being laughed at. So yes, Axel is basically a loser. However, the day he enters an ice rink, Axel's life changes forever. For the first time, he finds his talent, his true call. Now, Axel will have to learn how to defend it!
Stories about skaters are much more common in shoujo manga. That is why we find Blizzard Axel interesting. Besides the theme, we have to admit that Suzuki goes to great lengths to portray the dynamic movement of the skaters, even if it is necessary to use a double page for that! He does not shy away from artistic performances either! Suzuki does a good job in integrating the elegance with the strength and capacity it takes in competitive ice skating, while not leaving his good sense of humor aside. His charismatic Axel somehow remembers us of Yuri Katsuki, and lo, Suzuki's protagonist even has his romantic side.
---
5. Chiguhagu Lovers

Genres: Comedy, Martial Arts, Romance, School, Shounen
Volumes: 2
Published: Apr 14, 2011 to Jun 21, 2012
Sayaka and Mushin have grown together as step-brother and sister. They belong to a family who owns a Doujo, so they train Kendo every day. Sayaka is a star in this, but Mushin is simply not good, being much younger and short. However, he dreams of protecting her and has even fallen in love with her, despite it being an impossible dream.
Did we suddenly step into the work of a shoujo mangaka? Or is this a script by Rumiko Takahashi? Nope, we are still talking about Nakaba Suzuki. We have all the adventure, the humor and innocence from an enthusiastic protagonist who hopes for the best and works towards it in Chiguhagu Lovers. Mushin will face rivals in both kendo and love often, and although his step-sister protects him, he hopes he will be her equal one day. This story is the kind of endearing plot that attracts readers from any sex and age. Also, at two volumes, it makes for a quick read. The color illustrations are among the most artful we have seen among Suzuki's works.
---
4. Ultra Red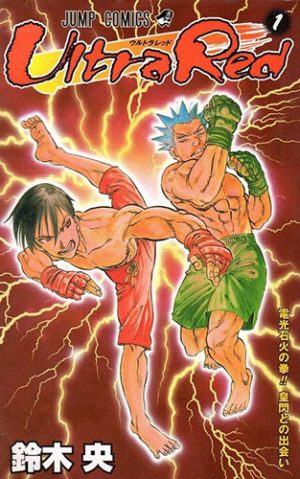 Genres: Action, Martial Arts, Shounen, Sports
Volumes: 4
Published: Oct 8, 2002 to Jun 16, 2003
Things get Ultra in Ultra Red for those who love fighting manga. The protagonist is Sen, who has inherited a curious legacy. His father has taught him a martial art that specializes in dislocating joints, called Haikaiken. This is equally powerful and crazy, and creates conflicts in Sen. However, internal conflicts apart, Sen also has rivals to confront. Throughout his adventures, both his physical endurance and will are going to be tested.
Once more, Nakaba Suzuki is great in bringing the action scenes. Although character development is not as good in Ultra Red as in his other works, we know enough of each important character to grow to care for them. One of Suzuki's strongest points is how likeable are his protagonists, and Sen is not the exception. Also, at four volumes, this manga has the right length for a medium termed read. While it is not as famous as other works by him, we cannot help but recommend this underrated title by Suzuki!
---
3. Rising impact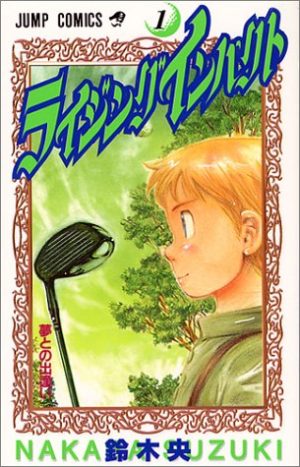 Genres: Shounen, Sports
Volumes: 17
Published: Nov 24, 1998 to Feb 19, 2002
This is another manga about sports by Suzuki. Gawain is a boy who lives in a mountainous rural area and loves baseball, although he plays it in a slightly different manner. A casual visitor introduces him to golf and he falls in love with that sport. Thus, he decides to move to Tokyo with his new coach to learn everything he can about it.
Rising impact is an underrated gem by Suzuki. The long story lets us appreciate the characters more, but what shines the most from the beginning is how refreshing and funny the plot is. Golf is a sport placed close to nature, and Suzuki does a good job in depicting the courses. However, his storytelling gets super when it is a matter of watching balls flying or when the tension of the tournaments concentrates in a specific character. All in all, if you want a positive manga with a child protagonist, you cannot miss this one out. Rising impact has the added value of tracking Suzuki's evolution as mangaka, as it is one of his longest works.
---
2. Kongou Banchou

Genres: Action, Comedy, Shounen, Supernatural
Volumes: 12
Published: Oct 24, 2007 to Mar 10, 2010
Ijime (or bullying) is pretty much a problem everywhere in the world, but Japan has been particularly pestered by it in anime and manga. Suzuki's take on ijime is interesting, as he puts strong people to fight only between them. The protagonist of Kongou Banchou is Akira Kongou, a new transfer to Shiritsu Raimei High School. Although he is not the fighting type, Akira eventually becomes a banchou (young delinquent), leader in his High School and challenger of gangs from other schools.
As much as Suzuki has us accustomed to happy characters, he also has a more competitive side. Akira is a likeable protagonist, as he does fight but he is also honorable and fair. The fights are scheduled like tournaments and we have some similarities with the fighting in Dragon Ball. This work will also remind you a bit of Jojo's Bizarre Adventure. And let's not forget the humor, as some fighting scenes are so hilarious! All in all, a great shounen manga for those who like the shounen classics!
---
1. Nanatsu no Taizai (The Seven Deadly Sins)

Genres: Action, Adventure, Fantasy, Shounen, Supernatural
Volumes: 29
Published: Oct 10, 2012 to present
We have finally reached the ultimate work by Suzuki. The "Seven Deadly Sins" is a group of legendary knights who overthrew the kingdom of Britannia. According to legend, they were defeated by the Holy Knights, although there are rumors that the Sins are still alive. Years pass and the Holy Knights capture the King of Britannia. Princess Elizabeth sets on a journey to find the Sins in order to recover her kingdom and that is how the story starts...
If your thing is Naruto, One Piece and Fairy Tail, you surely have read Nanatsu no Taizai. Adventure coped with difficult decisions, teamwork, revenge, redemption… and a pig! The interaction between the supernatural characters and the humans in Nanatsu no Taizai make us all realize how appearances can be deceiving and how important is to enjoy life, as it has a limited time. Anyway, if you like stories where goodness prevails, this is the shounen for you. This is the longest and most successful of Suzuki's works, so if you like this author, you cannot miss it out!
---
Final Thoughts
Some people think Suzuki is not the most original mangaka out there. In the competitive world of manga, it is understandable to a certain point that some tropes are not abandoned. And well, Akira Toriyama has been a sensei for many! What Nakaba brings to the mix is charismatic characters who can be stupid or clumsy, but always give the best of themselves. The adventures and different worlds where his characters live make the delights of those who read their stories. In a world where violent manga or depressive manga abound, you can always escape for a bit to the sunlit spotlight with a manga by Suzuki. So, which is your favorite manga by Nakaba Suzuki? Which of his works would you love to see animated? Don't forget that we are open to all your comments and suggestions. See you soon!