The action genre has always displayed explosive storylines, which display an immaculate illustration to emphasize everything that's taking place. Nakaba Suzuki just has this midas touch when it comes to illustrating spectacular character actions, and pairing it with a driving story that just makes you wish you were part of it all. Nakaba's stories take you to a new realm that you never knew existed, which throws you into a whirlwind of incredible adventures filled with uncertainty, and fills your soul with this determination to strive forward despite what we go through. It's almost as if reading his manga becomes a remedy for all of our problems, and eases them almost immediately without much effort. We all know Nakaba Suzuki for his world renowned work Seven Deadly Sins, but prior to this action adventure masterpiece Nakaba put pencil to paper and created other fantastic stories for his fans to admire. We'd like to show you some of these fabulous pieces and give you a closer look at just it all started for Nakaba Suzuki, and where all of his passion and devotion has taken him.
5. Blizzard Axel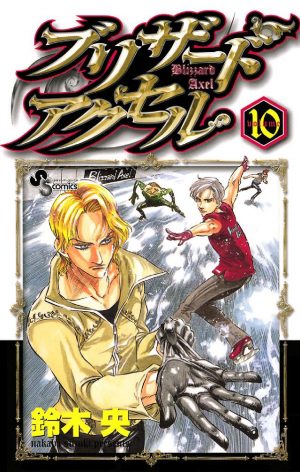 Genres: Comedy, Shounen, Sports
Volumes: 11
Published: March 2005 - June 2007
Fubuki had a burning passion in his heart, but most of his friends and family overlooked all of that, as he was overshadowed by his older siblings due to their popularity. Fubuki feels he deserves the same attention so he goes out of his way to get attention and often gets into scuffles with other students, but one day out of the blue he manages to pull off a spectacular quadruple and a half jump at his local skating rink. Much to his surprise, those who were there to witness this feat showered him with praise, and it's from this moment that Fubuki's life changes forever.
This story comes as somewhat of a surprise from Nabaka, since we've come to know and love him for his passion for action and adventure. However in Blizzard Axel he takes that burning passion and transfers that to the skating rink, which will most certainly grab your attention. There aren't that many ice skating manga out there to begin with, so those who are fans of the sport will most definitely find it intriguing. Fubuki's obsession with trying to outperform his older siblings at first was a huge burden on him, but the moment he realized what he was capable of, the spotlight immediately moved towards him. It's truly a story that kind of resembles Nakaba's passion to really take things to the next level, and it's this very hunger and drive that makes this manga shine in its own right. Fubuki's shining talent grabs the attention of a young woman who he then becomes romantic with, as the two work together to ensure Fubuki's success on the ice. While there aren't any explosions or magic spells like you'll find in his later works, Blizzard Axel leaves you inspired to go out on your own and take the world on, and to strive for the best in whatever you desire.
---
4. Ultra Red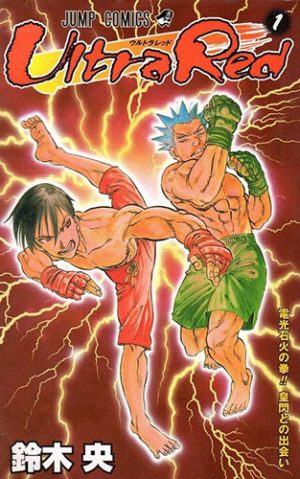 Genres: Action, Martial Arts, Shounen, Sports
Volumes: 4
Published: October 2002 - June 2003
There's a little boy who just loves fighting and it can be seen in his explosive kicks and punches. Despite being a frightening figure to many, he's not too bright and sometimes finds himself in problems that should've never occurred. Sumeragi Sen is just too overconfident for his own good and claims that nothing can stop him, but soon he'll realize that there are people out there who are much stronger than he is, and come to terms with the limitations he's placed upon himself.
This martial arts manga looks at Nakaba Suzuki before he took the seven deadly sins on their incredibly wonderful journey through the corrupt kingdom, and from the artwork you can tell that Nakaba was still in the phase of exploration and experimentation. The story itself is where it shines because you have this cocky little fighter who thinks he can run the show, but reality hits him hard in the chin when he comes face to face with stronger adversaries. Sumeragi has a dark past and because of what happened, it drove him to train like a beast to become the beast. It was his own way of overcoming the pain of losing a loved one, but through this adversity came more problems as friends he once respected now became his rival, and it turns into an all out battle. The artwork can be compared to that of Akira Toriyama's Dragonball series, and you can see where Nakaba received some of his inspiration from. While the story comes to an abrupt close, probably due to Nakaba exploring new avenues with his talent, it's most definitely a great one that we suggest you pick up and read to get a feel for Nakaba Suzuki's energy during this time period.
---
3. Rising Impact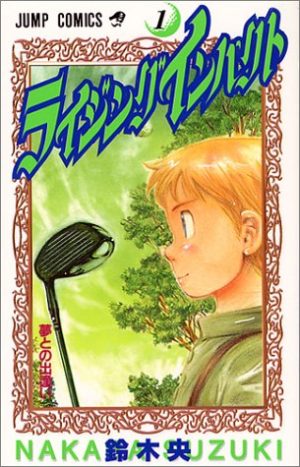 Genres: Comedy, Romance, Shounen, Sports
Volumes: 17
Published: November 1998 - February 2002
Gawain is a young boy who resides in the rural mountainside, and has an incredibly passionate feeling towards baseball and making the ball soar in the sky. However one day Gawain runs into an unexpected young girl who introduces him to a sport that can really make the ball fly, and that was golf. The minute Gawain took a swing with the golf club and noticed the small white ball soar in the sky, he immediately becomes hooked and from that moment he knew where he belonged. After receiving approval from his grandfather, Gawain sets off to Tokyo with this mysterious woman to pursue more about golf, and also learn about himself along the way.
Once again, spectacular storytelling by Nakaba as he expresses his passion through the main character Gawain, as he makes his way into a new world of golf. Gawain really had no idea just how much he'd love golf until it was shown to him, and that shares a similar resemblance to how Nakaba started his career. Nakaba enjoyed manga a lot as his first ever purchase was Akira Toriyama's Dr. Slump, but it wasn't until someone introduced him to the world of mangaka that he could express his love even more. Gawain grew an immediate bond with golf but of course, along the way, he came across a lot of hardships which taught him a lot of lessons not only about the game, but his attitude towards it. Also the fact that Gawain is a young child makes it more interesting because as you read through this great story, it's as if you're maturing alongside him as he works on his swing to become the best, while also building a romantic bond with this young woman who introduced him to the sport. The story is enough to keep you entertained, while the subplot will provide enough of a nice cushion for you to fall back on when needed.
---
2. Kongoh Bancho

Genres: Action, Adventure, Comedy, Shounen, Supernatural
Volumes: 12
Published: November 2007 - February 2010
Young and tough Akira Kongou is determined to taking out the 23 district project, which involves banchou from each of the 23 districts of Tokyo, all of whom are fighting for the ultimate control over the nation of Japan. Unknowingly, Akira then becomes a participant of it all under the alias Kongoh Bancho, and now it becomes his mission to take down the other banchou while embarking on a journey to seek out the leaders behind it al.
Kongoh Bancho has some artistic resemblance to that of Dragonball once again, with the character designs sharing very strong facial features much like the characters from Toriyama's series. It's quite clear that Nakaba really had a fond respect for Toriyama and wanted to prove that he too, could come up with something intriguing for his readers and he most surely did. This story is essentially the precursor to Nanatsu no Taizai as it features a band of characters who team up to take out the evil leaders who have other plans up their sleeve, and it becomes Akira's responsibility to ensure everything is in order. It's over the top fighting at its finest, which is something we've to know and love from Nakaba because it takes you out of reality and places you in a world full of incredible action. Family rivals, a revolution that's about to explode, and exciting tournaments are just some of the things you'll find in this story and you'll be sure to stay on your toes because Nakaba is behind it all.
---
1. Nanatsu no Taizai [Seven Deadly Sins]

Genres: Action, Adventure, Comedy, Fantasy, Shounen, Supernatural
Volumes: 22
Published: October 2012 - Present
The kingdom had been attacked by an unknown individual and their assailant, which left the king murdered and mutilated and all the blame solely placed on the seven knights who at the time were fighting to protect the kingdom. This placed these seven knights under imprisonment for years, and without a future ahead of them. All of that changes however when Elizabeth enters the story and once again the kingdom finds itself under fire when the enemy rears its face back into the spotlight, and now it's up to these seven deadly knights to ensure the kingdom is saved from this evil terror that plans to take the throne. Meliodas is the first to arise from the depths of darkness with newly acquired abilities, and his love for Elizabeth is what will help him and the other six knights to put a stop to all of the corruption before it's too late.
From skating on rinks to martial arts, Nakaba sure has taken a new route in storytelling but has most surely hit the nail in the head with this one. Nanatsu no Taizai (or Seven Deadly Sins as it's known in the west) takes all the pieces from those previous stories and puts them all together to create a spectacular story full of love, struggle, death, and triumph. You can't help but want more out of this story simply because every character that you encounter throughout this adventure just has this remarkable spark that not only captures your heart, but reels you in as you get to know more of their backstory. Once all of the knights come together is when all hell breaks loose but is is precisely when Nakaba's genius shows up in all glory. There's no arguing that Nanatsu no Taizai has some of the best storytelling we've read in recent years, and it's simply due to the fact that you just never know where things will end up with Meliodas and his crew. One moment you think the kingdom is saved and can finally rest, then later you come to realize it was just the calm before the storm and you're immediately reeled back in like fish on a bait. It's this uncertainty that truly sells the series and crowns Nanatsu no Taizai as Nakaba's best work thus far.
---
Closing Statement
Nakaba Suzuki's works will stand the test of time because of how brilliant everything is displayed to the reader, from the captivating storytelling to the very moving characters that just inspire you to become somewhat of a hero yourself. Whatever the case, his works are sure to inspire other mangaka to take initiative and change the manga community for new generations to come. We hope that you found this list informative and that you share your experiences in the comments section down below. We'd love to know what you thought of his popular works, and which one stood out the most to you. Always be sure to share, like, and tweet our articles out as well to keep the honey's community buzzing!
As always, if you want to know about all the latest buzz straight from the bee's nest in Japan, be sure to keep it locked here at Honey's Anime.