One man has helped the manga community to transcend what was once only a cultural tradition spanning back hundreds of years in Japanese history, to a global phenomenon which now reaches hundreds of millions of diehard fans. This one individual is none other than Naoki Urasawa, the same man who brought us exceptional classics such as Monster and 20th Century Boys, both of which have gone on to not only eclipse his other works in terms of number and popularity, but has etched his name in the book of manga gods for all eternity. Naoki Urasawa's stories have gone onto become live action films--20th Century Boys being one of them--and have only created more buzz around his name because of the sheer ingenuity behind it all. Naoki rids of all the superfluous junk that we sometimes run into while reading, and throws in an assortment of excitement, uncertainty, but most importantly substance. After reading through his stories you often feel this sense of accomplishment, as if you were completely cleansed of all unnecessary thought and Naoki woke you up with his powerful sentiments and vivid imagery.
7. Yawara!

Genres: Comedy, Drama, Martial Arts, Romance, Seinen, Slice of Life, Sports
Volumes: 29
Published: 1986 - 1993
Yawara is an exceptionally talented young girl who trains in the art of Judo alongside her grandfather Jigoro. Her grandfather has high hopes for her and says that she has every chance of winning the gold for Japan in the Seoul 1988 Olympics, but Yawara has a different purpose she wants to seek out and that's to finish high school and find a boyfriend. However what Yawara doesn't realize is that being an Olympic champion and living a normal life are two totally different realms, so which one will she decide on?
Naoki wanted to emphasize that females can accomplish just as much as males can, in a world that's pervaded by a mostly male dominant enterprise. The story takes you along Yawara's personal journey through relationships, both internal and external, as she tries to cope with the realities that confront her on a daily basis. You're never too sure which path she'll choose because she loves them both dearly, and it leaves you guessing as to whether she'll choose love over her career. Jigoro adds some comedic flavor to the story as his very eccentric character style keeps you laughing, while Sayaka is full of determination and vigor to keep Yawara motivated. It's an inspirational piece of work because it shows us that there are times in life where we need to make decisions that we may or may not like, but we must do so to ensure the best for our lives. There's plenty of charm in this one to keep you glued to every page, so be sure to check this one out as it's one of Naoki's earlier yet prominent works.
---
6. Happy!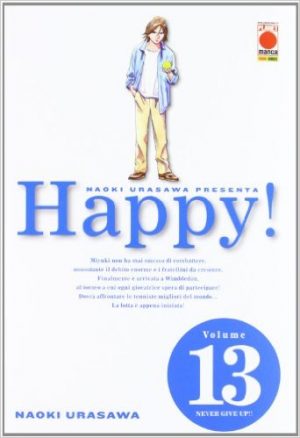 Genres: Drama, Mature, Romance, Seinen, Slice of Life, Sports
Volumes: 23
Published: October 1993 - March 1999
Miyuki was in her senior year in high school, and despite her circumstances at home pertaining to her family, she maintained her cool along with her three younger siblings. However one day, a sudden incident created a big impact on Miyuki's life as her older brother debt of 250 million yen crept up on them, putting the family in danger of losing everything. To ensure that the family doesn't suffer any more financial burdens, Miyuki decides to quit school to pay back the extreme debt and restore financial security back into her family's life.
If there's one thing that Happy! teaches you, it's that there'll always be ups and downs in this world, and we simply can't control the outcome due to forces of nature having more power over us. A lot of depressing moments happen throughout the manga which are sure to really tug at your heartstrings, but it's that reality check that helps you to better understand that not everyone has it all in this world, and there are some people who still struggle despite their appearance. Loan sharks play a major role in the series which can quite honestly be a painful experience to read, simply due to how they treat Miyuki and her family at times, but we don't want to go into too much detail to spoil it all so be sure to read into the story to know more about that. Miyuki has a lot to learn in her life and as you'll see while reading, her naive ways backfire on her in ways that really make you feel for her but also wish you could smack some sense into her just a little, so she could take care of these bullies that create a miserable atmosphere for her.
---
5. Master Keaton

Genres: Adventure, Drama, Historical, Mystery, Seinen
Volumes: 18
Published: November 1988 - August 1994
Keaton was born from an English mother of nobility and a Japanese Zoologist. When he was five, Keaton made a trip to England with his mother shortly after his parents went through a divorce. While in England he studied archeology at Oxford, where he eventually met the love of his life with whom he later had a daughter with, named Yuriko. However the relationship didn't didn't last too long as they divorced after 5 years. Now Keaton finds himself working as a detective for Lloyds of London where his abilities are highly sought after, and now must carry out the dangerous missions of an insurance investigator.
If there's one great thing about Naoki Urasawa's work it's that he never shies away from taking risks to create a gripping story, that outlines the major issues that we face in society. Keaton has gone through his fair share of ups and downs, but now he must use his tactical prowess to seek out information in a world that's full of corruption to avoid any further incrimination. The story is very episodic in its form, which to some, may come across as somewhat of a bore, but for those who do enjoy that type of plot Master Keaton serves up a delicious plate of drama to keep you satisfied. One part of the story will feel somewhat emotional and then several chapters later, you're left on the edge of your seat, hesitant to turn the page because you just don't want to see the outcome. Each volume leaves you hanging on the cliff just long enough to set the tone in your brain, before it pulls you back in and totally blows you away with its gritty approach to the deeply rooted human problems we face constantly such as money, love, and family.
---
4. Billy Bat

Genres: Drama, Historical, Mystery, Psychological, Seinen, Supernatural
Volumes: 20
Published: October 2008 - August 2016
Billy Bat looks at the story of the real life protagonist Japanese-American artist, Kevin Yamagata, who draws the Billy Bat character for Marble Comics. Some incidents have occurred and two detectives have come into to investigate and survey a room, directly across from Kevin's room. However, one of the detectives, Laurel, glances over at Kevin's work and realizes that he's a big fan of the Billy Bat series. The other detective Hardy picks up a page from his pile and states to Kevin that the characters in his story share a resemblance to an old Japanese comic, and claims that he's translating this work without permission. Just as Hardy is skimming through Kevin's work, a sudden change in time happens as now they find themselves in a 1949 Tokyo, and Kevin now needs to gather more information about his character before it's too late.
Kevin decides to travel back to Japan after serving there in the war. After being accused of copying a character from an old Japanese comic, he desperately races out to get permission from the original creator. However upon arrival, Kevin finds himself entangled in a string of events surrounding murder, cover-ups, and conspiracy that all leads to Billy Bat. This is one truly gripping experience as you're constantly on this trip through time to uncover the truth behind Billy Bat, and as you travel along this uncertain path you're constantly being hit with questions that leave you wondering what will happen. This is a masterpiece at its finest simply because of the sheer amount of detail that Urasawa places on his work is nothing short of marvelous, and his notorious use of thriller to keep you biting your nails is just what you'll find here. You'll find references of Kubrick, and Walt Disney dispersed throughout, while the more recent volume looks at a very gripping issue that most would never want to touch with a ten foot pole. It's this very fearless approach to storytelling that makes Billy Bat and Naoki Urasawa in general a breath of fresh air in a manga universe that uses tried and true methods to grab attention.
---
3. Pluto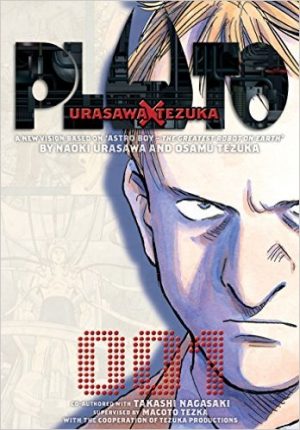 Genres: Sci-Fi, Shounen, Sports
Volumes: 8
Published: September 2003 - April 2009
There's something transpiring in the world of Pluto, and no one is sure as to why. Seven robots who are known to be the overseers of the city are being destroyed and dismantled without any hesitation one by one, and now Gesicht, one of the surviving seven who works as a detective for the European Federation, must now use his knowledge to capture the killer before it's too late. Not only will he need to confront the mysteries that lie ahead of him, Gesicht must also try to overcome the replaying memories that continue to haunt him in his dreams.
Another heavy hitter coming straight from the incredibly gifted brain of Naoki Urasawa. Pluto takes the very powerful and inspiring story of Tetsuwan Atom (Astro Boy) by Tezuka Osamu, and infuses his own realistic style to create an epic tale that takes place in the Astro Boy universe. This is one masterful work of art because you've taken literally two of Japan's greatest mangaka and combined them to create a powerful piece that reflects on the existence of humans, and just how we deal with corrupt politics in a world full of conspiracy. Each character that Gesicht encounters give off this very humanistic feel and brings you closer to the story, enriching the reading experience as you turn each page. While some may find some parts of the story to be tedious at times, the message that Urasawa is trying to emphasize is very clear and poignant: Human morality is most certainly an issue we deal with, and while that serves up a somewhat cliche approach, it's far from brainless and leaves you questioning your very existence after reading.
---
2. 20th Century Boys

Genres: Action, Drama, Mature, Mystery, Psychological, Seinen
Volumes: 22
Published: September 1999 - April 2006
Kenji had a pretty normal life working as a convenience store manager, but like many of us, had aspirations to chase a dream that felt possible in every way. However, memories of his past start to roll back into his life and he starts to recall the events of his friends suicide, which is still very much a mystery. Kenji tries to put things together and he assumes that the suicide perhaps had something to do with a mysterious cult that just surfaced, since they've been tied to several other disappearances. Desperate to dig deeper and uncover more, Kenji decides to call upon some of his old buddies as they now team up to learn the truth behind this cult's existence, and just why his friend died.
Brainwashing, betrayal, conspiracy, these are just some of the themes you'll encounter in this thrilling manga from Naoki Urasawa. This award winning work is just another great example of how powerful Naoki's work can be, and the minute you find yourself buried in the story you're blown away by all of the social issues he adamantly focuses on, since they all hit home in such a way that you're left with your jaw dropped. The suspense that Kenji experiences throughout his journey is something that's palpable, and you're placed in his shoes each and every single time he encounters someone new along the way. There's just this uncertainty about where the story will take you, and it may be somewhat tedious at times, but it still reels you in because you just want to know how it all ends. Will Kenji and his crew ever discover the dark truth behind this corrupt cult that's killing and brainwashing young minds, or will he also succumb to the dirty politics that plague his city?
---
1. Monster

Genres: Drama, Mystery, Psychological, Seinen
Volumes: 18
Published: December 1994 - December 2001
Monster is one riveting story that will leave your heartstrings torn, and your muscles clenching as Naoki's greatest work is nothing short of impeccable. Dr. Kenzo Tenma is a famous surgeon who has worked tirelessly to make a name for himself, and now is embarking towards a promising career at a well known hospital. When a critically wounded young boy lies in front of him however, he puts all of his eggs in one basket to save the life of the child but what Kenzo isn't aware of is that this child was already destined for a horrible fate, and now he's entangled in all of it. Soon after that event took place, several murders started to surface and according to detectives on the cases, Kenzo is the prime suspect.
Serial murders, conspiracy, politics, and corruption, all of these sound familiar don't they? That's because Naoki Urasawa's works always seem to reflect on the very same issues that we deal with in our everyday society, and he uses such powerful illustration to ensure that the truth sinks into your brain with every page read. Kenzo is no criminal by any means, as he's doing what's morally correct to save the lives of those who need it, but when hospital politics tied with random murder cases clash with his overwhelming passion to do his job, things go sour very quickly. Plot twists are bound to happen as well which we'll warn you now, will leave you angry at times because you just know in your right mind that justice should be served and it doesn't. The innocent are tagged as the criminals while the real villains are seen as these everyday heroes, and get ostracized for it all. If there's one thing that Monster teaches us, is that the real monster that haunts our daily lives aren't the ones around you (although one could say they have some influence to some degree) but rather this beast lives inside ourselves, and until we can break free from that control we'll continue to battle this inner creature as time passes.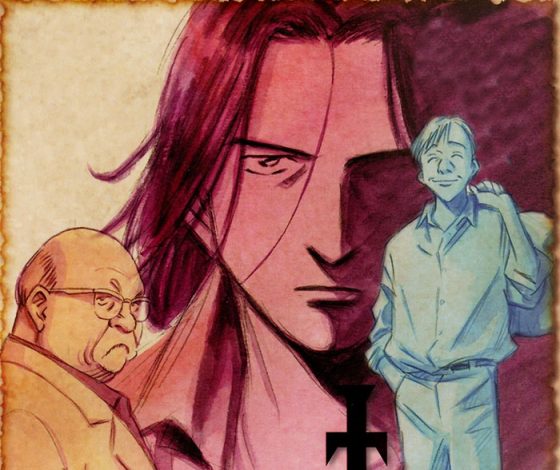 ---
Closing Statement
If there's one thing that we can take away from all of this, it's that Naoki's talents can't be overshadowed and he seriously could be the next Tezuka Osamu of our generation. His use of real life situations that still plague our society today are a powerful example of how manga can have an incredible impact on our lives, if you manage to portray information in the right way. Be sure to let us know what you think in the comments section down below, and don't forget to share, like, and tweet our articles to keep the Honey's community buzzing.
As always, if you want to know about all the latest buzz straight from the bee's nest in Japan, be sure to keep it locked here at Honey's Anime.