Japan has some extraordinary talent and they just seem to pop up out of the blue on a daily basis. It comes as no surprise that one of Japan's best mangaka now makes our list to share with all of you. Obata Takeshi's passion is in illustration, and is commonly known for collaborating mainly with a writer, which in this case is Tsugumi Ohba and a few other notable names. They've come together to create some of Japan's best and most popular titles such as Death Note, and Bakuman. However, much to our surprise and possibly yours as well, is that Obata's success didn't stem from the earlier mentioned titles, but rather Hikaru no Go was the manga that put his name on the map as one of the higher tier mangaka this era. In our article we'll be taking a closer look at some of his best works including the ones mentioned, and some other great titles that we think you should check out.
5. All You Need Is Kill

Genres: Drama, Mystery, Romance, Shoujo, Supernatural, Tragedy
Volumes: 3
Published: January 2014 - May 2014
The story of All You Need Is Kill was written by Sakurazaka Hiroshi, and Takeuchi Ryousuke and was illustrated by Obata Takeshi. Much of the premise pertaining to the story is that an alien race known as mimics have taken over a majority of the world, and plot to exterminate the entire human existence. We follow Keiji as he enrolls in the UDF (United Defense Force) so that he and other recruits can put an end to all the terror that's ensuing. On his first day out on the battlefield, Keiji and his team are killed by the mimics but somehow Keiji wakes up to realize he's still alive. He considers everything to be a dream but then realizes he has a unique ability. Whenever he dies in battle, he is resurrected and begins his life the day before the war takes place. Not entirely intrigued by this ability, Keiji goes on a journey to discover why he has this strange power and how he can put an end to the vicious cycle that he must endure every time.
This sounds a lot like Subaru from Re:ZERO where he also has to come face to face with his cruel reality, knowing that after he's killed he is resurrected and must start over again. Both of these character suffer the same fate, but in this case much of All You Need Is Kill takes place in a distant future where aliens show no remorse for anyone other than their own kind. Keiji is given many chances to change the events of the future due to this mysterious power, and as you read through the manga you'll come to discover the truth behind why it's all happening. You're always left scratching your head as to what will happen next, but that is exactly why All You Need Is Kill is a remarkable piece of work, and you shouldn't hesitate to pick it up.
---
4. Platinum End

Genres: Drama, Mature, Mystery, Psychological, Romance, School Life, Shounen, Supernatural
Volumes: 3
Published: November 4, 2015 - Present
Platinum End is one of the manga that Ohba Tsugumi and Obata Takeshi had a chance to work on together, and it's a fantastic story to check out. Obata's illustration skills are of top quality and you can clearly see that in much of his work. Ohba has a great presence of mind and when his stories come to life in manga form, they really help to absorb the reader deep into the plot. The story focuses around main protagonist Mirai Kakehashi, who doesn't rely on hope in order to remain alive. He has other means of survival and thinks that hope is just an empty vessel created by man to give the illusion of freedom. The world Mirai lives in divided by humans and angels, and after the sudden death of his parents his entire perspective on everything changed dramatically. This leads Mirai to contemplate taking his own life but is then convinced by guardian angel Nasse to reconsider his decision, and to take on a new role in life as the new god.
In order for him to obtain this supernatural ability he must overcome and defeat 12 other combatants within a time period, but Mirai is about to discover that he bit off more than he can chew in this psychological, supernatural series. While we've definitely come across characters who share similar abilities to that of a god, what really makes Platinum End fascinating is in the depth behind the plot. Mirai's actions make you really think deeply about what's actually happening in real society, with many students contemplating suicide to escape their pain. The wonderful side is that Mirai is given an opportunity that many don't have, and that's to embrace the power of a powerful god. It's bittersweet simply because Mirai's parents' death affected him in such a big way, but fate had a different tale for him to live by and now his entire fate lies in these battles.
---
3. Hikaru no Go

Genres: Drama, Romance, School, Sports, Supernatural
Volumes: 23
Published: December 1998 - July 2003
Hikaru no Go is the work that took Obata from the bottom to the top, as the story focused on a young boy named Hikaru who stumbles across a game that would change his life forever. He discovers a game called GO while rummaging through his uncle's storage room, in hopes that something in there would be create some monetary value. Unfortunately nothing popped up, but when he opened the GO box, an old spirit named Sai greeted him. Sai had dedicated his entire life to the game, and so now he convinces Hikaru to join him on this wild adventure in a game of uncertainty, in order to search for the god hand. Now a new road has been paved and so the two embark together to see where this path will take them.
The story itself was created by Hotta Yumi and the manga became a best selling hit all across Japan, as it helped to reinvigorate interest in the game of GO, which is a strategy board game in which the aim is to obtain more territory than your opponent. Due to the incredible popularity of the book and the game, this made both Obata and Yumi global sensations and took home the Shogakukan Award back in 2000. While the game currently has somewhat died down in terms of popularity in recent years, it still receives a lot of attention and has a reputable community behind it. This is certainly a manga that will not only stimulate your mind with strategy, but it will also give you a history lesson to a game that is deeply ingrained in Asian culture, and just why it still continues to have a strong presence.
---
2. Death Note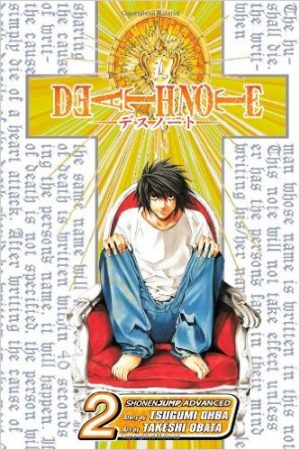 Genres: Drama, Mystery, Psychological, Shounen, Supernatural
Volumes: 12
Published: December 2003 - May 2006
Many of you who regularly visit Honey's Anime may already be well acquainted with our next choice, because it's still considered to be one of the best manga ever created. We'd still like to explain the story a little bit to those who are new to the series, but we're talking about Death Note, the story about a young man who has a strong desire to see justice be served in the world, but takes things into his own hands to see it through. Light was a pretty conservative student and really had no interest in building a network of friends. In fact, his dream was just to see that the world he lived in serve justice more appropriately, and that dream came when he stumbled across a notebook on the way home. Dropped by Ryuk, a shinigami who finds the real world to be a bore, notices Light pick up the book and from there the two come together to create a sinister fate for humanity. Any person's name that is written in the book is subject to death, and so Light is surprised when he writes down the name of a local criminal in his area and the unexpected happened.
From that day a light bulb went off in Light's head, and so began the manipulative and systematic tale of a young man and his passion to bring true justice to the world and become the god that everyone bows to. Once you dive into the manga you'll see that both Obata and Ohba really clicked in terms of their approach to how the story should look and feel while reading. Every page that you turn you'll always be greeted with splendid artwork depicting every detail of Light's sadistic plans, and see him get away with it without any trace of evidence. It's truly an exciting roller coaster ride for those who haven't had a chance to read it, so we highly recommend if you love crazy, psychological thrill rides then line up for this one because it'll take you in all different directions.
---
1. Bakuman

Genres: Comedy, Drama, Romance, Shounen
Volumes: 20
Published: August 2008 - April 2012
Bakuman is truly an inspirational treat for those who wish to become a mangaka themselves. This is probably why it is so highly praised not only for it's artwork, but the story is very riveting and truly gives you the motivation to pick up your pencil to draw something. Mashiro forgets his book in class and his classmate Takagi notices all of his drawings, to which he is clearly impressed by. Takagi insists that Mashiro take his work more seriously and perhaps work his way up to become a mangaka. Initially Mashiro declines, stating that his uncle had died from overworking and it wasn't a path he wished to follow. Still determined to change his mind Takagi tells Miho, Mashiro's crush, that the two of them are embarking on a journey to become world famous mangaka. In response Miho surprisingly tells them that her dream is become a Seiyuu (voice actress/actor), and Mashiro proposes that the two marry once their manga turns into an anime adaptation. From there, both Mashiro and Takagi work endlessly to ensure their dream to become the world's best and to have their manga serialized in the Weekly Shounen Jump.
We all have been inspired by someone in one way or another, and we should always give thanks to those people. They're like the mentors we have dreamed about because they teach us so much about ourselves that we never knew existed, and they somehow bring it out of you into the spotlight. Mashiro's willingness to shine and Takagi's persistence to overcome obstacles make a great team, as they both have aspirations to be successful in their careers. What's really great too is just how much energy and passion this story has that you're compelled to jump out of bed, pick up a pencil and just draw to your heart's content. Of course you don't have to draw like these two, but none the less their drive to achieve their dream is what we all should learn from, because it is when you've truly discovered your life purpose that life starts to unravel into something breathtaking.
---
Closing Statement
Obata's works will continue to shine on for many years to come, and we can expect to see lots more collaborations with the exceptional illustrator. These are just some of his finest works that he had a helping hand in, but be sure to check out some of his other notable works such as Cyborg G-chan, and Ayatsuri Sakon. If you had a chance to read any of our picks, let us know which manga you loved most and post your comments below! As always, for your sweet manga fill, always be sure to stay updated at Honey's Anime. See you again soon!
---