How did you begin to know Rihito Takarai as a mangaka? Most of readers of Rihito Takarai's works would have probably mention her more popular series—Seven Days might be the most common answer, or perhaps Hana no Mizo Shiru. Those who just got into liking Rihito Takarai's works might even answer Ten Count. Mostly known as one of the more popular BL mangaka, Rihito Takarai is known for her stylish, fluidly beautiful artwork and beautiful character designs.
Like a lot of other female mangaka, Rihito Takarai had begun her career as a doujinka—the older Prince of Tennis series fans might have seen several of her doujinshi works. She also illustrates tons of light novels—most of them of the BL genre—which means Rihito Takarai has worked on a lot of collaborative projects. However, Rihito Takarai did not just dabble in BL works. She has a number of non-BL works under her belt, adding a nice variety to her repertoire. Including these works, we have came up with Rihito Takarai's best manga that you should give a try reading if you've decided to follow her as a fan!
7. Kakemakumo, Kashikoki

Genres: Comedy, Fantasy, Shoujo, Supernatural
Volumes: 1
Published: 2012
How does the saying goes again—be careful with what you say out loud? Handa Shin, 23 years-old, currently homeless and jobless, definitely learns his lesson when he carelessly eats an offering at an inari shrine and exclaims that he wouldn't mind being the Inari God's bride if he could eat such delicious food every day. Unaware of the powerful spiritual blood of Abe no Seimei running in his veins that gives him the power over kotodama that might make all he says come true, Shin's careless exclamation had inadvertently interfered with the fox gods' wedding between Ginrei and his bride, Menou. Instead, the wedding vow ties Shin to Ginrei accidentally, and now they're going to have to find a way to sever it, or else Shin might find himself gobbled up by fox gods!
Though the premise of the manga is as what you've read above and Rihito Takarai is the mangaka, Kakemakumo, Kashikoki is not a BL manga. It's a shoujo fantasy serialized in Shinsokan's Wings magazine, written by Masaya Miryu and drawn by Rihito Takarai. It's kind of sad that this series is very short, though, considering that it hasn't had the chance to delve into the secondary characters that actually are intriguing—such as Menou and Shirotama. However, the premise and narrative it has is definitely worth the short read. It's also filled with rather thick hints of bromance between Shin and Ginrei, so if you're a fan of Takarai-sensei's BL works, getting into this series will still be a delight.
---
6. Torikagosou no Kyou mo Nemutai Juunintachi (The Sleepy Residents of Birdcage Manor)

Genres: Drama, Psychological, Romance, Shoujo, Slice of Life
Volumes: 3
Published: 2007
Torikagosou no Kyou mo Nemutai Juunintachi is Rihito Takarai's take on one of the stories of strange people living in the strange Birdcage Manor: the trio of Etou Kizuna and the two cousins Asai Yuusei and Inoue Yuki. Kizuna, who is unsatisfied with her everyday life and seeks out thrill from the "game" she plays every night with her friends, is suddenly offered a job by a fellow resident of Birdcage Manor, the tall and beautiful Inoue Yuki. The job seems easy enough: be a model for Yuki's cousin, Yuusei, a painter who also live in the same manor. What Kizuna doesn't expect is how much she'd be involved in the lives of both Yuusei and Yuki, and the things she discover not just about them, but also about herself.
Fans of Rihito Takarai before the hit series Seven Days would have read this shoujo manga enthusiastically. A colocalization of a light novel with the same title, originally written by Kabei Yukako—who is also widely known to be a member of GoRA and penned the immensely popular novel in the [K] franchise, Lost Small World—this manga only focuses on the story of Kizuna, Yuusei, and Yuki, out of the many stories of other residents that were depicted in the light novel. Rihito Takarai's stylish artwork does fit very well with the overall strange atmosphere of the Birdcage Manor, and the original novel characters who made the cameo into the manga was presented in such an interesting way that you'd end up hoping to read more of them.
---
5. Graineliers

Genres: Fantasy, Shounen, Supernatural
Volumes: 2 (ongoing)
Published: 2013
If you had fallen in love with Rihito Takarai's works from her shoujo or fantasy works, you would definitely love Graineliers as well. One of the few non-collaborative works that she has, Graineliers is set in a world that relies on plant seeds with various powers to function—food, lightings, fire, you name it. A special institution called Graineliers regulate these seeds, as some of them are dangerous and forbidden to cultivate in public, or worse, in a human's body. Lucas, a young man aiming to be a Grainelier with his friend Abel, is caught up in the mystery of the seeds and Graineliers as one night his house was raided by the Graineliers, forcing his father to give Lucas unknown seeds and let him escape. Having drunk the seeds, Lucas passed out and woke up two years later to a grown-up Abel, as well as finding out that he himself is now a human host to an unknown plant.
As one of Rihito Takarai's still ongoing works—the other one currently being Ten Count—this series is probably one of the underrated ones. Currently being serialized in Square Enix's GFantasy manga magazine, Graineliers is Rihito Takarai's first shounen fantasy manga. Rihito Takarai, so far, has managed to deliver a unique mesh of western-like culture mixed with fantasy elements. The plot is getting really intriguing so far as well—though each chapter is rather short, it's been delivering the suspense of both Lucas and Abel trying to find their way out of their unexpected predicament without getting involved with the state Graineliers. Seeing how it's progressing slowly, there's hope that this series might just be Rihito Takarai's first non-BL series that might just reach more than three volumes!
---
4. Hana no Miyako de

Genres: Drama, Historical, Romance, School Life, Slice of Life, Yaoi
Volumes: 1
Published: 2012
Released as a spin-off of Hana no Mizo Shiru, this manga tells the story of the head of Misaki's lab, Tsujimura Motoharu, and Misaki's grandfather, Hazumi Akira, when they were still young. Set in post-war Japan, Motoharu and Akira are childhood friends who were extremely close to one another despite the vast difference between their social statuses. Motoharu fell in love with Akira, but his feelings got rejected when he confessed. This caused a rift between the two of them, one that stayed even after they both went on to university, until one day, Motoharu finally got the chance to see the whole story from Akira's point of view: the reason why Akira rejected him, despite the fact that he feels the same, and the bleak future that awaited their relationship.
Unlike Hana no Mizo Shiru, which was the main storyline of this universe, Rihito Takarai doesn't even try to sweeten Hana no Miyako de—it's realistic, it's painful and sad, but it's also delivered in a hauntingly beautiful narrative. Even though it's a short spin-off, Hana no Miyako de managed to evoke a powerful emotion for its readers, a sense of wistfulness in watching a relationship that is not going anywhere. It's a story about feelings that can't be answered except for a short, dream-like period where both Motoharu and Akira let themselves be selfish enough to run away from reality. If you want something from Takarai-sensei that would really tug at your heartstring and might make you cry, Hana no Miyako de should be your first choice.
---
3. Ten Count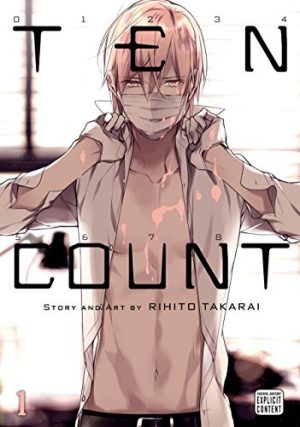 Genres: Drama, Mature, Psychological, Romance, Slice of Life, Smut, Yaoi
Volumes: 5 (ongoing)
Published: 2013
One of the current big hits of BL manga in Japan today, Ten Count is perhaps the one series that sparked a lot of debate and controversy among Rihito Takarai's fans. The series tells the story of Shirotani Tadaomi, a young man who worked as a secretary for a company's President. An accident involving the President led him to meet Kurose Riku, a younger man who saved the President's life who, surprisingly, was able to see that Shirotani is mysophobic. What began from Kurose's offer to help Shirotani overcome his mysophobia turned into an unexpected relationship between Kurose and Shirotani—one that is not just about love and romance, but something that reflected both of their darker pasts, changing and shaping the development of their relationship into something that might just be more dangerous.
Ten Count, in a lot of ways, is very different from Rihito Takarai's usual works. It is Rihito Takarai's first BL series that featured a lot of sexual depictions, and the premise with Shirotani's mysophobia was decidedly something different from other BL manga as well, making the series itself intriguing to a lot of people. However, it also takes on darker themes that she hadn't ever really touched before, including dubious consent sexual engagements and psychological problems, so readers should be careful when they get into this series. Rihito Takarai's artwork is a feast to the eyes as usual, though, and those who love his BL works would enjoy the hardcore R18 scenes, since Rihito Takarai hadn't really gone all-out with his previous works. It's really no wonder that it's popular, especially with how Rihito Takarai has several popular titles under her belt already, and Ten Count has become a great addition to that.
---
2. Hana no Mizo Shiru

Genres: Drama, Romance, Slice of Life, Yaoi
Volumes: 3
Published: 2009
Arguably one of Rihito Takarai's most beautiful manga yet, Hana no Mizo Shiru is the love story between two university students: the frank and friendly Arikawa Youichi and the quiet, rather stand off-ish but sensitive Misaki Shouta. After a few extremely clumsy, accidental meetings with Misaki, for some reason Arikawa began dreaming about the guy he could only barely remember. When he finally found Misaki and, much to his luck, found out that he'd be helping out at the same lab where Misaki also worked, the relationship between the two of them slowly bloomed. Both Arikawa and Misaki had to realize and learn about themselves and each other, and discover what it means to love and desire someone.
Originally serialized in the BL manga magazine Craft, Hana no Mizo Shiru is one of the BL manga with a subtle story-telling that requires you to sit down and read it carefully to appreciate the story fully. What makes this manga beautiful isn't just Rihito Takarai's artwork—which, at this point, was more polished and neat—but also the way the story was woven through flower symbolisms and languages. The developing relationship between Arikawa and Misaki feels unhurried and natural despite the story spanning only over three volumes, taking the readers into the roller-coaster of emotions as we read, and yet still keeping the sense of soft atmosphere of the whole manga. The series has gotten its own drama CD too, with Takeuchi Ken and Ono Yuuki playing Misaki and Arikawa respectively.
---
1. Seven Days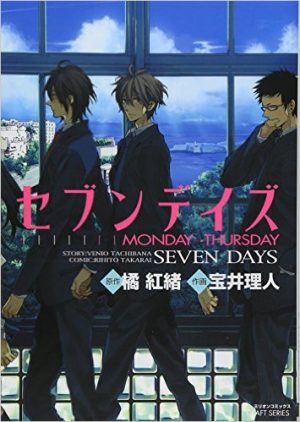 Genres: Romance, School Life, Shounen Ai, Slice of Life
Volumes: 2
Published: 2007
If we're talking about Rihito Takarai's most beloved works of them all, it's got to be this series. Seven Days tells the story of Shino Yuzuru, a high school student who is quite popular thanks to his good-looking, who gets dumped a lot because his former girlfriends couldn't stand his habit of being blunt. On the other hand, there's Seryou Touji, the popular underclassman who is also Yuzuru's junior in the Archery Club, known for changing girlfriends every Monday and accepting whoever it is who confessed first to him that day. Curious over the rumor, Yuzuru playfully asked Seryou out when they bumped into one another in a Monday morning. Surprisingly, Seryou took him seriously, and their one-week relationship began—except then they both realized that one week is actually enough time to fall deep in love.
With Tachibana Venio in charge of the story, Seven Days brings you the tale of pretend lovers and misunderstandings in such a way that it doesn't feel suffocatingly painful. Instead, it's delivered in a lighthearted, day-to-day normalcy way, with a touch of angst and a dreadful sense of anticipation that the end of the week—and thus their relationship—is getting closer and with it the question: would Seryou and Yuzuru get their happy ending? Originally serialized in Craft, Seven Days has also been licensed by June, as well as a drama CD with none other than Nakamura Yuuichi and Fukuyama Jun playing the role of Seryou and Yuzuru! Last year, a live-action movie of Seven Days was also released, and the DVD came with an extra chapter of the manga, which was a really nice bonus for the loyal fans of this series!
---
Conclusion
It's really easy to fall in love with Rihito Takarai's artwork. Those who had known her from her doujinka days would probably have marveled at how far her artwork has improved—especially starting around the time she worked on Hana no Mizo Shiru. The fact that currently Takarai-sensei is working on two different series and none of them is collaborative project is something exciting that fans are looking forward to, and hopefully, Rihito Takarai would deliver as well as our expectation!
Have you read all the titles mentioned above? What do you think of Rihito Takarai's works? Let us know in the comments!