When we discuss the likes of popular sports manga there are a handful of names that pop up into our minds, such as Mitsuru Adachi's famous Touch, to the award winning Hajime no Ippo by George Morikawa. However there's only one individual who was able to take the game of basketball and the basketball manga genre to new heights, and that's none other than Takehiko Inoue. It's quite clear that Takehiko has a strong passion for the sport, as most of his collection pertains to it and really illustrates a realistic interpretation of what it's like to indulge in the game. Whether it's the classic and underrated Buzzer Beater, to the golden classic that skyrocketed him to fame, Slam Dunk, Takehiko's approach to telling a powerful story using sports as the emphasis is something only this man can truly accomplish. In spite of his love for sports, one of his works, Vagabond, truly demonstrates just how extraordinary this man is when it comes to putting a story to paper and restoring a historical masterpiece to life.
4. Buzzer Beater

Genres: Sci-Fi, Shounen, Sports
Volumes: 4
Published: May 1996 - 1997
Basketball has evolved into a sport that has become the most popular sport in the universe. In spite of its popularity, the majority of the Intergalactic League consists of mainly extraterrestrials and completely run the show when it comes to talent. Gyuma, who many consider to be the best at the sport, is only 19 years old and demonstrates that he's no slouch when it comes to displaying his skills. Not agreeing with the notion that extraterrestrials are the best at the sport, old man Yoshimune is convinced that it is the humans who should be number one at basketball. With his convictions in place, Yoshimune plans to create a team of human players to further prove his statement, and one player named Hideyoshi responds to his invitation, ready to take the heat to the court.
Buzzer Beater was one of Takehiko's earlier works, dropping shortly after the conclusion of the extremely celebrated Slam Dunk series, and was most certainly a step away from his realistic approach to the game. A lot of the action takes place in a world far from the norm, with aliens being in charge of pretty much everything on the court. Yoshimune is fed up of all the banter and wants to show these pompous beings that humans still have what it takes to bring the fire, and outplay anyone on the court. The story may come off very fast to many who pick up the manga, but rest assured that you'll be more than pleased with all of the great plot twists and action on the court. It's bound to keep you entertained for quite some time, and we recommend that once you finish reading the series, to check out the anime to really appreciate everything Buzzer Beater has to offer.
---
3. Real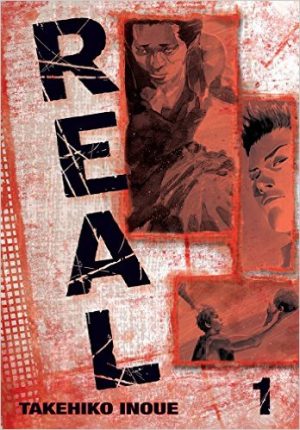 Genres: Drama, Psychological, Seinen, Slice of Life, Sports
Volumes: 14
Published: March 2001 - Present
If Buzzer Beater wasn't real enough for you, then the name of this next manga on the list should tickle your fancy a bit more. Real, frankly speaking, truly represents the game of basketball in more ways than Slam Dunk did because it portrays scenarios that happen within our daily lives, and you feel this interconnectedness with every character that's introduced within each chapter. The story looks at three individuals, all of whom have a strong desire to play basketball. All three of them suffer from their own psychological burdens that they continuously feel hindered by, but their overwhelming passion carries them forward. Nomiya is a high school dropout who still feels the severe guilt of crippling a young woman in a biking accident. Togawa was a former sprinter who had potential to take his talent further, but his dreams came crashing down leaving him in a wheelchair and having to play basketball in that state. Lastly, Takahashi, a self proclaimed elite who once achieved a lot for his team now can't move his body from the chest down.
Real is just as non-fictitious as you can get with regards to the psychological burdens and physical disabilities that these 3 former champions in their own right, must now cope with on a daily basis. It's a gripping series to say the least because you're immediately reeled in by their emotional backstory, and despite their setbacks still manage to practice with sheer determination and devotion to the game they love. Real puts you in their positions and makes you realize just how fortunate many of us are to actually have the pleasures of standing on our two feet, or being able to run about freely without much thought. It's most certainly a reality check because it provides you with a very profound and powerful message that, despite what setbacks we have in life, should never prevent us from devoting our time and energy to the things we cherish. You sit and read as each of these three individuals muster their way through their insecurities bit by bit, overcoming every obstacle that life throws their way and building a newly profound sense of confidence that many would find hard to break. Real is a journey into a world that not only looks at the passion for basketball, but also cementing the fact that life too is very much like any sport, in that you must constantly search within yourself for the answer to overcome adversity, and to serve your purpose in life (the court) before the buzzer runs out.
---
2. Vagabond

Genres: Action, Adventure, Drama, Historical, Samurai, Seinen
Volumes: 37
Published: March 1999 - May 2015
Vagabond is a must read for various reasons that we'll get into momentarily, and if you're interested in Japanese history, then this one is for you. Takezo was considered by many in his village to be an outcast due to his violent nature, and so he decides to run away from home in search for something more. He decides to join the Toyotomi Army along with another young boy, and the two set out to fight the infamous Tokugawa clan in the great Battle of Sekigahara. Despite his attempts to overpower the enemy, Takezo and his army lose terribly at the hands of the Tokugawa clan which resulted in a 300 hundred year rule of the nation. This crippling experience made Takezo and his colleague think twice about their purpose in life, and so the two go their own ways in hopes to seek out truth and understanding about life. However Takezo finds himself back to his usual violent ways and becomes a violent criminal, which inevitably landed him on the wanted list and so he must now change his name and character to avoid death.
This is one journey that you most surely do not want to miss out on, because this fictional story is a rendition of the very famous Musashi Miyamoto, a samurai who transformed the way many Japanese think even in modern times. Vagabond takes Miyamoto's journey and throws in some additional flavor to keep you fixated on everything that happens, but what's so powerful about it all is just how incredible everything flows together. You really get a feel for Takezo as a character, and throughout his inner journey you start to see a once young and belligerent man transcend into this higher state of being that just emanates through his appearance, and just by reading it you can feel his presence directly in front of you. The battles are also epic and jaw droppingly gorgeous that you just can't take your eyes away from it all, and as you progress further into the later chapters you too feel this sense of enlightenment and perhaps that's what Takehiko wanted to target while writing. Nevertheless, Vagabond isn't a title you should sleep on, especially if you have an interest in learning about Japanese history and just value Takehiko's work in general.
---
1. Slam Dunk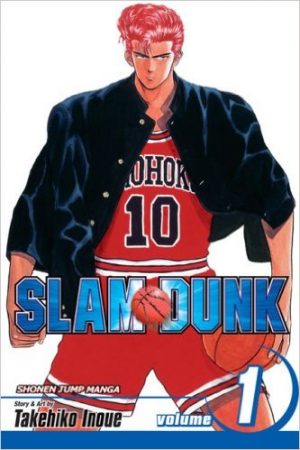 Genres: Comedy, Drama, School Life, Shounen, Sports
Volumes: 31
Published: September 1990 - June 1996
Slam Dunk has triggered so much from so many people that it comes as no surprise it's landed on our top spot. Now, we mean triggered in the most positive way because quite frankly, there are times in the series where you just want to grab a box of tissues and wipe away those tears, because the action is so emotional that you can't help but let it all out. Shohoku High has only one year left to bring home the championship for the captain, and Sakuragi is determined to see that happen. However nothing ever starts out sweet as Sakuragi struggles to find his confidence both on and off the court, since his game with girls is just as atrocious as his shooting. Fate decided that he learned enough from his experiences and was finally introduced to a young girl named Haruko, who changes his life forever. Out of all of the girls Sakuragi approached, Haruko was the only one who showed no revulsion towards him and actually served as his support system going forward. Now the two along with Sakuragi's teammates work together to bring the title home where it belongs in this popular shounen drama.
At some point, we all wish that special someone will just come into our lives to make everything better. However the startling reality is that things just don't happen that way, and many times we often must endure tough times and overcome inner burdens before new doors can open. For Sakuragi that was very much the case as he struggled to really find momentum in his life, but then someone came in to propel him forward into the spotlight he most certainly deserved. What's great about Slam Dunk isn't just about the spectacular plays, jump shots, and free throws, but it's really the diversity of characters that make the story such a treasure to read. You're left captivated by the loving teamwork of both Haruko and Sakuragi, and laugh hysterically when things go terribly wrong between Sakuragi and his teammates. There's drama, action, heartbreak, turmoil, and thrill all mixed into one remarkable story of a young man who's not only striving to become the champion of his school and team, but most importantly the champion of life.
---
Closing Statement
Takehiko's works are nothing short of spectacular, and if this is just your first time hearing of him then we highly recommend reading these masterpieces. For those who are acquainted with his penmanship, then we'd love to hear what you think of his works in the comments section down below. We most certainly had a blast reading Vagabond and Slam Dunk a lot as young little bees, and we've grown to appreciate their sweetness and flavor over time. Buzzer Beater is an underrated treasure which should not go unnoticed, while Real truly hits home in many ways with its gripping trifocal approach to character development and direction. Be sure to share, like, and tweet out our articles to ensure the community continues to buzz as well!
As always, if you want to know about all the latest buzz straight from the bee's nest in Japan, be sure to keep it locked here at Honey's Anime.