In the 1990s, Tohru Fujisawa became a breakout manga artist thanks to some of the titles we are going to share on today's list. He was born in 1967 in Hokkaido, Japan's most northern prefecture. After being inspired by the manga of his youth, most notably Akira, he set out to become a manga artist. Prior to finding fame, he actually did some hentai manga under the pen name Mari Aizawa. And for a while, he worked as an assistant to Tatsuya Egawa, the creator of Golden Boy. Then, in turn, Fujisawa became an instructor to Rando Ayamine, the creator of Getbackers. So what are some of Fujisawa's personal greatest hits? Here is what Honey has to say!
5. Tokkou

Genres: Action, Supernatural, Horror, Seinen
Volumes: 3
Published: Apr 25, 2003 - 2006
While Fujisawa has been famous for comedy (with some action), Tokkou is a great example that he can also do mature stories. Tokkou is the story of Shindou Ranmaru, a police academy graduate who is assigned to a special investigation unit. Prior to his graduation from the academy, he was having visions of a woman and it turns out she is a real woman named Sakura, who works for a secret police organization known as Tokkou. Shindou joins Sakura's unit to solve a string of mass murders from his childhood in Machida, a rural city in Tokyo.
While Fujisawa tends to use some graphic content such as suggestive nudity and violence for comedic purposes in his more famous mangas, he shows he can present the same scenes for more serious stories. While his art style is easy for fans to recognize, he finds a way to make it suitable for Tokkou's gritty world with how he uses his shading and lighting. Shindou is presented as an archetype who is rather typical in horror and/or mystery, but his mystique still grasps your curiosity with how deep his story can go. While the manga (and anime) does have a controversial ending, thankfully, Fujisawa made a sequel manga called Tokkou Zero to continue things and wrap it all up.
---
4. Rose Hip Rose

Genres: Action, Drama, Seinen
Volumes: 4
Published: Nov 5, 2002, Jun 14, 2006
If looks could be deceiving, then Kasumi Asakura is the perfect example of it. While she looks like a vulnerable teenager, she happens to be an amnesiac secret agent code-named No Murder Angel. While she has no memories of her past, she is practically a Japanese schoolgirl version of Jason Bourne, but instead, is working for an anti-terrorist unit as opposed to running from the government.
Compared to Fujisawa's more famous titles, Rose Hip Rose is a bit more serious but still contains some elements of comedy to not really make you laugh hard but to lighten up the mood. While the series is comparatively darker to GTO or Shounan Junai Gumi, Rose Hip Rose contains a very optimistic tone. Eventually, the manga ends with a prequel, Rose Hip Zero, which will help the entire series come full circle.
Other than that, the art style is very consistent with Fujisawa's style so anyone who has read his other mangas can feel as if they share some sort of continuity connection. Heck, Kasumi looks so much like Urumi from GTO. So if you want some kick-ass action and fanservice, Rose Hip Rose is a manga to check out.
---
3. Kamen Teacher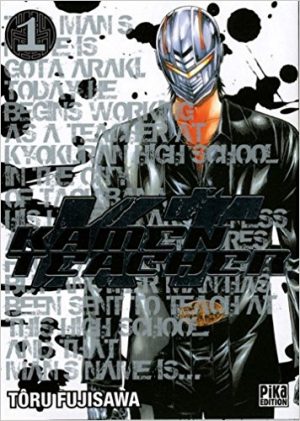 Genres: Action, Ecchi, Comedy, School, Seinen
Volumes: 4
Published: Aug 24, 2006 – Nov 1, 2007
Even between the original GTO manga and 14 Days in Shounan, Fujisawa just couldn't cure himself of the education bug. However, he takes it to a different extreme with Kamen Teacher, a parody, and homage to Kamen Rider. Like GTO, the series would later be adapted to a hit live-action drama. At Kyokuran High School, it is a special school for delinquents who are bad to the point that teachers are trained in combat to physically punish them when they are out of line. However, Gouta Akira, a new teacher from Hokkaido, is against using corporal punishment and wants to reach the kids by openly communicating with them and their parents. While this series does have its share of laughs and kung-fu fighting, it does a great job of being serious. It masterfully demonstrates that corporal punishment isn't going to fix the problem, and the first step to finding a solution to the problem is to first understand why the problem exists, to begin with.
And the series even does an amazing job of showing the difficulties behind that. After discovering what the cause is, people can come up with proper strategies to help solve it and eventually create better citizens of society. Its character design is very consistent with GTO, so if you have read that manga, you're going to instantly recognize many similarly designed characters between both mangas. However, due to the gimmick of Kamen Teacher, it has an edgier feel to the clothing designs and the hair with thicker inking.
---
2. Shounan Junai Gumi

Genres: Action, Romance, Comedy, School, Drama, Shounen
Volumes: 31
Published: Sept 26, 1990 – Sept 18, 1996
Before we get to GTO, there is its respective prequel and Fujisawa's break out hit in Japan, Shounan Junai Gumi. It is about Onizuka and Ryuji (as well as Saejima) in their high school years as the Onibaku. The series was released during a time when teenage delinquent comedies were all the rage (including Bebop High School, Crows, and Kyou Kara Ore Wa). The series takes place in the Shounan area in Kanagawa prefecture, just south of Tokyo.
If you enjoyed the comedy in GTO, prepare for more laughs with this as Onizuka and Ryuji not only kick ass but also try to pick up girls by any means possible only to get rejected most of the time. While Shounan Junai Gumi starts as a comedy with some kick-ass action, it does evolve in its own direction in presenting more serious issues and masterfully develops the characters and their relationships. If you have read the GTO manga or seen the anime, you know that Ryuji has a girlfriend living overseas. Well, this manga gives you the opportunity to learn the serious backstory of that relationship, and as the series progresses, it does develop to what would be GTO.
Though the art is a bit more childish compared to Fujisawa's present works, Shounan Junai Gumi is a great representation of the 1990s style by being sharper around the edges with the faces, with bigger and more perpendicular eyes. As stated earlier, Fujisawa was a student of Tatsuya Egawa and much of Egawa's artistic influences are present in this manga since they do share numerous artistic similarities.
There is an OVA and a live-action series to Shounan Junai Gumi but unfortunately, Takashi Sorimachi does not play Onizuka in the live action and Wataru Takagi does voice him in the anime. In addition to paving the way for GTO, Shounan Junai Gumi has some other respective spin-off mangas such as Bad Company (which happens to be a prequel to Shounan Junai Gumi) and Shounan Seven (a sequel that takes place at the high school Onizuka and Ryuji went to).
---
1. Great Teacher Onizuka (GTO)

Genres: Action, Ecchi, Comedy, School, Drama, Shounen
Volumes: 25
Published: Dec 11, 1996 – Jan 30, 2002
We are pretty sure that many of you readers who are dedicated fans of Fujisawa or have been reading this article from the beginning can easily conclude that Great Teacher Onizuka, or GTO for short, would have to be his best hit. The series was a hit to a point that it has two live-action adaptations and an anime with a kick-ass soundtrack.
The great thing about this manga is you don't really need to read Shounan Junai Gumi or Bad Company in order to enjoy it or understand the story, though it does enhance your contextual understanding of Onizuka's development. While this unorthodox comedy strictly takes its pokes at Japan's education system, the series has a universal message and Onizuka in this series is equally appealing to all audiences. He's the teacher we all want to have the more we get to know him.
He is the perfect example that you can't judge people on a superficial level, and you really have to walk a mile in his shoes (or maybe ride a mile on his motorcycle?) to really see where he is coming from. While he did a lot of stupid things in his youth, which you can read in Shounan Junai Gumi, he has his ways of reaching his troubled students. In his own way, he makes learning the most meaningful. Not out of a textbook that you're going to be tested on at the end of the term, but through living life. Most of his methods rely on using reverse psychology in showing that his students can't underestimate the real world.
It is undeniable that Onizuka does stupid things in this series and his initial motivations are not the purest, he comes to terms with his role as a teacher and the impact that he can have on his students and peers. The fact that he cares and still has a positive outlook despite the odds always being against him is why fans love him. While the series is hilariously off the charts, the manga does a great job of representing modern Japan and taking jabs at pop culture as a whole.
Though the manga ended in 2002, it eventually would make a comeback with two sequels, 14 days in Shounan and Paradise Lost, which pick up where the original manga ends. In addition to its follow-ups, it does have some other spin-offs starring Ryuji, Saejima, and even one of his students, Tomoko. So it is undeniable that GTO is Fujisawa's masterpiece and his legacy.
---
Final Thoughts
No matter the genre, whether it be a comedy, action, or education, Fujisawa does a great job at it. He has a style of both his art and storytelling that appeals to readers of all backgrounds and finds a way to critique modern Japanese youth.
In a way, you can say that Fujisawa's art style tends to follow the Osamu Tezuka style of recycling character designs and that's not a bad thing. Think of it as similar to why Masami Kurumada, the creator of Saint Seiya tends to do it. Try to think of the designs as actors in different roles and you can enjoy it that way. Even so, he does manage to find ways to suit the atmosphere of his respective works. Ever since his debut, Fujisawa has managed to find ways to present modern Japan to all readers and that's probably one of the reasons why he is internationally loved.
So what are some of your favorite mangas by Tohru Fujisawa? Please leave your thoughts in the comments!
---