You may not be familiar with the name Yabuki Kentarou, but if you have any interest in fanservice (or not even) you've probably heard of his current popular serialization: To LOVE-Ru Darkness. Crediting his artistic abilities to his love of Dragon Ball, Yabuki started off his career creating shounen manga such as Yamato Gensouki and the more well known Black Cat series, before later moving on to ecchi, fanservice works such Mayoi Neko Overrun and his current To LOVE-Ru serialization. His art style has remained incredibly consistent throughout his works, only improving in detail and quality of the years, making it very easy to recognise.
Today we're looking at the best series that Yabuki has worked on: what they're about, why they're good, and perhaps some interesting bits of trivia about them too. With half of his works being shounen, and half being fan service, we'd be very surprised if you can't find anything to like today, so keep reading to find out more about Yabuki Kentarou's awesome series!
6. Yamato Gensouki

Genre: Shounen, Adventure, Action
Volumes: 2
Published Date: February 1999 - June 1999
Working under the Onmyou Organization of spell casters, Shinon is an assassin charged with removing the leaders of Japan's divided kingdoms by force. Led to believe that doing this will help to prevent further outbreaks of war, Shinon's beliefs come into question when he meets Iyo, the empress of one of Japan's largest nations, who also desires to prevent wars. Iyo's method is a little different, though: she wants to unify Japan. Taking this opportunity to walk down a more righteous path than that which he is currently treading, Shinon decides to protect Iyo, and aid her in her mission to bring together the divided country.
A neat little package, Yamato Gensouki is a short but sweet story that sets up a classic tale of redemption, an interesting group of heroes, and will leave you wondering what happened next, wanting more. If you like shounen manga, it's right up your street, with the short format meaning there's fighting from the get-go, as well as some really cool powers to see. As his first major work, it's interesting to see how Yabuki's art has improved from here up to his most recent stuff, and also how some things about his style have remained relatively the same throughout his career. If you're already a Yabuki fan, Yamato Gensouki is well worth the read.
---
5. Mayoi Neko Overrun! (Stray Cats Overrun!)

Genre: Comedy, Harem, Ecchi
Volumes: 2
Published Date: January 2010 - November 2010
Living with his adoptive older sister Otome and working at her cafe, "Stray Cat", Takumi Tsuzuki is pretty set with his current life, even if his living room is full of stray cats. One day returning from one of her trips, Otome brings another stray cat back with her, or rather, a stray catgirl named Nozomi. Now a new member of the household, Nozomi is getting used to her new life, and getting quite close to Takumi. The issue now is that Takumi's childhood friend Fumino is not one bit happy about this new turn of events, you might even say she's jealous. But don't get the wrong idea, it's not like she likes him or anything.
Based on a light novel by the same name, Mayoi Neko Overrun has a fairly typical harem setting but is none the less a fun, short manga, helped largely by Yabuki's mastery over ecchi art. As Mayoi Neko Overrun, along with Futagami Double, appears to be have been a short project to tide him over between To LOVE-Ru and it's sequel Darkness, Mayoi Neko Overrun is sadly only two volumes long, but with each chapter positively brimming with fan service, and cute cat girls, regardless of its length, it's a series any ecchi fan should try out. And if you do enjoy it then you can check out the original light novel or even the anime adaptation as well!
---
4. Futagami☆Double

Genre: Shounen, Action, Ecchi
Volumes: One-Shot
Published Date: January 2010
A one shot created during To LOVE-Ru's hiatus, Futagami Double is a story about Sousuke Futagami, a high school boy with a crush on a girl in his class. Sousuke's friends and family start claiming to have seen Sousuke in various places when he was actually somewhere completely different, an unusual situation but nothing to worry too much about. That is until he sees meets his doppelganger himself. Fortunately, his crush Yuka Amane seems to know a thing about doppelgangers, or 'IDs' as she calls them.
Futagami Double feels like a taste of what you can expect from To LOVE-Ru Darkness, featuring some of Yabuki's best art in some wonderful ecchi shots, as well as some excellent action scenes. The man has a real way with water. The story sets up quite nicely and leaves us wanting more, as there is plenty of room for a continuation (that will likely never happen sadly)! Futagami Double's fighting reminds us of Yabuki's Black Cat style mix of magic and technology, combined with his more recent use of gratuitously angled shots. As it's only a one-shot there's not much more to say about Futagami Double, but if you like Yabuki's other series we think you'll definitely enjoy it!
---
3. To LOVE-Ru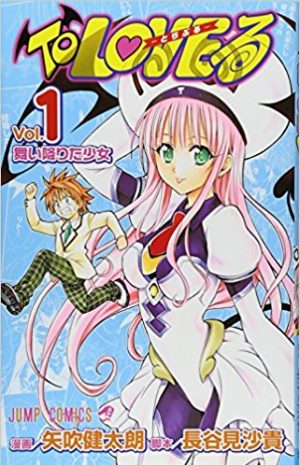 Genre: Ecchi, Comedy, Harem
Volumes: 18
Published Date: April 2006 - August 2009
An ordinary high school boy, Rito Yuuki spends his days being generally bored at school and watching his long time crush Haruna from afar. His life is shaken up though when Lala Deviluke, an alien princess, materializes in his bathtub. As it turns out, she's being chased, and being the gentleman that he is, Rito agrees to help her escape from her pursuers. Only it turns out the pursuers are her bodyguards, and actually just ran away from home because she doesn't want to marry any of her potential suitors. Deciding to marry Rito instead, Lala's father allows her to live with him on Earth, though Rito himself doesn't seem to get any say in this. So with an accidental alien squatter in his house, and a complete inability to confess to the girl he likes, Rito's life continues to become increasingly complicated.
To LOVE-Ru is, more than anything, a collection of amusing slice of life style stories, with an ecchi twist, as the key focus of the series is fan service. Compared to it's slightly more plot heavy sequel, To LOVE-Ru is incredibly light-hearted, and an excellent example of how to set up a harem without having the girls get jealous and annoyed with each other all the time. Although there are obviously two main girls in the series, Haruna and Lala, all the girls in the harem get their fair share of chapters, such that no one ever feels left out. The format of every one or two chapters being a self-contained story means that rather than having arcs, every character is always relevant throughout, which gives the series a nice flow. So if you want something light and easy to read, with plenty of stupid stories and fan service, we recommend trying out To LOVE-Ru.
---
2. Black Cat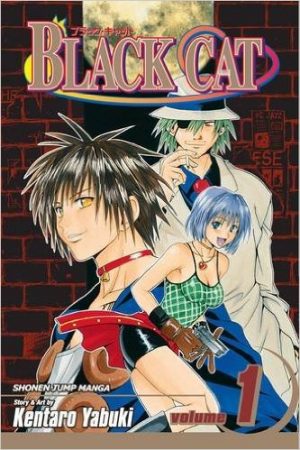 Genre: Shounen, Comedy, Action
Volumes: 20
Published Date: July 2000 - June 2004
Once a world-class assassin working for a secret organisation known as Chronos, Train Heartnet began mending his ways after an encounter with a kindly bounty hunter named Saya. Now a bounty hunter himself, or "Sweeper" as they are officially called, Train works alongside partner Sven Vollfied to capture criminals and do various other jobs. Often finding themselves facing financial difficulties, the two take on a questionable job from Rinslet Walker, a thief, which surprisingly ends in them acquiring a small girl named Eve to look after. But this girl, amongst other things, has gotten the two involved in much bigger plots, and it won't be long before Train finds himself facing his old employers once again.
Yabuki's best-known work that is both written by and illustrated by himself, as well as probably his best-known work outside of the ecchi fandom, Black Cat is a strong shounen series that doesn't drag on like some others do. One of the key points of the series is how Train has decided to go down the path of not killing people anymore and does a surprisingly good job of sticking to it without it getting annoying or implausible. Additionally, the main cast are a fairly ragtag bunch who logically should not be hanging out together, so the group dynamic is interesting and quite well thought out. Some of the characters in the series such as Eve and Kyouko were also used as inspiration for characters in To LOVE-Ru, so if you're a fan of that you may want to check out Black Cat to see some of Yabuki's original designs.
---
1. To LOVE-Ru Darkness

Genre: Ecchi, Romance, Harem
Volumes: 17
Published Date: October 2010 - Ongoing
The sequel to To LOVE-Ru, and possibly the best know ecchi manga currently in serialization, To LOVE-Ru Darkness, continues on directly from the last chapter of its prequel. Compared to the more slice-of-life, comedy style stories in To LOVE-Ru, Darkness takes a slightly more serious turn. Focused on the Deviluke sisters Momo and Nana, as well as Yami and a new character Mea, Darkness delves into the story of Yami's origins, as well as introducing Momo's "Harem Plan", with her hoping to turn Rito into a carnivore who will get with all the girls. Don't worry if you prefer the fun and silly stories, though, there's still plenty where that came from.
After resolving the issues involving his personal life and the original To LOVE-Ru series, To LOVE-Ru Darkess is Yabuki's new and improved To LOVE-Ru 2.0. Not only is there now some semblance of a plot, but there are several new characters to fill in any cute girl shaped holes that were still lying about. Perhaps most importantly, however, the series got a big art upgrade, with Yabuki taking the opportunity to create a more detailed version of his previous style during the series' hiatus. This is what's really boosted the ecchi quantity and quality of the series, from what was once simple fan service, to a series that pushes the boundaries of censorship. To LOVE-Ru Darkness feels like a series where the artist and author both had a second chance to fix anything that they weren't happy about in their current serialization, and they've both done a great job of it. If you liked the original To LOVE-Ru series or cute girls and fanservice in general, then the real question is, why aren't you already reading To LOVE-Ru Darkness?
---
Final Thoughts
With the final chapter of To LOVE-Ru Darkness approaching, it's certainly going to be interesting to see what Yabuki moves onto next. While many speculate the series will move onto another sequel with a different focus, it's impossible to know for sure just yet. While Yabuki has been focusing purely on his work as an artist for the entirety of the To LOVE-Ru series, he has demonstrated with Black Cat and his numerous shorts that he is more than a capable writer as well, so perhaps he has some new ideas of his own to put to paper.
So, are you a long time fan of Yabuki Kentarou or his works? Or did you just learn about him now? What do you think of his series? We're always interested to hear your thoughts at Honey's Anime, so why not leave us a comment down below!
---