También puedes leer este artículo en:Español
We've all at some point, dreamed of a world where machinery has advanced to the point where most humans can afford to control the cockpit of their favorite mecha. For the time being we thought it would be best to provide some of the best, out of this world mecha manga to enlighten you, and perhaps give you some reassurance that anything can be achieved. Mecha manga are full of wild adventures, incredibly advanced technology, and just an all out world of excitement that we just can't seem to get enough of. Whether it's battling intergalactic creatures to save the planet from ruin, or simply just owning a mecha of your own and soaring across the galaxy with it, there's a manga out there for just about anyone.
10. Deus x Machina

Mangaka: Karasuma, Wataru
Genres: Action, Drama, Ecchi, Fantasy, Mecha, Shounen
Volumes: 4
Published: May 2008 - October 2010
Machina is a young girl who works for the CWA, an organization out to stop the rogue robots known as Clockworkers from terrorizing the nation. The Clockworkers are mechanical weapons of destruction which were created during the war to annihilate anything in their path, and even though the war had subsided years prior, these war machines will stop at nothing to spread fear and death wherever them roam. Will Machina and her trusted partner Deus, her Clockworker partner, be able to put an end to all of this onslaught before it's too late?
Deus x Machina is a steampunk adventure ride full of thrills, blood, and pretty much everything you'd expect from an explosive mecha manga. Machina is cold, ruthless, and has no shame in her actions towards the Clockworkers who are creating nothing but turmoil for the nation. She comes prepared for any situation thrown at her, along with her partner Deus, who at times can be a bit of a weakling. Nevertheless this European ambient style manga is sure to wow anyone who picks it up because there's just so much going on all at once, that you'd need to go back a few pages to make sure you didn't miss out on anything.
---
9. Code Geass - Soubou no Oz

Mangaka: Toujou, Chika
Genres: Action, Drama, Ecchi, Mecha, Sci-Fi, Shounen, Supernatural
Volumes: 5
Published: April 2012 - July 2014
Code Geass - Soubou no Oz takes place between the first and second seasons of the popular anime, and focuses on two perspectives rather than one. There's a photo story known as Code Geass - Soubou no Oz SIDE that was published in the Hobby Japan magazine that places its attention on protagonist Orpheus Zevon, a young and determined terrorist who uses the notorious Knightmare Frame Byakuen, and is seeking out revenge on the one who brutally killed his lover. In the second half which had been published in Japan's Kadokawa Shouten Newtype Ace magazine, the story looks at a young girl named Oldrin Zevon who fights alongside Britannia's anti-terrorist unit, Glinda Knights, and pilots the powerful KMF Lancelot Grail. The fate of these two are about to cross in a chaotic battle for freedom and justice in this action packed mecha series.
Much of the story takes place in an alternate history and invites readers to a new plot that you can only find in this manga. For those who are die hard fans and want to know a little more about the Code Geass universe then Soubou no Oz is the right pick, along with it's sequel Soubou no Oz 02. It's kind of cool that they split the story into two magazines which encourages fans to go out and grab both copies, if they're truly serious about it. What's even more awesome is how everything is interconnected, so you get to know everything about Orpheus and his journey, and then Oldrin shortly after.
---
8. Knight's & Magic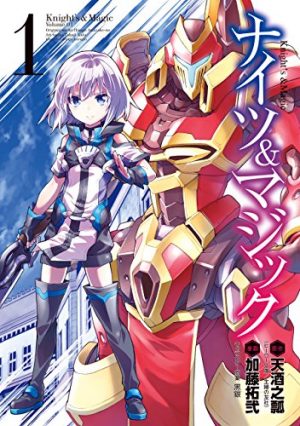 Mangaka: Amazaki no Hisago
Genres: Action, Adventure, Comedy, Drama, Fantasy, Mecha, Romance, School Life, Seinen
Volumes: 1
Published: April 2016 - Present
The story looks at a mecha otaku who gets reincarnated into a new world under the alias of Ernesti Echevalier, or Eru in short. In this massive unknown world, there exists an incredibly huge humanoid weapon known as the Silhouette Knight and now Eru, along with his childhood friends train together to pilot the Silhouette Knight under the name of Knight Runners.
Knights & Magic had planned to release an anime adaptation sometime back in September when things were announced, but unfortunately nothing had been released which was unfortunate seeing how intriguing the story sounds. Eru is an androgynous male protagonist who just loves all things mecha, and wants to live out his dream to pilot the legendary Silhouette Knight. Eru and his friends work extremely hard to make their dreams a reality, dealing with drama along the way and overcoming internal conflicts. It's a story that combines self growth and empowerment, with a ton of action to drive the reader into reading more of Eru's wonderful backstory and understanding the history behind the Silhouette Knight and it's existence.
---
7. Kidou Senshi Gundam 00F

Mangaka: Chiba, Tomohiro
Genres: Action, Drama, Mecha, Sci-Fi, Shounen
Volumes: 4
Published: October 2007 - May 2009
Kidou Senshi Gundam 00F is a side story of the original Gundam 00 series, which saw an anime adaptation released several years ago. In this story we look at Fon Spaak, a young and troubled soul whose past criminal history now forces him to servicing Fereshthe, using the GNY-004 Gundam as a way of showing his contribution to the force as a Meister Pilot. Working alongside Chall Acustica, an ex-veteran of Celestial Being, the two must overcome their differences in order to put a stop to the danger that looms in the horizon.
00F explains a lot of the story that perhaps was missed in many of the anime adaptations, notably its main story Gundam 00. The two heroes run into a heap of trouble when they're faced with constant warfare and adversity, and must now use their tact in order to stop everything. However, when they run into Team Trinity and are given strict warnings to hand over the GN-Drive, things start to take a sudden twist. It's what you'd expect from a Gundam series and 00F is nothing short of amazing, so if you'd like to get a deeper glimpse into the already deep world that's Gundam, then be sure to read Kidou Senshi Gundam 00F.
---
6. Front Mission: Dog Life & Dog Style

Mangaka: Ohtagaki, Yasuo
Genres: Action, Adventure, Mature, Mecha, Psychological, Sci-Fi, Seinen
Volumes: 10
Published: March 2007 - October 2012
Huffman Island was an island that had been created by an erupted volcano several decades ago, but due to political strife and conflict, the now one island is split between the USN(United States of New Continent) and OCU(Oceania Cooperative Union). For over 20 years, cease-fire had been at the forefront, but now everyone is living in turmoil as another major war may break out at any moment. Protagonist Matsuda Akira, must now team up with his colleagues and come face to face with the terror that's about to erupt and they'll have to cope with being in the middle of it all.
Perhaps not many will know of the video game, but hopefully the manga will shed some light on the series for those unfamiliar. Front Mission: Dog Life & Dog Style is a gory and tragic story that places Matsuda in the middle of a bloody battle between two opposing sides, and he has to survive at any cost in order to grab the best scoop. Civil disorder is most certainly the driving force behind this manga, which is quite akin to what's happening in real life without all the mechs of course. A journalist must risk his life with guns ablazing and mecha shooting anything that it can lock onto. In some way it shares somewhat of a Gundam-esque feel to the overall story, with two distraught nations trying to attack one another for supreme control. Totally worth the read if you're into psychological warfare and mecha.
---
5. Red Eyes

Mangaka: Shindo, Jun
Genres: Action, Drama, Mecha, Sci-Fi, Shounen
Volumes: 20
Published: December 2009 - Present
Grahad Mills, a devoted captain, had been betrayed by his entire force and is now under scrutiny after being framed for a conspiracy that he had nothing to do with. Without any aid on his side to get him out of this situation, he is sentenced to death. However on the morning of his execution, Grahad manages to flee from the scene. Hungry for revenge, Grahad tracks down his betrayer and former subordinate Captain Waldman, killing him instantly. Now with one man down, Grahad is on a new mission to seek out just why he was framed and must fight a battle that he created within using his mobile suit of armor.
The war isn't over in Grahad's mind and now he's out for blood and answers in this incredibly dramatic and fast paced action series. Many now know of Grahad as Genocide due to the whole conspiracy tied to his name, but he could care less about that because his only intent is to clear his name of the treachery and live in peace once again. It's all out battles in this one as Grahad is like this invincible main lead who can't be stopped, and tie it in with some over exaggerated fight scenes to bring it all together. Red Eyes surely matches the emotions you'll feel after reading through it all, because Grahad is out for blood and he'll mark anyone that stands in his way.
---
4. All You Need is Kill

Mangaka: Sakurazaka, Hiroshi | Takeuchi Ryousuke
Genres: Action, Mature, Mecha, Mystery, Psychological, Romance, Sci-Fi, Seinen
Volumes: 2
Published: January 2014 - May 2014
The world is in total disarray as a swarm of alien beings known as Mimics have invaded the Earth, and are on a mission to eradicate the entire human race. Keiji enrolls in the United Defense Force to ensure that the Mimics are stopped before anything can escalate. However on the day of his deployment to the field, his entire unit included himself are killed. He wakes up and questions himself whether it's all a dream but then discovers that every time he's killed, he's resurrected and returned to the exact day of battle. Now with a new mission on his mind, Keiji must now uncover just why this phenomenon is happening to him and how he can stop this vicious cycle from tormenting him.
All You Need is Kill reminds us of the Re:Zero series where the main protagonist also faces a similar fate where he's constantly resurrected after dying. The only major difference here is that there's just so much action and insanity taking place in this story that it'll be hard to put down. Keiji is given a second chance every time to alter time in some way but always finds himself drawing the short end of the straw. It's truly an exhilarating experience to read through because you're just never sure what will happen, and how Keiji will manage through this arduous ordeal. The plot gets better over time so be sure to finish it all to know how it all concludes!
---
3. Hoshi no Koe

Mangaka: Shinkai, Makoto
Genres: Drama, Mecha, Psychological, Romance, Sci-Fi, Seinen
Volumes: 1
Published: February 2004 - December 2004
Mikako will do just about anything for love, and so she decides to join a research team to uncover more behind the recent contact between man and alien. She decides to go out into space, leaving behind Noboru, the one man she's always loved. However as time passes on her journey, so too do the feelings that Noboru has for her, since the two are quite distant from one another and Noboru is getting older over time. In this romantic mecha drama, the story looks at Mikako, as she desperately tries to hold onto her only true love in a world full of tragedy and uncertainty.
Hoshi no Koe is a poignant tale of a young woman whose passion to explore the outer realms of her world, leads her down some dark paths and makes her realize just how important relationships are. Much of her time in space is secluded which leads to severe loneliness and a longing for someone to hold. This type of feeling is something we've all experienced as we move further away from the ones we love, to pursue the dreams we desire. As Mikako pilots her robot across the galaxy, her heart trembles as she feels Noboru's feelings waning as the years go by without seeing each other.
---
2. Five Star Stories

Mangaka: Nagano Mamoru
Genres: Action, Adventure, Drama, Fantasy, Mecha, Romance, Sci-Fi
Volumes: 13
Published: April 1986 - Present
The god of light, Amaterasu is trying to reunite the galaxy in hopes to restore harmony. A giant battle is ensuing between the Mortar Headds and their pilots who are up against female human like computers known as Fatimas. Through this thousand year between two opposing sides, Amaterasu is doing the best to ensure that this war is put to an end once and for all.
Five Star Stories is an all time mecha classic that spans back well over 30 years, and to this day is still highly regarded as one of the best mecha series ever created. With it's incredible attention to detail pertaining to mecha design, along with it's powerful story of tragedy and triumph, Five Star Stories takes the reader on a crazy galactic journey through time, as Amaterasu desperately tries to restore balance in the world. This is most certainly a space opera at its finest and we expect any fan of the mecha genre to hop on this one immediately, because you'd be missing out on a treasure trove of artistic beauty, and spectacular storytelling.
---
1. Neon Genesis Evangelion

Mangaka: Sadamoto, Yoshiyuki
Genres: Action, Drama, Mature, Mecha, Psychological, Sci-Fi, Shounen
Volumes: 14
Published: December 1994 - June 2013
Neon Genesis Evangelion really deserves no introduction because we all know real diamond when we see one. This story has everything going for it, from its diverse cast of awesome characters, to a story plot that will make any grown man cry, Neon Genesis Evangelion is your quintessential mecha masterpiece that incorporates every aspect that you'd expect there to be in a mecha series. Whether it's an intergalactic battle for freedom against the Angels, or cheering Shinji on in his endeavors to save planet Earth in the legendary Evangelion, this manga packs everything neatly inside a book which is a timeless classic.
We could go on and on about how popular this series has become, more notably, having its own flagship store in Ikebukuro for any die hard fan to check out, or how anytime you bring up any conversation of mecha Neon Genesis Evangelion is one of the first to be mentioned. Otaku or not, the series has stood the test of time to become of the world's most revered stories and will continue to inspire people who are fans of this action packed series for many more years to come.
---
Closing Statement
As stated earlier, you don't necessarily have to be an otaku to truly enjoy a work of art, let alone mecha. All you need is a strong interest in the genre and you're immediately grabbed by all of its intricacies, ranging from extreme detail on the mecha themselves, to the mind blowing stories that you'll encounter along the way. The mecha genre is one of the best out there for a reason, because it shows us that anything is possible and perhaps someday in our future, we too may just be able to ride in the cockpit ourselves.
As always, if you want to know about all the latest buzz straight from the bee's nest in Japan, be sure to keep it locked here at Honey's Anime.
---