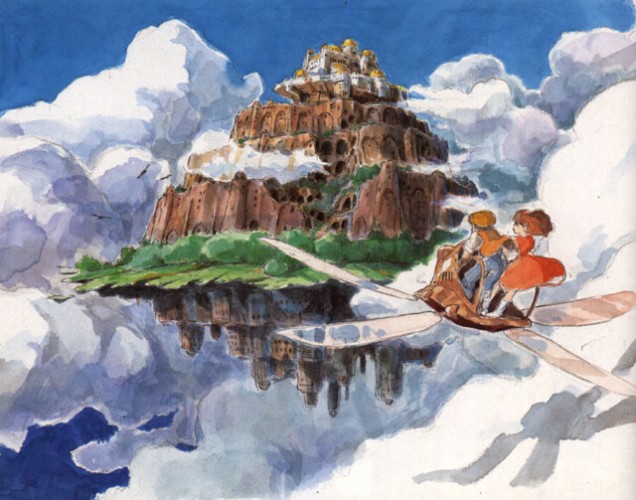 In the present day, castles are rightly regarded as national treasures in the countries lucky enough to have them, because they are relics of their rich cultural history. In anime, they fulfill a somewhat different function. Whether they serve as the home base for a clandestine organization hell-bent on preventing world destruction, belong to a reclusive sorcerer in a whimsical land, or are the setting for an over-the-top reality show, they serve as iconic backdrops for some of our favorite shows and characters. Here are our top ten favorite castles in anime.
10. Tartarus – Persona 3: The Movie

Episodes: Feature-length Film
Aired: Nov 2013
The town of Tatsumi isn't that much different from your typical Japanese city. It's a relatively high-tech town on the outskirts of Tokyo. There's a shopping center near the station where all the kids from Gekkoukan High School go to unwind after a stressful day at school, and plenty of plucky youngsters to keep things interesting. But when the clock strikes midnight, the school transforms into a nightmarish castle tower, Tartarus, filled with powerful demons called Shadows, where acing the next exam is the least of anyone's worries.
It makes sense that Tartarus would be home to blood-thirsty demons, since its name is derived from a Greek myth, where it was the place both Titans and the wicked were sent to be punished. Its height is unknown and its floors are constantly shifting, but Yuki Makoto and fellow SEES members are willing to fight their way to the top using the power of their spirits, Persona, to get to the bottom of the tower's sinister nature.
---
9. Hellsing Manor - Hellsing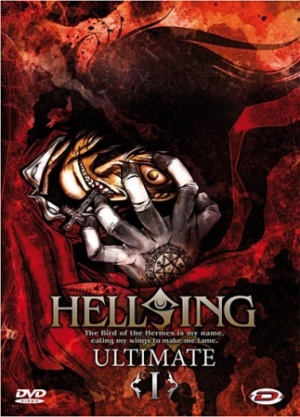 Episodes: 13
Aired: October 2001 – January 2002
The Hellsing Organization is an ancient order of Protestant knights named after the legendary vampire hunter, Abraham Van Hellsing. Based in England in a near-future alternate version of Earth, if there's one thing the Hellsing Organization hates it's vampires. And if there's one thing other than vampires that it hates, it's Nazis. Unfortunately for them, they've got a significant number of both to deal with.
On the other hand, they're more than equipped to handle them, not only with their high tech artillery, but with their otherworldly ace-in-the-hole, Alucard. He's the OG vampire who swore allegiance to the organization after being defeated by Van Hellsing a century earlier, and he's as loyal as he is deadly.
Of course, every secret organization is only as good as their headquarters, and Hellsing Manor is a castle worthy of any reclusive count. Placed in the idyllic British countryside with ample room to house an army on a crusade to rid the world of blood suckers, its fortified position and defensive artillery make it the perfect last bastion of humanity.
---
8. Hiryuu Castle – Akatsuki no Yona

Episodes: 24
Aired: October 2014 – March 2015
Hiryuu Castle is the heart of the Kouka Kingdom, in the capital city Kuuto. It stands in stark contrast from the rest of the city, atop a small mountain with a towering pagoda from which the ruling family can overlook their domain. Because of its strategic position and strong foundation, it's easily defendable from would-be invaders from neighboring countries.
Unfortunately, even the most impregnable fortress isn't immune to a threat from within. When King II is murdered by the cunning and charming Soo-won, and the rightful heir to the throne, Yona, is forced to flee for her life, it changes the course of their lives forever. Yona possesses a mysterious power due to her divine bloodline, and with her faithful bodyguard Hak, she sets out on a quest to reclaim her rightful place as Kouka's ruler.
---
7. Cagliostro - Lupin the 3rd: The Castle of Cagliostro

Episodes: Feature-length Film
Aired: 1979
The Grand Duchy of Cagliostro is an exotic locale with a checkered history of shady goings on. When master thief and world-class criminal Lupin makes off with a heist from a casino in Monaco and discovers the counterfeit nature of his haul, he and his trusty sidekick Jigen decide to get the bottom of it by taking a trip to Cagliostro, where the bills are from, and a priceless treasure is supposedly hidden.
Enter a damsel in distress pursued by ruthless assassins, who just so happens to be the rightful heir to Cagliostro's throne, princess Clarisse, and arranged to be married to the insidious Count. If he comes into possession of both rings he'll be able to use the secrets hidden in grandly constructed Cagliostro castle to discover the treasure, and he isn't satisfied with simply waiting for nuptials. If anyone can save the girl, save the day, and do it all without getting arrested, it's Lupin. Like any great castle, Hayao Miyazaki's beautiful animation holds up to the test of time, and exudes excitement and charm.
---
6. Einzberg Castle - Fate/stay night: Unlimited Blade Works

Episodes: 12
Aired: Oct 12, 2014 to Dec 28, 2014
On the outskirts of Fuyuki City lies Einzberg Castle, a classic piece of Germanic architecture befitting Ilya, an angelic aristocrat with nearly unsurpassed magical abilities who enters the fifth Holy Grail War. Like her home, her family legacy is checkered with intrigue and sadness. She lives in solitude with her servant, and loyal maids, while honing her powerful abilities on the extensive castle grounds. Unlike many other entries on the list, this castle is made for luxury rather than defense, and it shows.
The world of Fate/Stay Night is a complicated one to try to explain. Just know that it's set in a world where magical warriors compete in the Holy Grail War, where the winner is granted their deepest wishes. The themes of the show are more complicated than the premise, as it's often more about conquering oneself, as much as it is your opponent. In attempting to win the Holy Grail War, she encounters Shiro, and explores her bitter connection with him on and off the field of battle. If a staggeringly constructed lore and flashy combat are in your wheelhouse, you have to check it out.
---
5. Sengoku-Era Castles – Sengoku Basara: Samurai Kings

Episodes: 24
Aired: April 2009 – September 2010
It may seem like a cop-out not to choose, but the multitude of castles featured in the epic series based off of Japan's warring states period made it too difficult. Whether you live in the country or not, seeing the battles that took place at national landmarks like Odawara castle or Ueda castle is a treat, especially when it is accompanied by the dramatic rise of heroes that would become a part of the country's cultural legacy. Although most of Japan's castles were built in similar styles, they all have unique aspects that set them apart, while blending beautiful aesthetic with deadly purpose.
For those not in the know, Sengoku Basara tells the story of the bloodshed between powerful warlords trying to consolidate disparate provinces into a unified country. Although the show has deep historical roots, because of the liberties it takes, it's definitely not nearly as boring as history class. Sanada Yukimura and Date Masamune's quest to stop the evil Demon King Oda Nobunaga is perfect for fans of anime, history, or the video games used as the source material.
---
4. Laputa – Laputa: Castle in the Sky

Episodes: Feature-length Film
Aired: August 1986
Another internationally-renowned film from the master, Hayao Miyazaki, Laputa: Castle in the Sky takes place in a world where humanity mastered the skies like never before, and built beautiful flying cities that were eventually destroyed in a terrifying cataclysm. With humanity grounded, only one remains, shrouded in a mysterious thunderstorm: Laputa.
The film tells the tale of Sheeta, a girl with a mysterious past pursued by rogues, and her chance encounter with a small-town boy named Pazu. The animation, heart-warming characters, and edge of your seat story helped cement Studio Ghibli as the fan-favorite studio the world over. Laputa itself is as much a character as Sheeta and Pazu, whether it's the overgrown ruins with a dangerous air, or the scientific wonderland preserved to the present day. Like other films from the studio, it is simply not to be missed.
---
3. Sakurada Family Castle – Castle Town Dandelion

Episodes: 12
Aired: July 2015 – September 2015
Although the title of the series might be a bit of a misnomer in its anime adaptation, the castle in Castle Town Dandelion is less of a presence than it is a symbol. It's fantastical architecture and towering spires are indicative of the royal family that acts as the main cast of characters. The royal family, besides the king and queen, consists of nine children, all living in a rather mundane looking house in a town wired with over 2000 security cameras to help keep the royal heirs as safe as possible.
If the conceit of an anime version of The Truman Show isn't enough to hook you, it's worth mentioning that what sets this slice-of-life show apart from the pack is the fact that each of the king's children has unique superpowers, which drives the ratings on their live-broadcasts through the roof. Main character Akane has a strong sense of justice but doesn't like to be in the limelight, so she creates a superhero persona that becomes the talk of the town. A somewhat meta series that is not to be missed.
---
2. Ecbatana - The Heroic Legend of Arslan

Episodes: 25
Aired: April 2015 – September 2015
Ecbatana is the capital city of the prosperous Kingdom of Pars, centered on important trade routes, and tragically built on the backs of slaves. The castle at the heart of the city sits high on a hilltop, for easy defense, and is architecturally reminiscent of medieval and Middle Eastern architecture, with sweeping parapets and a grand golden dome.
When Andragoras the 3rd falls victim to a sinister plot carried out by some of his most trusted advisors, it forces his son Arslan to flee his rightful home, and sets him on a harrowing adventure for survival. The Heroic Legend of Arslan is a show that has plenty to offer fans of multiple genres, because of its fantastical, magical setting, it's memorable cast of companions and villains, and its thoughtful exploration of the nature of war and of justice.
---
1. Howl's Moving Castle

Episodes: Feature-length Film
Aired: September 2004
Proving that Studio Ghibli has as much love for castles as we do, Hayao Miyazaki international release found him in fine form. Set in a magical world where a gentle young hatter named Sophie runs afoul of a cruel witch, Sophie finds herself on the run from evil magical minions after being on the business end of a curse that transformed her into a crone. It's only the timely intervention of the mysterious and reclusive sorcerer, Howl, and subsequent trip to the film's titular castle, that allows Sophie to escape and set about finding a way to break the curse.
Howl's Castle is a true marvel to behold. A steampunk nightmare mix of industrial architecture and Miyazaki's whimsical charm, the sheer scope of it stumbling across the landscape is one of anime's most iconic images. The seemingly endless corridors, filled with trickster spirits, mysterious knickknacks, and more magic than you can shake a wand out make the castle as much a character as the rest of the cast, and create an unforgettable viewing experience.
---
With that, our list of castles comes to an end. Are there any castles in your favorite shows that you'd sell your kingdom to live in? Sound off in the comments and let us know!