También puedes leer este artículo en:Español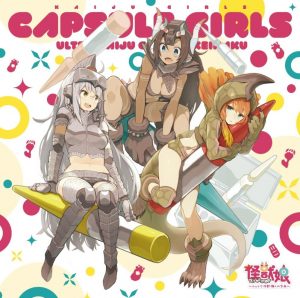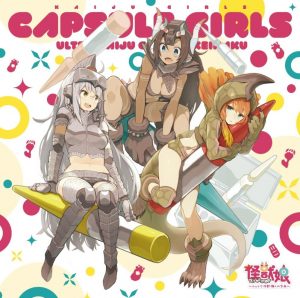 Kaijuu Girls: Ultraman Kaijuu Personification Project

Genre:
Slice of Life, Comedy
---
Airing Date:
September 27 2016
---
Honey's Highlights
Did I hear monster girls? Does this mean I can expect another ecchi harem anime like Monster Musume?
Sucks to be you, Bee-kun, these monster girls are a bit more chibi and a lot more covered up than what you're expecting!
So wait... What is it then? Slice of life? Comedy? So, it's basically like Onigiri and Ragnastrike Angels?
You never know, it could turn out like the Ultraman spinoff version of Teekyuu! All the original character designers are from either Nitroplus or freelance pixiv illustrators, so look forward to meeting lots of cute and characteristic girls!
Synopsis
The monsters defeated by Ultraman have come back as human girls!
After a long battle against monsters, humanity has finally entered an era of peace. It is in this era that on Earth, girls have been born with the souls of monsters. These girls, who posses the ability to transform into monsters, are known as Unidentified Mysterious Girls - Kaijuu Girls.
This is the light-hearted tale of the strong, ephemeral and beautiful Kaijuu Girls, who shoulder an unfortunate fate.
Characters & Voice Actors List
Agira (Aki Miyashita)

Voice Actor: Riho Iida
---
Quiet and plain, she dislikes standing out. A typical modern-day teenage girl with no hobbies or interests. She's bothered by the fact that she has a mean-looking face and always looks like she's falling asleep.
Miclas (Miku Ushimaru)

Voice Actor: Aina Suzuki
---
An ultra-healthy girl who's never caught a cold in her life. A so-called muscle head who acts before she thinks. A fan of Daikaijuu Fight, a sport where Kaijuu Girls fight each other.
Windom (Reika Shirogane)

Voice Actor: Yurika Endou
---
Serious about everything with a strong thirst for knowledge. She's actually a hardcore otaku and fujoshi, the type who supports her favourite works and characters with all her heart.
Pigmon

Voice Actor: Sora Tokui
---
Pigmon functions as a sort of leader to the GIRLS while also being somewhat of an idol at the same time. Regardless of whomever her partner is, she tends to do things at her own pace and her smile never fades. However, if it ever does disappear, she pulls a great power from deep within her.
Other Title
Kaijuu Girls: Ultra Kaijuu Gijinka Keikaku
Theme Songs

Opening Song: Joujou↑↑GAO!! by Aki Miyashita, Miku Ushimaru, Reika Shirogane
Ending Song: KAIJU Heart by Aki Miyashita, Miku Ushimaru, Reika Shirogane

Adaptation

Original


Main Staff

Original Creator: Tsuburaya production
Director: Minoru Ashina
Sound Director: Junichi Inaba
Original Illustrator: Nekosuke Ookuma, Yuuji Tani, CHOCO, Jirou Tomioka, ATK Namaniku, Masshigura Nekokan, Bakutendou, minao
Music: Yasuharu Takanashi (Team MAX)
(Credit Honey's Anime when you use our description.)