What You Need to Know:
About a couple weeks ago, we brought you some exclusive hands-on impressions about Utano☆Princesama Shining Live, and now we're proud to announce that it's officially available NOW on the App Store and Google Play!
The global version comes equipped with everything from the Japanese version but also has been localized in traditional Chinese. Special login bonuses and exclusive missions are only available for a limited time. Players are encouraged to take advantage of these special offers before the performance ends!
Utano☆Princesama Shining Live features 11 idols from the groups ST☆RISH and QUARTET NIGHT. Players can set their favorite idol to appear on their home screen and tap him to see his various reactions and watch his affection go up, as well as form personalized teams to play songs in a rhythm game. To know more about Utano☆Princesama Shining Live's gameplay, be sure to check out our impressions article! Scroll down below to learn more about the Commemorative Release Event Series and how to take advantage of all the goodies!
Source: Official Press Release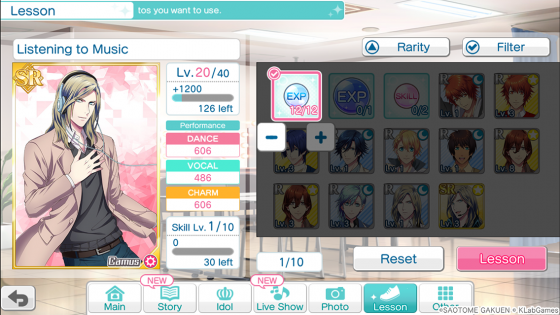 * The global version of the game is available worldwide except for Japan and Mainland China. For more information on the Mainland China version (available in Simplified Chinese), please see the official site.
Commemorative Release Event Series
Log in Now to Receive Pre-Launch Mission Rewards
The Opening Act Social Media Campaign for the game launched on January 10 (UTC+9), building anticipation among UtaPri and otome fans around the world for the global release of Utano☆Princesama Shining Live. As a reward for the fan community for being so supportive and to celebrate the release of the game, all players will receive a special ticket that guarantees them the UR pop star of their choice. Additionally, all players will also receive 300 Prisms as a thank-you to the entire fan community for all of their support leading up to the game's release.
Clear the Beginner Missions to Receive Additional Prisms
Players who clear the Beginner Missions inside the game will receive an additional gift of 300 Prisms. All of the missions must be cleared in order to receive this prize.
Stock up on Prisms with the Starting Celebration Special Login Bonus
This exclusive login bonus allows players to receive 15 bonus Prisms every day simply by logging in for the first 14 days after starting the game. Players are encouraged to log in for all 14 days in order to get a sparkling total of 210 Prisms completely for free!
Official Trailer
Utano☆Princesama Shining Live Available Now!

---
I can't believe it, it's finally here!! YES! YES! No more lonely nights!
Nobody goes near my man Ren! I swear I'll hunt you down if you get close!
---