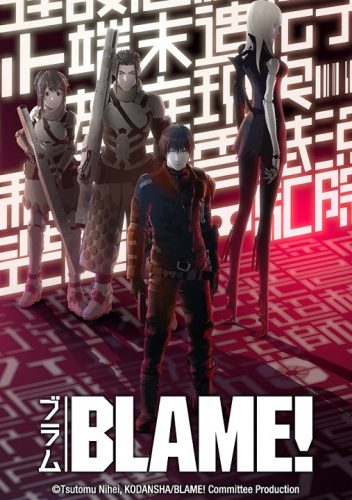 What You Need to Know:
Big news has arrived out of the VIZ Media HQ as they announced the acquisition of the North American home video and product licensing rights to the celebrated film, BLAME! at New York Comic Con.
VIZ Media will release BLAME! as Blu-ray and DVD Editions, featuring an Art Gallery, and a Blu-ray exclusive "Making of BLAME!" documentary. The film was directed by Hiroyuki Seshita, who also brought the world the complex, sci-fi action of Knights of Sidonia and Ajin: Demi-Human. BLAME! debuted on NETFLIX this past May.
BLAME! was originally serialized as a manga series in Kodansha's Afternoon magazine from 1997 to 2003. It was the debut work of creator Tsutomu Nihei, who went on to win the 39th Kodansha Manga Award for his series, Knights of Sidonia. Nihei is also known for his work on the sci-fi manga series, BIOMEGA (which is published in English by VIZ Media).
Source: Official Press Release
Story Summary
In BLAME!, an "infection" in the past has caused automated systems to spiral out of order, resulting in a multi-leveled city structure that replicates itself infinitely in all directions. Now humanity has lost access to the city's controls, and is hunted down and purged by the defense system known as the Safeguard. In a tiny corner of the city, a little enclave known as the Electro-Fishers is facing eventual extinction, trapped between the threat of the Safeguard and dwindling food supplies. A girl named Zuru goes on a journey to find food for her village, only to inadvertently cause doom when an observation tower senses her and summons a Safeguard pack to eliminate the threat. With her companions dead and all escape routes blocked, the only thing that can save her now is the sudden arrival of Killy the Wanderer, on his quest for the Net Terminal Genes, the key to restoring order to the world.
---
I've never had a chance to wath BLAME! so now may be my opportunity!
To be honest this is my first time hearing about it!
---