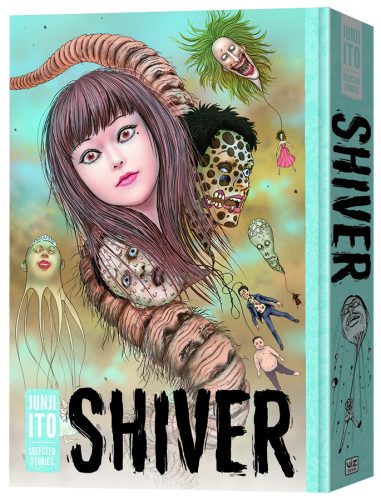 What You Need to Know:
VIZ Media concludes 2017 with a mid-month digital manga update for December featuring special holiday pricing on an annual subscription to WEEKLY SHOUNEN JUMP.
The second half of December is highlighted by the digital debut of SHIVER: JUNJI ITO SELECTED STORIES, a frightening anthology of spine tingling stories from the undisputed master of horror manga. The latest volumes of several other continuing acclaimed series such as GOLDEN KAMUY (Vol. 3), SWEET BLUE FLOWERS (Vol. 2) and TOKYO GHOUL: RE (Vol. 2) are also among the new digital releases readers won't want to miss.
Most manga volumes are available for purchase and download in the U.S. and Canada within the VIZ Manga application starting from only $4.99 (U.S. / CAN) each. Readers can also explore free Chapter 1 previews of most series. New series and volumes are added every Tuesday. Fans can also find these titles and more for the NOOK, Kindle Fire, and Kobo eReaders, as well as in the comiXology, iBooks and Google Play stores.Check out all the details below!
Source: Official Press Release
December Digital Manga Promotion
Shounen Jump Digital Manga Sale
Celebrate the holidays with two fan-favorite manga series from VIZ Media's Shonen Jump imprint. All ONE PIECE and HUNTER X HUNTER volumes will be on sale for only $4.99 each. Available through December 25th across all digital platforms.
WEEKLY SHOUNEN JUMP Updates
Holiday Annual Subscription Sale
Take part in special holiday pricing on an annual subscription to the world's most popular weekly manga magazine for only $19.99. The special WEEKLY SHOUNEN JUMP sale is available for a limited time only from December 15th to January 15th.
WEEKLY SHOUNEN JUMP members receive 48 weekly digital issues throughout the year as well as special premiums such as Yu-Gi-Oh! Trading Cards, digital-only promotions, and access to subscriber-only content.
Free chapters are available for the following series:
BORUTO: NARUTO NEXT GENERATIONS
DRAGON BALL SUPER
JUNI TAISEN: ZODIAC WAR (manga)
MY HERO ACADEMIA
MY HERO ACADEMIA: VIGILANTES
TOKYO GHOUL: RE
And More!
---
Keep all of this great news coming VIZ! I love it!
All of these digital manga, all mine!!
---