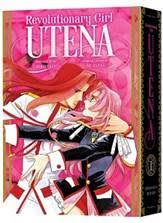 What You Need to Know:
Significant graphic novel news today as VIZ Media announces the debut of the Revolutionary Girl Utena manga Box Set on April 11th.
The renowned series, created by Be-PaPas and featuring story and artwork by Chiho Saito, returns in a deluxe set that includes all of Revolutionary Girl Utena and The Adolecense of Utena, collected into two hardcover volumes.
The series is renowned for its beautiful artwork and imaginative storytelling in its depiction of female empowerment and LGBT themes.
Utena strives to be strong and noble like the childhood prince she yearns to meet again. But when she finds herself seduced into the twisted duels of Ohtori Academy, can she become the prince she's been waiting for?
Source: Official VIZ Media Press Release
---
Sounds like a very empowering story indeed. These types of stories are ones that can truly change your perspective on things.
We need more manga like this, ones that help more people understand that we're all just human and we can live amongst eachother equally.
---