Having recently made her directorial debut with Sayonara no Asa ni Yakusoku no Hana wo Kazarou (Maquia: When the Promised Flower Blooms), delinquent turned screenwriter turned director Mari Okada has been making big waves in the anime world for quite some time now. In this article, we'll be covering her rise to prominence as one of the most notable (and controversial) writers in anime, famous titles she's worked on, and what makes her signature style of storytelling compelling to so many.
Early Days

Growing up in the rural town of Chichibu, Mari Okada had a troubled childhood marked by frequent absence from school, as detailed in her recently released autobiography, From Truant to Anime Screenwriter: My Path to anohana and The Anthem of the Heart. Despite rarely leaving her room after late elementary school, Okada managed to enroll and graduate high school by exchanging essays with an understanding teacher. Eager to find "the world outside", she moved to Tokyo to attend a vocational school to become a writer for video games. While her initial focus was on games, she branched out significantly in her early career, writing direct-to-video movies, radio and CD dramas, magazine and internet articles, manga, and even pornography.
Intro to Anime

Okada's first foray into anime was the 1998 mecha series DT Eightron where she was first hired as a typist and editor working on series composer Hideki Kakinuma's scripts. Seeing her skill, director Tetsuro Amino invited her to submit some ideas for the show as a test. Evidently pleased with her results, Okada would go onto to write five of a twenty-six episode series. After a break from anime, her first full credit as a scriptwriter in the industry would be for obscure romantic comedy harem anime Otogi Story Tenshi no Shippo (Angel Tales) in 2001.
The connections she made from working on DT Eightron, Otogi Story Tenshi no Shippo, and later Crush Gear Nitro and Diamond Daydreams with people like Amino, Ryouta Yamaguchi, Jukki Hanada, and Kazuhiro Oichi would propel Okada's career to focus on anime, leading to more work with series like PoPoLoCrois, Rozen Maiden, Kyou kara Maou!, and Hamtaro.
Mid-career

While working on Kyou kara Maou!, Okada formed a strong working relationship with director/scriptwriter Junji Nishimura who had previously worked on Diamond Daydreams with her. In different capacities, the two would collaborate on a great number of series like Simoun, CANAAN, True Tears, Hanasaku Iroha, as well as AKB0048, Lupin the Third: The Woman Called Fujiko Mine, and Nagi no Asukara later in her career.
In this mid-career period, Okada's signature style of emotional, dramatic writing would become more noticeable, and her reputation was starting to grow within the anime community thanks to her work on popular series like Black Butler and Toradora! However, her real breakthrough into notoriety wouldn't be until her most famous writing credit, Anohana.
Anohana & The Modern Era

Toradora! would bring together Okada and director Tatsuyuki Nagai, who would become one of Okada's greatest creative partners as well as a personal friend. As writer and director, the duo would produce Okada's most famous work, Ano Hi Mita Hana no Namae wo Bokutachi wa Mada Shiranai. (Anohana: The Flower We Saw That Day), to great acclaim. This touching story of a delinquent's supernatural encounter with an old friend and he and his old friends' coming to grips with her loss made Okada's name a big one in the anime world and felt very personal to her.
Setting the series in her own hometown of Chichibu, Saitama was a complicated decision for her, but one she accepted in the end. The same team would follow up Anohana with Kokoro ga Sakebitagatterunda.(Anthem of the Heart). While not a direct sequel, the film further cemented Okada's narrative style and was also set in the same location.
In the time leading up to now, Okada remained quite active in anime, working on many titles like Kiznaiver, Black Rock Shooter, The Pet Girl of Sakurasou, WIXOSS, and the previously mentioned Nagi no Asukara and AKB0048. Okada would also see a return to her mecha roots with Aquarion Evol and, most notably, Mobile Suit Gundam: Iron-Blooded Orphans, another collaboration with director Nagai.
Making her debut as a director this year with the critically-acclaimed fantasy drama Sayonara no Asa ni Yakusoku no Hana wo Kazarou (Maquia: When the Promised Flower Blooms), she continues to grow and innovate as an anime creator.
---
Final Thoughts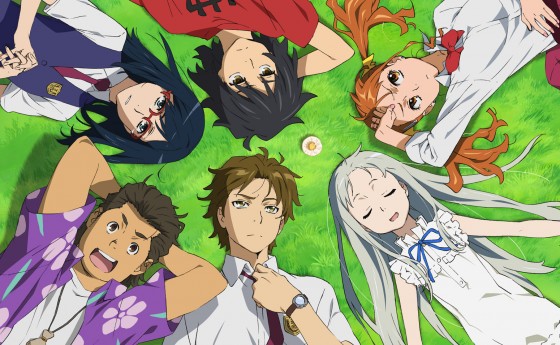 As one of the most notable writers in anime, an industry where screenwriters don't often get much attention, Mari Okada's journey from shut-in to celebrated director is nothing short of inspirational. While her dramatic and emotional style of storytelling doesn't always hit home for everyone, she remains a creator worthy of much respect. We at Honey's are excited to see what the future holds for her after Maquia!
We hope you enjoyed this overview of Mari Okada's life and career. Please let us know what her work means to you, or anything else you'd like to add, in the comments below!
---