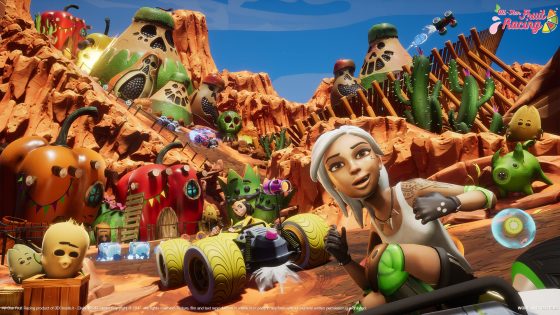 What You Need to Know:
All-Star Fruit Racing, a brand new fruity and fun kart racer has released on Steam for Windows PC! Developed by Italian indie studio 3DClouds, All-Star Fruit Racing is an easy to grasp, but hard to master multiplayer kart racer with vibrant visuals and a surprising strategic twist! Players can use "The Juicer," a liquidizer attached to their karts, to fuel four tanks to unleash a devastating "Mega Juice" power up.
Packed with a roster of 22 fully customizable characters, 21 challenging tracks over five diverse and gorgeous seasonally-inspired islands, and a multitude of competitive modes, All-Star Fruit Racing will quench your kart racing thirst on PC!
Five islands play host to 21 different tracks to ensure players have plenty of challenges to take on as they fight to be the juiciest racer on track. The first two islands, Winter and Summer, are available for play starting today. Another two islands will be unlocked while playing the game; the last island will be released in the coming months. All-Star Fruit Racing is available on Steam Early Access now for $14.99. The full game will be available for $19.99 later this fall.
Source: Official Press Release
Screenshots
Official Trailer
All-Star Fruit Racing (Trailer Full Version) - Early Access Announcement

---
My kart racing brethren, let us gear up for another action packed thrill ride!
I'm always down for some competition!
---