House of Hells
Mangaka : Shirai, Kaiu
Publisher : Shonen Jump
Genre : Mystery, Horror, Sci-Fi, Shounen
Published : April 26, 2019
Discussion Time
Grave Field House was scary before, but now...now it's a literal hell. Chapter 133 of Yakusoku no Neverland has Emma and Ray entering the house to quickly discover it's not a normal clone of their childhood home but a twisted version straight from a waking nightmare. While the two explored, they are quickly separated and forced to endure nightmarish illusions like them becoming young again and being attacked by strange doll-like beasts. With Emma's resilience and Ray's quick moves, the two are reunited and learn this place is indeed the way they need to go. However, for them to reach the true mastermind of the demon world, they must enter what looks like an underground bunker and who knows what awaits down there. Chapter 133 was pretty horrific, truly making good use of Yakusoku no Neverland's horror genre. Let's point out our favorite moments and you can let us know if you agree or not.
Why You Should Read Yakusoku no Neverland (The Promised Neverland) Chapter 133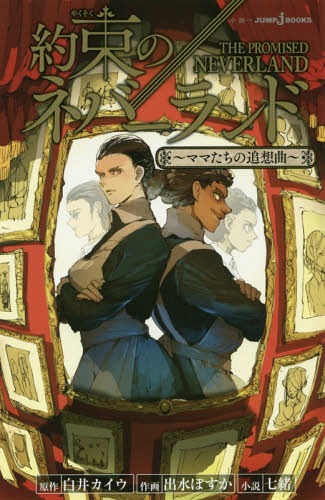 1. Not The House They Knew
While Grace Field House was pretty bad—and that is being extremely generous—this place is a true house of horrors. We loved watching the panels make good use of the twisted powers of this reality as the halls bent in various ways and normal looking stuffed animals became creatures of true terror. There have been some creepy chapters of Yakusoku no Neverland, but chapter 133 easily was one of the scariest of the series.
2. Unstoppable Duo
The biggest take away from chapter 133—and something that we kind of knew all along—is that Emma and Ray are a force to be reckoned with. Even against a power unknown to them, both of our kids fought through their terror and somehow survived their first big challenge. If that was us ending up as kids, losing our weapons and being bombarded with strange stuffed animals…we'd be crying and praying we'd wake up as our ends awaited us. While we worry about the next few chapters as more horrors await them, we equally know the two will be able to triumph as long as they believe in their own skills and each other!
---
Final Thoughts
As far as horror goes, chapter 133 of Yakusoku no Neverland had it down without missing a beat! We loved how creepy the chapter was and loved the genuine terror we felt as Emma and Ray fought through a literal nightmare become reality. Though we now have on more blazing question on our minds. What will be the next fearful event awaiting them? We can only imagine, but that might keep us up at night and we need our beauty sleep. What are your thoughts on chapter 133 of Yakusoku no Neverland? Let us know in the comments below and for all Yakusoku no Neverland chapter reviews, be sure to keep stuck to us here at Honey's Anime!