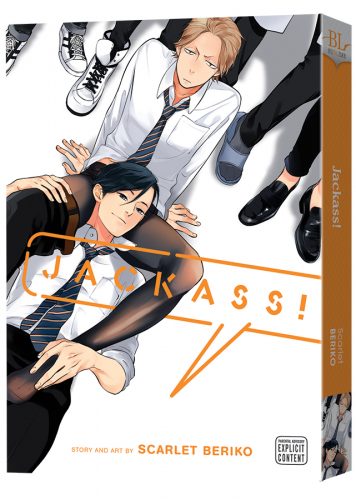 What You Need to Know:
SuBLime, the leading global English-language yaoi manga publisher, has announced the English-language debut of creator Scarlet Beriko's JACKASS! which drops on October 10th.
JACKASS! is rated 'M' for Mature Readers and will be available as a single-volume release in both print and digital formats. Print editions will carry an MSRP of $12.99 U.S. / $17.99 CAN each. The digital versions will carry an MSRP of $6.99 U.S. Readers have two methods of digital access to the volume on SuBLimeManga.com – via a DRM-free downloadable PDF, viewable on any enabled eReader device and computer, as well as via the online manga viewer. Readers can also purchase a digital version through the NOOK, Kindle and Kobo eReaders as well as on Google Play.
In JACKASS!, practical Keisuke's incredibly handsome best friend Masayuki has always rubbed him just a little bit the wrong way. Maybe it's because Masayuki is rich, carefree, and so stunningly handsome that he can, and does, have any girl he wants. But one day, when Keisuke accidentally wears his older sister's panty hose to gym class, it's suddenly his hot friend who's doing the rubbing…on Keisuke's panty hose-clad legs! Has he unwittingly unleashed a secret fetish that will change their relationship forever?
Source: Official Press Release
---
BL fans and Yaoi fans will surely fall in love with this one.
I do like the cover image, simple and appealing. I hope there's more appeal inside if you know what I mean
---