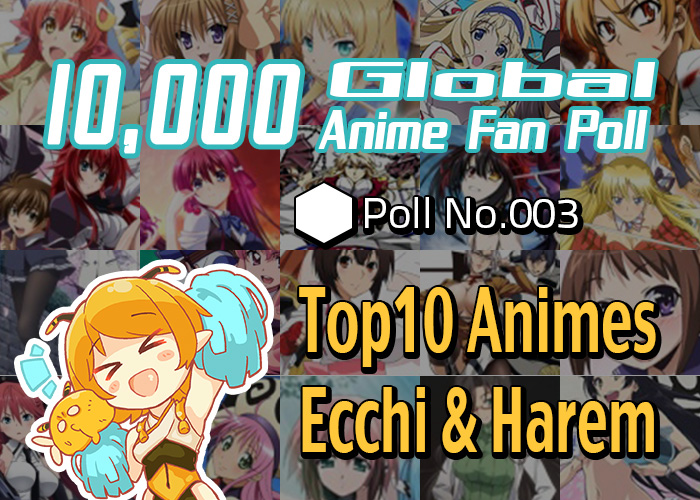 Wow, this was probably our most popular fan poll yet! I guess people love their ecchi!
You voted in it, so I guess that includes you, huh?
Y-You don't know that! I just voted for an anime I thought was funny!
Right, sure... Well let's get onto the results, shall we?
Uh, yeah! I wonder if my choice won!
---
Top20 - Top11
---
18. Kore wa Zombie Desu ka? (Is This a Zombie?) [Tied]
This anime made me wish I was a zombie, the girls obviously want to get with the protagonist.
chainsaws and harems.
18. Sora no Otoshimono (Heaven's Lost Property) [Tied]
17. Zero no Tsukaima (The Familiar of Zero)
WoW, who does'nt like master and servant romance. Plus a lot of girls having a thing for you. This anime is packed of action and romance,harem with ecchi scenes but with a tsundere type girl.
15. Highschool of the Dead [Tied]
The action and ecchiness in this anime just work to good.
zombie + harem, must watch
Well made anime show
15. Isuca [Tied]
I like the romance and supernatural feel to this anime.
14. Sekirei
If ecchi had some innocence in itbetween the girl and the boy, Sekirei is it. Lol
13. To LOVE-Ru
Revolutionized the world of harem and ecchi
The way they do the ecchi things is too sexy and they are so cute moe,it is the best ecchi sexy anime without a doubt
yami and other girls are sexy
11. Freezing [Tied]
Crazy chichs ripping each others clothes off, deserves to be on this list!
11. Shinmai Maou no Testament (The Testament of Sister New Devil) [Tied]
Love the action and the ecchi-ness in this series. I think it's the best and is getting better with the new season out!
---
Top10 - Top6
---
9. Grisaia no Kajitsu (Le Fruit de la Grisaia) [Tied]
Comments
9. IS: Infinite Stratos [Tied]
Comments
I like the romance in this anime.
8. Okusama ga Seitokaichou! (My Wife is the Student Council President)
Comments
Seriously just tits and has a little bit of a harem aspect to it.
7. Monster Musume no Iru Nichijou (Everyday Life with Monster Girls)
Comments
It was all around enjoyable, funny jokes, lots of girls, and memorable characters.
6. Date A Live
Comments
Lot's of beautiful girls who I would love for them to be around me like Shidou!
---
Top5 - Top1
---
4. Shimoneta to Iu Gainen ga Sonzai Shinai Taikutsu na Sekai (SHIMONETA: A Boring World Where the Concept of Dirty Jokes) [Tied]
Comments
Almost Hentai
Freaking funny and great! The sexual gestures throughout the series was so funny!
Just finished with this one, and if you like ecchi things this could be for you.
I feel like the series was on e of the best for Summer 2015! Ecchi all the way!
Anna is one determined girl! Crazed woman she is! Lol
4. Trinity Seven [Tied]
Comments
Largest variety of girls
The overall story is nice, with the magic and all that, the graphics and animations are nicely done, and the fanservice is good.
Best ecchi fanservice show ever!
My kind of series!
3. High School DxD
Comments
It's the best out there with Romance,Harem,Ecchi scenes that lead to lewd scenes I guess but It has a great plot. Worth Watching
The plot is nice, I like how they used the concept of angels and demons, the graphics and animations are also good and there's the super great fanservice uncensored!
great plot + Rias/Akeno combo nuff said
I find this anime in particular to be the best anime of the harem genre.
It is one of the best ecchi anime,they show the boobs and everything
2. Saenai Heroine no Sodatekata(Saekano: How to Raise a Boring Girlfriend)
Comments
To watch girls with some form of interest as I do (games/anime), plus the ecchi/harem induced scenes are awesome.
The combination of ecchiness and personality from each female character is amazing.
One of the best ecchi harem anime from Spring 2015.
I wish I was Tomo-kun!
This any is great for us fans, especially if you like the ecchi harem genre
1. Prison School
Comments
I hope to be ridden on by Hana-chan!!
The amount of crazy and unethical situations which ecchi in this anime are epic!
Best ecchi anime of the year!
Meiko and Hana are the best in this series
Lol, the sweat! The glorious sweat!
Others
---
Aki Sora
The story is interesting, the main characters share an interesting bond and passionate relationship, and most of the ecchi scenes are steamy without being sleazy.
Manyuu Hikenchou
The plot is not bad,the dialogue can be hilarious and the ecchi is titillating. Even when the ecchi gets a bit extreme, it does so in a funny/amusing way instead of being tasteless or numbing.
Ore wa Yuusha ni Narenakatta Shibushibu wo Ketsui Shimashita
The story is good, with the concept of a clichéd story of a hero and demon king to working together in a big store, the graphics and animation are nice, and the fanservice, well, is enough.
Yosuga no Sora
not your typical harem/ecchi anime
---
Well, looks like my choice got 1st! I know Prison School could pull through!
It was really recent, so I can't say I'm surprised. Though it's nice to see SaeKano came in 2nd~
I guess there's that, but I really think it deserved top place – it was a great ride!
I can't disagree there, Bee-kun! Anyway, what do you want to see people vote on next month?
Heheheh. I already thought of this. After seeing Boruto in theatres I started to wonder which character everyone likes best.
I think we're on the same page, Bee-kun. This November, we're gonna find out who the best Naruto character is!

---