The times are starting to get spooooky!
Heh, I'm not scared!
I've got tough skin, I can handle this list!
I'm afraid of who will win lol.
---
Top 15 - 11
---
15. Psycho Pass
1.1 %
Comments
It's quite scary during its more darker moments.
The tech in this anime is so cute, but watch even the first episode and the dark themes of monitoring peoples thoughts and treating anyone chaotic enough and emotional enough as criminals...
Definitely gets dark later on in the series.
14. Yamishibai
1.6 %
Comments
As a series of self-contained supernatural stories, they allow just a taste of creepiness before pulling ending the horror with an ambiguous, uncomfortable conclusion.
I found this show to be really off-putting at times, and really pulls the fear out of you.
Kids watching cursed videos with cemeteries in it?? No thanks..
13. Overlord
1.6 %
Comments
Not scary at all lol..
The main character is a skeleton.
Skeleton face scares me.
12. Serial Experiments Lain
2.7 %
Comments
The fear in Lain is a slow - burn, in which the viewer watches the titular character's depressive world warp and slowly reveal its ulterior intent.
Watching Lain just crash into a pit of despair is scary in itself.
Such a dark world to live in.
11. Berserk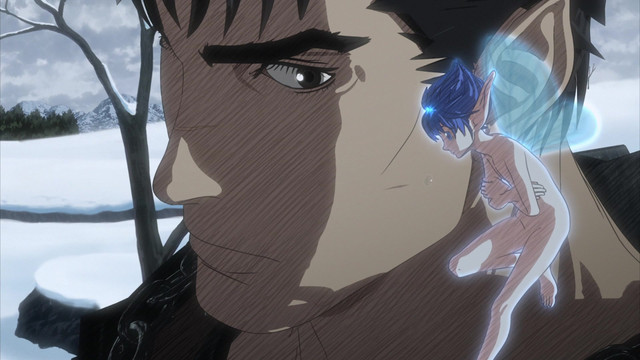 3.8 %
Comments
This is one fantasy anime you don't want to live in.
If I woke up in this world I'd want to just end myself right away...too much..
This is what nightmares look like.
---
Top 10 - 6
---
10. Hellsing
3.8 %
Comments
Hell...enough said.
Very intense story, that's pretty scary.
its so nerve-racking and you won't know what will happen text
9. Bungou Stray Dogs
4.9 %
Comments
The plot grabbed my attention along with awesome animation,touching moments and of course,DAZAI!!
I could watch this show over and over.
Beautiful and scary at the same time..
8. Perfect Blue
6.0 %
Comments
The gory scenes, (ex.screwdriver in the eye) and the psycological impacts are really frightening.
This show will really warp your brain..
Too psychological for my tastes.. couldn't sleep for a while..
7. Happy Sugar Life
6.5 %
Comments
Contrary to the name, the dark themes of yanderes, murder, and child kidnapping can be really scary with the sugar pink visuals.
Don't judge a book by its cover...this show has some pretty weird moments..
I came in thinking it would be all warm and cuddly and I left cold and scared..
6. Parasyte
8.7 %
Comments
If I woke up with my right hand looking like this I'd pee pee myself.
Body horror, blood, and guts. And the psychological horror of not knowing who is still human.
I wouldn't want to wake up in this world..
---
Top 5 - #1
---
5. Elfen Lied
8.7 %
Comments
One of the best scary horror classics!
Not just the in-show violence but the way it portrays the worst sides of humanity and how you know there is truth to it.
Goes to show you how scary our society truly is..
4. Shiki
9.2 %
Comments
The intense violence towards both humans and vampires.
Violence and fear everywhere..
Don't watch this one alone!
3. Attack on Titan
9.8 %
Comments
Despite the obvious nature of the show, it's the depiction of the Titans that have always creeped me out.
The Smiling Titan is so goddamn wrong-looking.
Get me out of here!
2. Corpse Party
14.7 %
Comments
There's something deeply unsettling about watching a group of young students experience this kind of traumatic happenstance
Just the way these kids behave is unsettling.
Yeah, this show is pretty dark if you ask me.
1. Higarashi: When They Cry
16.8 %
Comments
My brain exploded after watching..
I had to sleep with the lights on for a few days after watching this..
Hands down one of the greatest horror anime of all time.
---
Not surprising that Higarashi took 1st..that show still creeps me out until this day..
Corpse Party deserves its place for sure.
Overlord scary?! hahaha
Yeah, that surprised me too lol.
I still freeze up when watching Attack on Titan.
---