También puedes leer este artículo en:Español
Ecchi: lewd or lascivious behavior. Essentially, the type of comedy that is more related to adult humor. Whether you were aware or not, we've got a few brand spanking new anime coming out with this category, and they're looking promising! I'll be explaining a few of those anime's stories and where you can view them from.
Absolute Duo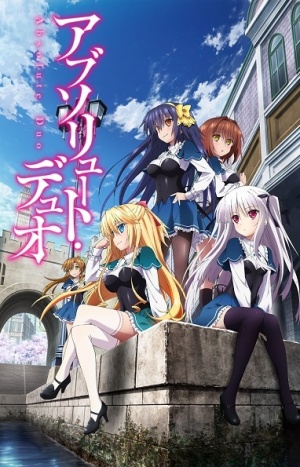 The story follows Tōru Kokonoe who recently lost someone very precious to him in a terrible accident. Because of this accident, he decided to enroll in Kouryou Academy to become stronger and take revenge on the one that took his loved one.
He has the ability to manifest his soul, called a "Blaze," however his manifestation isn't the weapon he always desired, but a shield. He can't take his revenge with a shield, can he? Due to the school having a dual partner system in place, he ends up living with a beautiful silver haired girl!
Because of the two living together, it's more than likely going to be an ecchi with plenty of comedy thrown in to make it funny as well. Put one teenage boy in a house (room?) with a teenage girl, what are you expecting? All in all I like the looks of this anime, and the revenge story kind of has me sold. This show is set to air on December 28th on Crunchyroll!
Absolute Duo Official Trailer

Maria the Virgin Witch [Japanese: Junketsu no Maria]

Maria the Virgin Witch has one hell of a story! Maria is a witch who lives during the time of the 100 Years War in France, and whom also happens to be the most powerful witch alive.
Instead of fighting, she obstructs battles due to her dislike of war and all things warfare. Because of the fact that she is a witch and has been meddling in mortal battles, Archangel Michael issues an edict: that when she loses her virginity, so too shall she lose her powers.
The Angel Ezekiel is to watch over her and ensure she doesn't use her powers in front of mortals, but Ezekiel cannot control her!
The title alone does a fantastic job of giving it away as an ecchi anime, as you can already guess the nature of the anime as a comedy. Filled with temptation as well I'm sure! It is set to air January 11th and you can find it on Crunchyroll!
Maria the Virgin Witch Official Trailer

Isuca

Isuca is a story about monster hunting, between a teenaged boy and a teenaged girl. The boy, named Shinichirou, is just looking for a job to make his rent payments, very simple!
His teacher suggests he should work as a housekeeper, so he applies and eventually Sakuya Shimazu, 37th Head of the Shimazu family hires him. Sakuya's job is to eradicate unwanted creatures, until one day Shinichirou accidentally lets one of the creatures she's already captured loose!
They decide to work together (because obviously Shinichirou loosed the beast, he should help), and their story begins!
It's as yet unclear to me if he's to be a live in housekeeper or not, but even if he isn't there's still ample time for him to get in trouble, the anime is classified as ecchi after all! The show starts on January 5th and you can see it on Crunchyroll!
Aria of Curse for a Holy Swordsman
[Japanese: Seiken Tsukai no World Break]

Moroha Haimura is the first person to have the past lives awakened of both Shirogane and Kuroma, that is to say, he is both warrior and mage.
He is enrolled at a private high school that deals specifically with students that remember their past lives, granting them either the Shirogane (warriors), or Kuroma (mages). So, he's in a school surrounded by beautiful women, where he's become the only one of his kind.
Overall I'm sure there's going to be more to this anime than simply ecchi, with plenty of action and fantasy to fill a palate full! The air dates begin on January 12th and will be featured on Crunchyroll!
Aria of Curse for a Holy Swordsman Official Trailer

---
That does it for our ecchi anime suggestions! You can find all our recommendations Anime Recommendations, and don't forget to let us know your thoughts in the comments section below!
by Nathaniel Loomis
---