Creating a sequel that is as good as the original is not a simple task. That is especially true for series that are loved by lots of fans around the world. That being said, Spring 2022 managed to give us lots of great sequels of beloved series, such as Kaguya-sama: Love is War, Komi Can't Communicate, and Rising of the Shield Hero, just to name a few.
Fortunately, Summer 2022 promises to deliver yet another great batch of sequels to some of our beloved titles. Here are some of the anime sequels that you should watch in the Summer of 2022.
5. Shadows House 2nd Season

Shadows House is a story about mysterious people who are covered in pitch black soot and their living, doppelganger doll. The premise of this series itself is already quite absurd, but it is the intrigue, mystery, and politics that happened within the Shadows House that makes the fans can't wait to see more of it.
The first season aired from April to July 2021. All of those 13 episodes of the first season were a thrill to see. And now, one year later, we finally get to see the second season that is scheduled to run from July to September 2022. If you love the first Shadows House, then be sure to follow the 12 episodes that you'd get to see this summer.
---
4. Hataraku Maou-sama! (The Devil is a Part-Timer! Season 2)

The Devil is a Part-Timer! has been a certified cult classic for a long time now. It was a reversed isekai story where the evil Demon Lord is transported to modern-day Japan. As it turns out, the man falls in love with the ordinary life that he gets to live in this new world. He even works happily as an employee for MgRonald. That is until the hero comes to this world in order to hunt the Demon Lord.
Like most of the anime on this list, the first season of The Devil is a Part-Timer! consisted of only 13 episodes. However, the fans that saw it back in 2013 could never forget the hilarious antics that happened in this absurd story. Needless to say, the fans always hoped for more part-timer devil, and after waiting for almost a decade, the elusive second season has finally arrived. Let's hope this sequel is just as great as the original.
---
3. Overlord IV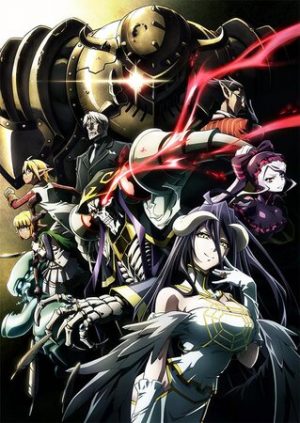 Overlord began its life as a hit-light novel, and due to its overwhelming popularity, it finally received an anime adaptation back in 2015. Surprisingly, people all over the world love this isekai story about a regular office worker who turned into an undead overlord. That is why one season turned into two, three, and now, the fourth season is finally upon us.
The story of Overlord got darker and more complex in every new season. In the last one, we see the world slowly but surely succumb to the overwhelming power of the Sorcerer Kingdom. This fourth season will present an epic conquest and deep exploration into places that have never appeared before in the series. So if you're a fan of Overlord, then be sure to follow this season closely from start to finish.
---
2. Made In Abyss: Retsujitsu no Ougonkyou (Made in Abyss: The Golden City of the Scorching Sun)

When the first season of Made in Abyss aired in the Summer of 2017, everybody thought that it would be another wholesome adventure featuring cute characters. But no, the journey into the deepest part of the abyss turned out to be ruthless, horrifying, and extremely violent. The bright settings and bubbly characters hide the sinister sequence of events that would be the trademark of the series. And the fans love every minute of it.
After two compilation movies and a sequel in the form of a movie that was released in the middle of the 2020 pandemic, we finally get another sequel in the form of a regular, 12 episodes anime series. This time around, we follow the characters as they thread the merciless sixth layer of the Abyss, The Capital of the Unreturned. If you think you've seen every terrible and strange thing in this series, then this new season will prove how naïve you are.
---
1. Yojouhan Time Machine Blues (Tatami Time Machine Blues)

When the Tatami Galaxy aired in the Spring of 2010, it instantly became a cult classic. The story of a college freshman who tries to lead a rose-colored campus life but always ends up making the worst possible choice might be a somewhat underwhelming premise.
But add to those parallel universes where he makes different choices in each one in order to pursue that elusive happiness, then we got one of the most fascinating, refreshing, and inspiring anime series ever made. This beautiful anime will grab you by the throat and take you on a dizzying journey across the multiverse of madness.
Now, more than a decade later, this mind-blowing anime finally receives its sequel, Tatami Time Machine Blues. In this sequel, the story will revolve around the main characters from the original series as they interact with a time-traveling student who arrives 25 years in the future. It will be weird, it will be funny, it will be filled with nonsensical banters and existential crises, and it will be epic.
---
Final Thoughts
There's a certain comfort in watching a sequel, rather than trying out a new series. After all, you know what to expect in sequels. You are already familiar with the story, the characters, and the settings. So if you like the first one, chances are you'll like the sequels.
Trying out a new series, on the other hand, is like gambling. There's no guarantee that you'll like the story, or even if you'd watch the series till the end. Meanwhile, sequels are like eating at your favorite restaurant chain. You know you'll have a good time there.
If that describes who you are, then this list can be a great starting point for your watchlist for Summer 2022. So is there anything that caught your attention? Or maybe there are other sequels that you think deserve to be on this list? Share your thoughts in the comment section below.
---