Never Underestimate the Power of Hard Work
Episodes: 12
Genre: Sports, Seinen
Airing Date: July 2018 - ?
Studio: LIDENFILMS
Hanebado! Preview (No Spoilers)
Ayano Hanesaki spent her younger years, doing nothing put play badminton. Now that she has started high school, Ayano has decided to give up playing badminton for good. Although she does her best to move on her friend Erena Fujisawa sees that she just isn't as happy as she used to be. Upon being pushed by Erena to join the badminton team, Ayano reluctantly agrees. Once she joins the club, Ayano learns that the captain of the badminton team is Nagisa Aragaki, a girl she had beaten while in middle school. With her best friend and teammates at her side, Ayano begins her new journey into the world of badminton as she faces the ghosts of her past and over coming to every obstacle in her way, as she strives to become the best badminton player in Japan.
Ayano Hanesaki Highlights (Spoilers Beyond This Point)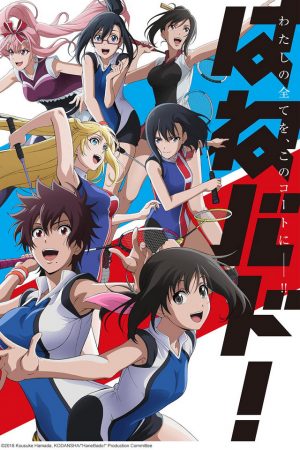 1. Ayano's Sad Past
With Ayano's mom leaving her at a young age to go train another girl, Ayano started working hard to become the best Badminton player around. However, after seeing that all of her hard work wasn't going to bring her mom back, Ayano started hiding her emotions and gave up badminton forever. Seeing how Ayano's past affected her makes you truly feel sorry for her and makes you sympathize with her. When you start looking at the pain Ayano feels and how she reacts later in the series to her mother, you can understand why she ends up reacting the way she does.
2. Ayano Grows as a Person
Ayano starts out as a shy and quiet girl that has thrown badminton away for good. We get to see her grow, as she comes out of her shell and reclaiming her passion for badminton. With the help of her friends, Ayano starts to change a little, but it isn't until her rivals show up that she changes the most. Although some Ayano's traits didn't change for the better, the changes she has made to become happier in life are positive for her.
3. Her Love of Cute Things
Ayano is at her cutest when she shows of her love of the whale shark mascot Wei-Wei. Serving as a nice contrast to her usual quite personality and her intense badminton personality, the cute side of Ayano doesn't get many opportunities to come out, but when it does you are in for a treat. Watching her enjoying something as simple as a mascot character and seeing how much happiness she gets from it, makes you want to protect Ayano no matter what.
4. Natural Born Talent
The badminton skills shown off by Ayano are otherworldly. Having a talented mother like Uchika helped Ayano cultivate her talent into the amazing badminton player we see today, but Ayano has skills that transcend what the average person can obtain through hard work alone. Her great hand-eye coordination and her ability to hit with power and precision make her stand out amongst her peers. With so much talent, you just want to root for her to succeed and defeat all of the foes she faces on the court.
5. Ayano has a Dark Side
Ayano's dark side comes from the resentment she has for her mother leaving her when she was her child. After she decides to move on mentally from her mother, Ayano unleashes a cold and scary version of herself whenever she is on the court. While her more intense side isn't the nicest and she can be blunt to her friends and teammates, Ayano's dark side makes her a much more interesting character. You can understand where the anger and intensity come from and you truly feel for the pain Ayano is going through.
---
Final Thoughts
Ayano Hanesaki is an interesting character with just as many likable character traits as character faults making her feel more realistic, Often times, we see that Ayano has the ability to be kind and cute, but her blunt and intense side also comes out and can hurt the people closest to her. In the end, Ayano Hanesaki is a character you want to protect and root for, in the hopes that she will one day find the happiness she truly deserves. What do you think of Ayano Hanesaki? Let us know in the comments below.
---